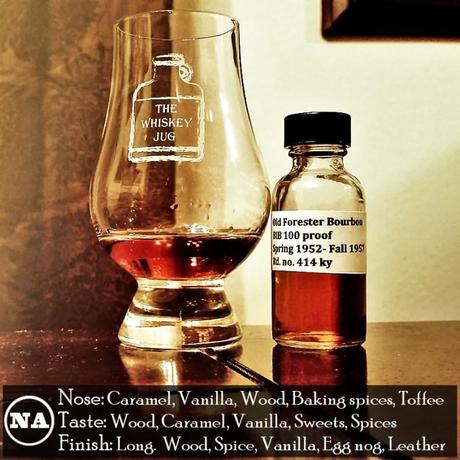 This particular Old Forester Bottle In Bond was distilled in 1952 and bottled in 1957 making it between 4-5 years in age depending on exactly when it was distilled and when it was dumped into its famous Sputnik rocket ship bottle (photo below). Seeing as how my parents were all of 2 or 3 years old when this whiskey came out I wasn't even a concept let alone a twinkle in my parents eye so I thought it would be fun to look up what was going on back in 1957 when this bottle first hit the shelf. Which, as it turns out, there was a whole lot was going on during this time and so instead of putting it all here I've put it down below the review.
Back in 1957 the Cold War was going on and while that was a terrifying time at least now I know that our Grandparents would have been sipping on some pretty good stuff while waiting out the nuclear winter in their bunkers and bomb shelters. Assuming that the properly hid under their desk or laid down with their hands over the back of their heads when the bombs hit. Because we all know a nuclear bomb's only natural enemies are everyday furniture and a strategically placed set of hands. But cheers to it not happening and them not having to drink through all the good stuff while waiting for their personal geiger counters to calm down enough for them to go outside and see what was left of the world.
Old Forester Bottled In Bond (1957) Review
DSP-KY-414
ABV: 50%
Age: 4-5 years
Price: NA (but I've seen it going for $250+)
Distiller: Brown-Foreman / Old Forester
Mashbill: 72% Corn, 18% Rye & 10% malted barley
EYE
Dark Caramel
NOSE
This has one of the deepest, richest caramels I've experienced in a bourbon. That caramel is bolstered by bold notes of vanilla, wood, and a multitude of baking spices. Swirling about in the glass next to these bold notes are nuances of toffee, butterscotch, almonds, charred citrus and a touch of astringency. Add a bit of water and the spice and wood move up as does the butterscotch; bringing with them a soft mineral like quality.
PALATE
Wood and caramel jockey for dominance with vanilla and an entire sweet shop and spice rack mingling right behind them. Butterscotch, molasses, eggnog spice, a toasted nuttiness and a slightly musty quality add shifting dimensions to the overall flavor. A splash of water kicks the wood and caramel into overdrive and knocks the vanilla down a peg or three while simultaneously pushing the butterscotch and toffee up which almost completely erases the nutty notes.
FINISH
A long and winding wood filled finish marked with patches of bourbon spice, vanilla, egg nog spice and leather make this a fun whiskey to experience.
BALANCE, BODY & FEEL
Excellently balanced with a thick full body and a rich smooth feel.
OVERALL
I love the caramel coated wood bomb of a nose that rolls out thick and heavy and perfectly compliments the warm and expressive combo of sweet and spicy that plays out and slowly fades across the palate. What else can I say other than that I really… REALLY enjoy this bourbon. They certainly don't make them like this any more and if you come across this tasty little cosmonaut while doing some dusty hunting snatch it up quick.
SCORE: NA – What's the point? Outside of some lucky dusty hunting or auctions it can't be obtained any more. Though I can tell you this. It blows away the Old Forester Signature and if it were to get a score it would be in the mid to low 90's.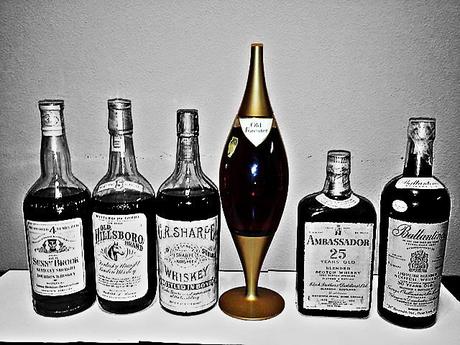 Old Forester Bottled in Bond 1957 Sputnik Bottle from the SCWS Pre-1964 Tasting
Interesting events of 1957
Jan 3rd – The first electric watch was introduced
Jan 5th – Eisenhower asks congress to send troops to the middle east (That sounds rather familiar…)
Jan 6th – Elvis makes his last appearance on the Ed Sullivan show
Jan 13th – West beats East in the NFL Pro Bowl (First Super Bowl isn't for 10 more years)
Jan 18th – Record set for flight around the world -45 hr 19 min
Jan 20th – Betsy Rawls wins LPGA tournament
Jan 22nd – The "Mad Bomber" is arrested
Feb 1st – 1st black pilot PH Young on a US scheduled passenger airline
Feb 4th – 1st electric portable typewriter placed on sale (Syracuse NY)
Feb 8th – SF Public Library's bookmobile initiated in front of City Hall
Feb 12th – Researchers announce Borazan (harder than diamonds) been developed
Feb 14th – Georgia Senate unanimously approves Sen Leon Butts' bill barring blacks from playing baseball with whites (I didn't say it was all positive)
Feb 25th – Supreme Court decides 6-3, baseball is only antitrust exempt pro sport
Mar 1st – Kokomo the Chimp becomes Today Show animal editor
Mar 4th – The S&P 500 stock market index is introduced, replacing the S&P 90.
Mar 6th – Centenary of Dred Scott slavery court decision marked by rediscovery of Scott's grave
Mar 8th – USSR performs atmospheric nuclear test (29 years later… Chernobyl)
Mar 10th – Thousands of soccer fans riot in Italy (The more things change the more things stay the same)
Mar 15th – Britain becomes the 3rd nation to explode a nuclear bomb
Mar 17th – Dutch ban on Sunday driving lifted (Didn't know that was ever a thing)
Mar 19th – Indians reject Boston's offer of $1 million for Herb Score (…I didn't know that was legal back then)
Mar 28th – 1st National Curling Championship held
Apr 6th – NYC ends trolley car service
Apr 6th – USSR performs atmospheric nuclear test
Apr 10th – USSR performs atmospheric nuclear test (Seriously ?!?)
Apr 11th – Ryan X-13 Vertijet becomes 1st jet to take-off & land vertically
Apr 13th – Due to lack of funds, Saturday mail delivery in US is temp halted
Apr 14th – Leah Neuberger wins her 8th women's singles ping pong championship (Apparently that was a thing even back then)
Apr 16th – USSR performs atmospheric nuclear test (WTF USSR?)
Apr 22nd – All NL teams intergates, John Irwin Kennedy is 1st black on Phillies (Take that Georgia)
Apr 25th – 1st experimental sodium nuclear reactor operated
Apr 29th – 1st military nuclear power plant dedicated, Fort Belvoir Va (Apparently we LOVED nuclear things this year)
May 1st – Larry King's 1st radio broadcast (Holy Shit!)
May 1st – US gives Poland credit of $95 million (Wait, we used to GIVE credit?)
May 4th – Alan Freed hosts "Rock n' Roll Show" 1st prime-time network rock show (36 years later Creed is formed)
May 4th – Anne Frank Foundation forms in Amsterdam
May 6th – Pulitzer prize awarded to John F Kennedy for Profiles in Courage
May 7th – Indians' pitcher Herb Score is hit by a line drive off Gil McDougald (Oooh, Herb Score is a baseball player… that makes Mar 19th make MUCH more sense)
May 15th – 1st British H-bomb explosion over Christmas Island
May 16th – US launches its 3rd atomic submarine, USS Skate, at Groton Conn (Told you we loved nuclear shit in '57)
May 19th – Adone Zoli forms Italian government (So what were they doing before?)
May 21st – French government of Mollet resigns (The whole government just gave up?)
May 28th – US performs nuclear test at Nevada Test Site (… Wow guys… just… wow)
May 31st – Great Britain performs atmospheric nuclear test at Christmas Island (Well at least now we know why Rudolf's nose glows)
Jun 3rd – Howard Cosell's 1st TV show (The Methuselah of TV)
Jun 15th – 57th US Golf Open
Jun 24th – "I Love Lucy" last airs on CBS-TV
Jun 24th – The U.S. Supreme Court rules that obscenity is not protected by the First Amendment in Roth v. United States. (Well shit)
Jun 27th – The British Medical Research Council publishes a report suggesting a direct link between smoking and lung cancer.
Jul 8th – CDC incorporates (57 years later Ebola scares the bejeezus out of everyone)
Jul 15th – US performs nuclear Test at Nevada Test Site
Jul 19th – 1st rocket with nuclear warhead fired, Yucca Flat, Nevada
Jul 19th – US performs nuclear Test at Nevada Test Site
Jul 24th – US performs nuclear Test at Nevada Test Site
Jul 25th – US performs nuclear Test at Nevada Test Site
Jul 26th – Mickey Mantle hits career HR # 200
Jul 26th – USSR launches 1st intercontinental multistage ballistic missile
Aug 1st – 1st commercial building heated by Sun (Albuquerque NM)
Aug 5th – "American Bandstand" premiers on network TV (ABC)
Aug 7th – US performs nuclear test at Nevada Test Site
Aug 10th – US performs nuclear test at Nevada Test Site
Aug 17th – Richie Ashburn, fouls hit fan Alice Roth twice in same at bat 1st one breaks her nose, 2nd one hits her while she is on the stretcher (?!?!?!?)
Aug 18th – US performs nuclear test at Nevada Test Site
Aug 19th – NY Giants vote 8-1 to move their franchise to SF in… 1958
Aug 23rd – US performs nuclear test at Nevada Test Site
Aug 27th – US performs nuclear test at Nevada Test Site (Fuck you Nevada. Love, the Military)
Aug 28th – US Senator James Thurmond (Rep, SC) begins 24-hr filibuster against civil rights bill
Aug 29th – Congress passes Civil Rights Act of 1957
Aug 29th – Strom Thurmond (Sen-D-SC) ends 24 hr filibuster against civil rights
Aug 30th – US performs nuclear test at Nevada Test Site
Aug 30th – US senator Strom Thurmond speaks 24hrs 27m against civil rights
Sep 2nd – US performs nuclear test at Nevada Test Site
Sep 3rd – Dodgers play last game in Jersey City (11-4 in NJ)
Sep 5th – Cuban dictator Batista bombs Cienfuegos uprising (looks like the whole Cuban Dictator thing isn't a "recent" development after all)
Sep 4th – Governor of Arkansas, Orval Faubus, calls out National Guard to stop 9 black students from entering a Little Rock high school (Sounds like a great use of
resources…)
Sep 9th – Pres Eisenhower signs 1st civil rights bill since Reconstruction (take that Arkansas)
Sep 14th – Great Britain performs nuclear test at Maralinga, Australia
Sep 14th – US performs nuclear test at Nevada Test Site (soooo we're still unsure if it works or not?)
Sep 19th – 1st underground nuclear explosion at Las Vegas Nevada (oh good, we finally took it below ground)
Sep 21st – "Perry Mason" with Raymond Burr premieres on CBS-TV
Sep 23rd – White mob forces 9 black students who had entered a Little Rock high school in Arkansas to withdraw (Were they mutants? How did 9 kids fend off the National
Guard and a redneck mob for 19 days?)
Sep 25th – 300 US Army troops guard 9 black kids return to Central HS in Ark (Haha F you white mob)
Sep 25th – Great Britain performs nuclear test at Maralinga Australia (Haha F you kangaroos)
Sep 26th – "West Side Story" opens at Winter Garden Theater NYC
Sep 26th – USSR performs nuclear test at Eastern Kazakh/Semipalitinsk USSR
Oct 1st – B-52 bombers begin full-time flying alert in case of USSR attack (now?)
Oct 1st – First appearance of "In God We Trust" on U.S. paper currency. (Yup, it wasn't always there…)
Oct 2nd – New volcanic island appears off Fayal Island Azores
Oct 3rd – Allen Ginsberg's Howl and Other Poems is ruled not obscene. (Nuclear testing, civil rights and THIS is worth worrying about?!?)
Oct 4th – "Leave It to Beaver," debuts on CBS
Oct 4th – USSR launches Sputnik I, 1st artificial Earth satellite (Moscow, we have our Bourbon connection)
Oct 6th – USSR performs nuclear test at Novaya Zemlya USSR (Alright alright we get it. You can blow shit up, so can everyone else at this point)
Oct 8th – Brooklyn Dodgers announce move to Los Angeles (Yup, they weren't always here…)
Oct 9th – Great Britain performs nuclear test at Maralinga Australia (F you wallabies)
Oct 10th – US President Eisenhower apologizes to the finance minister of Ghana, Komla Agbeli Gbdemah, after he is refused service in a restaurant in Dover, Delaware (way to go Deleware!)
Oct 10th – USSR performs nuclear test at Novaya Zemlya USSR
Oct 10th – A fire at the Windscale nuclear plant in Cumbria, UK becomes the world's first major nuclear accident. (well that didn't take long)
Oct 12th – 1First commercial flight between California & Antartica (Wonder how many frequent flier miles that trip's good for?)
Oct 16th – USAF sends 2 aluminum bullets into space (Why? Because they could.)
Oct 21st – Jailhouse Rock starring Elvis Presley opens
Nov 1st – Worlds longest suspension bridge opens, the Mackinac Straits Mich
Nov 2nd – The Levelland UFO Case in Levelland, Texas, generates national publicity, and remains one of the most impressive UFO cases in American history.
Nov 3rd – USSR launches Sputnik 2 with a dog, Laika, 1st animal in orbit
Nov 7th – Cold War: The Gaither Report calls for more American missiles and fallout shelters. (Because we already "tested" through our reserves)
Nov 8th – Great Britain performs atmospheric nuclear test at Christmas Island
Nov 10th – NFL record crowd (102,368), '49ers vs Rams in LA (LA had a football team?)
Nov 16th – US murderer and bodysnatcher Ed Gein kills his last victim
Nov 22nd – Miles Davis Quintet debuts a jazz concert at Carnegie Hall in NY (How do you get to Carnegie Hall?)
Dec 2nd – 1st US large scale nuclear power plant opens – Shippingport, Penn
Dec 5th – NYC is 1st city to legislate against racial or religious discrimination in housing market – Fair Housing Practices Law (Take that Slum Lords)
Dec 6th – 1st US attempt to launch a satellite fails-Vanguard rocket blows up (D'oh!)
Dec 12th – US announces manufacture of Borazon (harder than diamond!)
Dec 17th – US successfully test-fires Atlas intercontinental ballistic missile (Yay?)
Dec 18th – Shippingport Atomic Power Station in Pennsylvania USA, the world's 1st nuclear power plant begins to generate electricity
Dec 20th – Elvis Presley given draft notice to join US Army for National Service
Dec 25th – Ed Gein found insane of murder
Dec 28th – USSR performs atmospheric nuclear test (Just had to get one more in before the end of the year 'eh?)
For even more go check this out: http://www.historyorb.com/events/date/1957