Old, or European? (10 points if you recognized that song.) Well, lucky you because today it's all about both. Old European cut diamonds are a favorite among the vintage and antique loving set. One of the O.G. ways to cut a diamond, the Old European cut predates today's most popular shape, the round brilliant. The OEC is also round, but has a smaller table (the flat top surface of the diamond), a taller crown (the sloped sides of the diamond above the middle girdle), and an open culet (the pointy bit underneath). This graphic from GIA can help you out if you're convinced I just spoke Dothraki. The OEC also has fewer, larger facets than today's tightly carved 57 or 58 facets on a round brilliant. Overall, the OEC can appear warmer, with more character, and more handmade. Thus, it looks fantabulous in equally vintage inspired mountings. So when RLJ buys a parcel of Old European cut diamonds, we like to pop them into some equally old and European looking mountings. The result is a stunning ring that will have any vintage engagement ring lover swooning, even with a brand spanking new ring.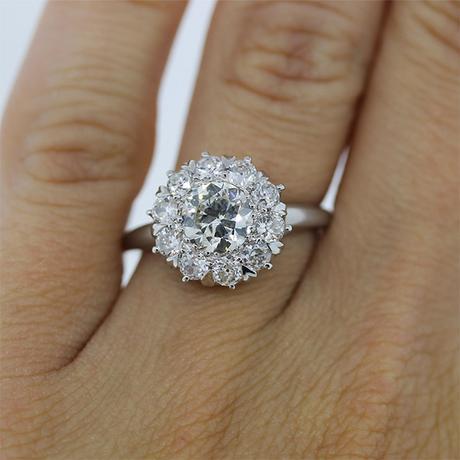 1.01ct Old European Cut Diamond Cluster Style Engagement Ring
This beautiful 1.01ct diamond is a K color and VS 1 clartiy – and it has company! The main European cut diamond gets an assist from .18ctw of other European cuts that cluster around it like so many petals on a flower.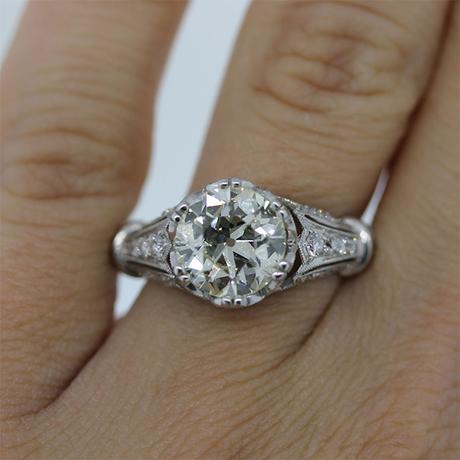 2.45ct Old European Cut Diamond Engagement Ring
This 2.45ct Old European cut diamond is set into a more traditionally antique style mounting. A platinum band is carved with a leaf motif and inlaid with .46ctw of round brilliant stones that stud all sides of the shank, the prongs, and the gallery. The overall effect is of a beautiful, diamond flower that buds with the K color, VVS1 center diamond.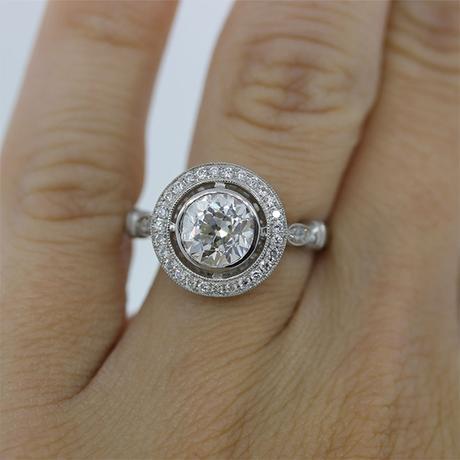 Platinum 1.43ct Old European Cut Diamond Engagement Ring
This beauty is the OEC's take on an antique style halo ring. The gorgeous center stone is a 1.43ct VS1 G color, and I love the negative space between its bezel setting and bezel set halo. The gap lets you peek into the platinum gallery's open work and gives you an idea of how intricate the rest of this mounting is. With brackets of round brilliants that stop half way across the shank, it's a stunning modern interpretation of the ever popular halo style that has an antique twist.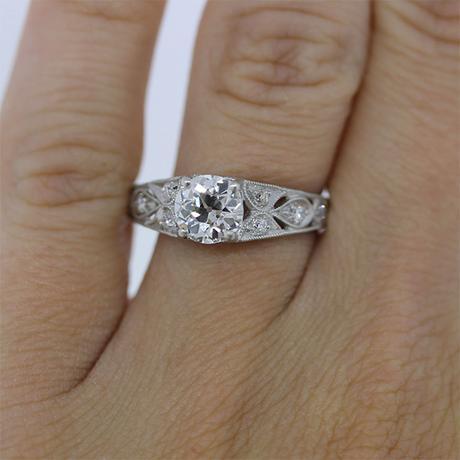 Vintage style diamond engagement ring
Finalmente, we arrive at what I think is the truest recreation of vintage style. I'm basing this on nothing. But if I were an old timey lady, I'd want this ring to match my sweet hoop skirt. And who wouldn't? Its 1.06ct center stone is a G color, VS1 clarity, and it's set into a stunning platinum mounting. The band is set with .22ctw of Old European cut diamonds that trail halfway down the shank. While the platinum itself is carved into ornate fretwork and beading so that the entire surface of this ring is teeming with detail. It's positively yummy. Now grab your parasol, we're taking my horse-drawn carriage to tea.
Top 5 Classic Diamond Shapes: Which Diamond Shape is Right for You?

Engagement Ring Eye Candy: Around Brilliant the Bend

Diamond of the day: a 1.50ct round brilliant in a brand new…

The Ring Ryan Gosling Should Get for Eva Mendes