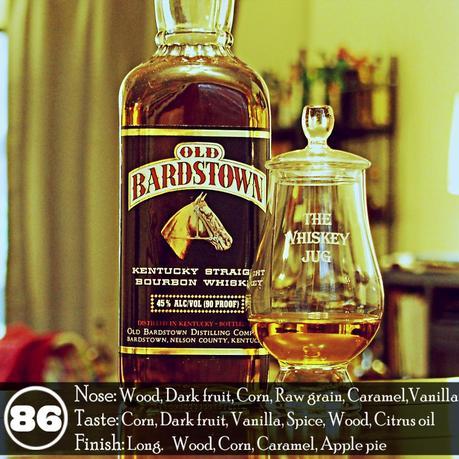 Old Bardstown Bourbon comes to us from Kentucky Bourbon Distillers, better known as Willett, who only recently started distilling whiskey again and for years has operated as an NDP, buying other people's bourbon and putting a label on it. For many years KBD / Willett has been getting a lot of their bourbon from Heaven Hill and based on the taste in this one that's my prime suspect for who actually made what's in the bottle.
As a brand though it's been around for quite a while and it gets it's name from a handicapped race horse from the 1950s. The horse had a lot of hip and ankle problems but the owners raced it anyway and it actually won quite a bit. According to the Willett site old Bardstown had "31 career starts, Bardstown had 18 first place finishes, 7 second and 1 third place finish. The bay gelding had total earnings of $628,752." Which, to put it in to technical terms, is a crap load of 1950s dough!
Old Bardstown Bourbon Info
Region: Kentucky, USA
Distiller: Unknown
Bottler: KBD / Willett
Cask: New American Oak (charred)
Age: NAS
ABV: 45%
Natural Color | Non-Chill Filtered
Price: $16
Old Bardstown Bourbon Review
EYE
Mahogany
NOSE
Wood, dark fruit, corn and raw grain mixed with caramel, vanilla and spice. Some hints of candied citrus peels and dried currants waft through the background. It's not an amazingly complex aroma, but it is a nice aroma.
PALATE
Corn, ripe dark fruit, caramel, vanilla and a very apparent rye spice. The wood is lighter than on the nose and the citrus has turned oily. Very basic bourbon flavor, but well composed.
FINISH
Long and woody with notes of corn, caramel and apple pie.
BALANCE, BODY & FEEL
Great balance with the limited aroma and flavor it has. Nice round body with a rich smooth texture.
OVERALL
Old Bardstown Bourbon is one of those whiskeys I've passed over repeatedly and it wasn't until a friend insisted I try some of his I realized what a bad decision I had made by constantly passing it by. It's not complex, quite basic, but it's done very well. The aroma of classic bourbon characteristics transitions well to the palate and finish. Which would be a major issue if it was weak and watery, but it's not. It's warm and a has a nice richness to it. This is a great value bourbon.
SCORE: 86/100