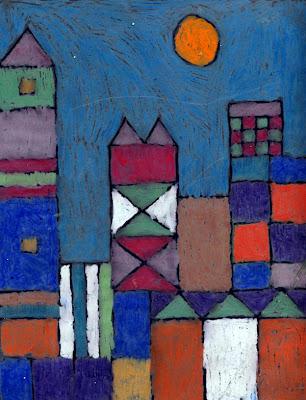 I love the way oil pastels look on a sheet of acetate, backed with a nice black piece of construction paper. Paul Klee's City Picture can a lot of fun to imitate in this style with just a few aids. 

1. Download a background grid paper I made HERE. Print on white paper and draw a very geometric stack of buildings. Triangles may be added to the squares, along with one circle moon in the sky.
2. Tape a piece of acetate to the front of the grid drawing and trace their drawing on the acetate with a black Sharpie marker.
3. Flip the drawing over and color in all the shapes with oil pastel. Coloring on the back will keep all the black lines intact, even if you color over them a bit.
4. Lastly, the acetate drawing is placed in front of a piece of black paper (shiny and clean side up, pastel to the inside) and taped with invisible tape.