Hello everyone,
In the last 2 years we have had many subscription boxes in India coming up slowly and steadily. To be honest initially I was not a big fan of these type of services but when I got to try some as a blogger it made more sense to me.Recently a new subscription service has emerged called 'Oh Cute Box' - I like the name already, which has been creating a lot of buzz in the blogosphere. I was excited to try it as the brand sent me one across. If you wish to know more about this brand and the products I received along with other details. Keep on reading...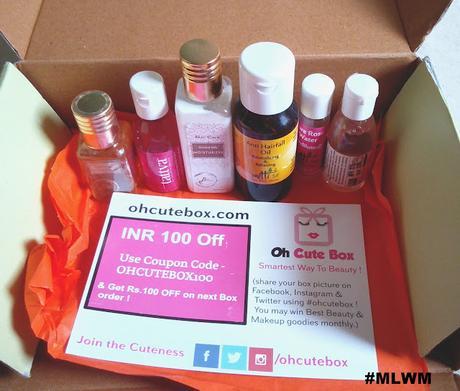 Information about the service as mentioned by them:OhCuteBox is a beauty subscription box that has 4 to 6 deluxe size of beauty and grooming product samples. Every month, our beauty experts curate a selection of best-sellers, high-end and trendy beauty products in deluxe travel sizes to be included in your OhCuteBox.Reasons why you should try their box:
Its AFFORDABLE …

You GET to TRY beauty and grooming products from variety of brand.

You GET 5-6 Beauty Products in each box.

SPECIALLY CUSTOMIZED FOR YOU by Beauty Experts

High quality products that are environment friendly.

Free Shipping
Price of this box: Rs .590/- but I got it at a discount of Rs.490/- ( as mentioned in the invoice)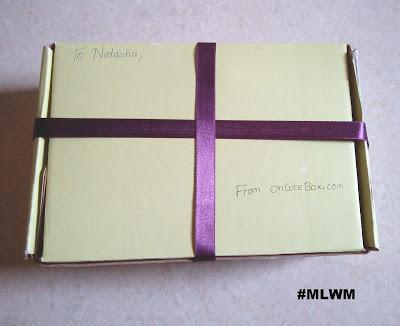 Packaging:
I received the box in a week's time. The box is pista green in color and quite firm which I like. Each product was bubble and paper wrapped for extra security which was really amazing. None of the products spilled over or created any problem - Happy Me ☺
Let me show you now what I got in the Oh Cute Box for May 2016!!1. Mitti Se Anti Hair Fall Oil:Price: Rs.50/- for 50 mlThis hair fall came right in time for me since I am suffering from Hairfall. I hope it works for me. Mitti se makes amazing natural products and I say that because I have tried their products as well.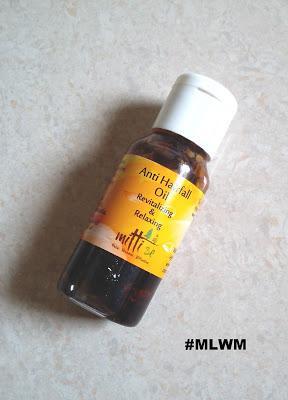 2. Biobloom Skin Care Almond Milk Moisturizer:Price: Rs.199/- for 50 mlI have never tried products from Biobloom but have heard good reviews from fellow bloggers. This one smells good and I am excited to try it.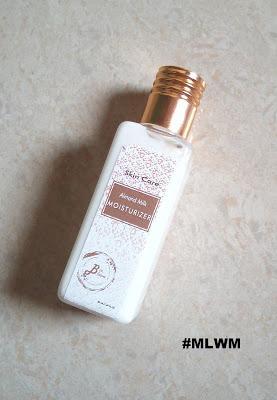 3. Bio Bloom Bath care After Bath Oil:
Price: not mentioned 30 ml bottle.
This would be amazing to try after bath and rejuvenating too as it contains Sandalwood and Patchouli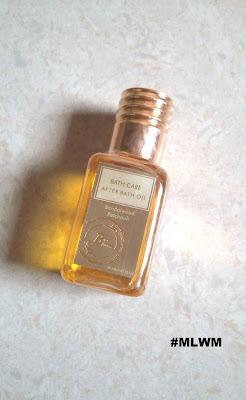 4. Tattva Rose & Honey Face & Body Wash:
Price: Rs.50/- for 25ml
I like this brand but never tried their products. It smells so good and best part is that you can use it on your face and body too.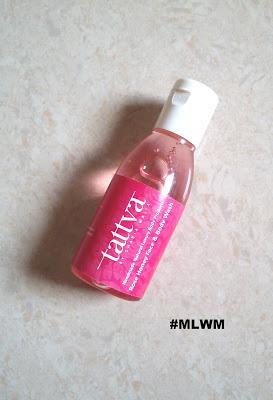 5. Bon Auroville Aloe vera shampoo:
Could not locate the price but it is of 100 ml
Aloe vera is good for hair and skin and this shampoo contains the same.Also it doubles up as a shampoo and conditioner hence I curious to see how it works for my hair.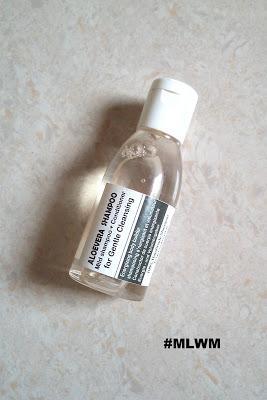 6. Mitti Se Pure Rose Water: (undiluted)
Price: Rs. 25/- for 10ml
This has to be most favorite rose water ever. I have used a bottle in the past which I have reviewed on my blog along with other Mitti se products which I have had a good experience using them. You can check those reviews HERE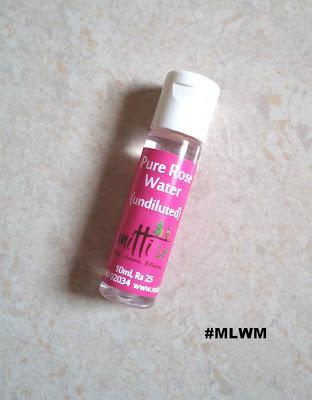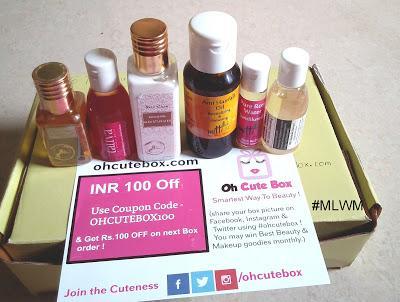 My overall thoughts and review:
I love the concept of this box where I got 6 sample sized products to try out and I also got a voucher which will help me avail Rs.100/- off for next months subscription if I decide to buy one. 
Being a blogger I get to try many products and most are full sized which land up in the trash as they expire soon hence samples like these are amazing as you know what works for you best and then you can invest in a full sized product. They are good for travel as well.They have mentioned on their site that the box will be delivered by the end of the month which is good as you know when you will receive it.It would be great if they include a make up item too like lip balm, gloss, kajal and also include a full sized product. They are fairly new and I like their service so far. I am sure they will be more amazing with time. To order the box or for any other information do check out their website HERE They have Free Shipping so what are you waiting for? ☺
My overall rating of the box : 4.5/5
So what you think of the Oh Cute Box! ??Would you buy it or have you tried it??Do let me know in the comments section. 
Thank you for taking the time to read this post. Hope you found it useful and informative.
Until next time.. Take care xoxo

P.S: The box was sent to me for consideration. Honest opinion!