Our cruise was 8 days long: 4 at sea, 3 stops, + travel. (For anyone curious, we were on the Carnival Miracle.)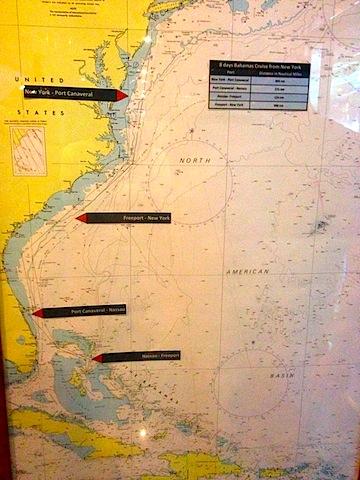 We learned during the first stop in Port Canaveral, Florida, that you really have to plan an excursion. The boat lets you off in a massive port where it's likely that several other cruise ships will also be docked. Imagine 9,000 people waiting in line for a taxi! Yeah, not so fun.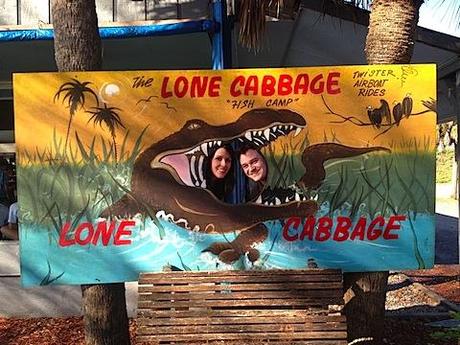 The only excursion we planned (booked through Carnival) was to go on an airboat ride in Cocoa, Florida. Have you ever been on an airboat?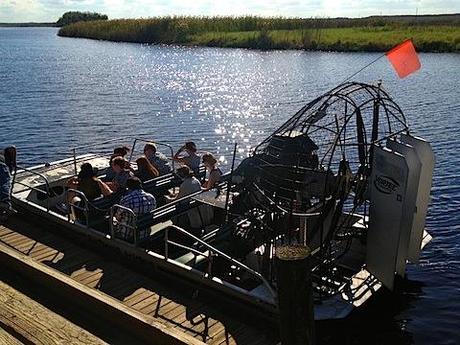 It's an open-air vessel powered entirely by a propeller. The propeller is completely out of the water, and gets its power from the wind. And they go pretty fast!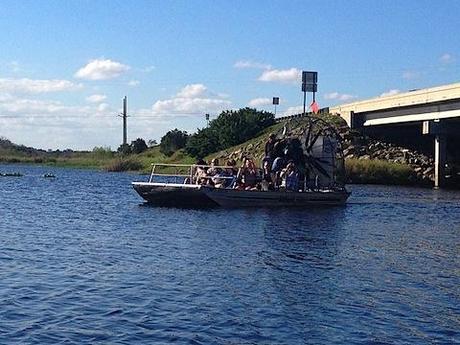 Because of the wind- we were going about 45 miles per hour- we were all encouraged to wear noise-cancellation headsets. (Bonus: they keep the hair out of your face!)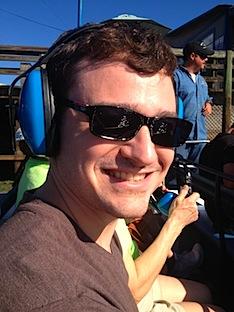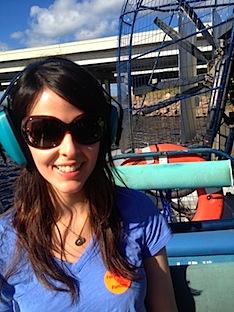 Our guide took us through the midlands in Central Florida. It was a beautiful, clear day. We saw herons, egrets, osprey…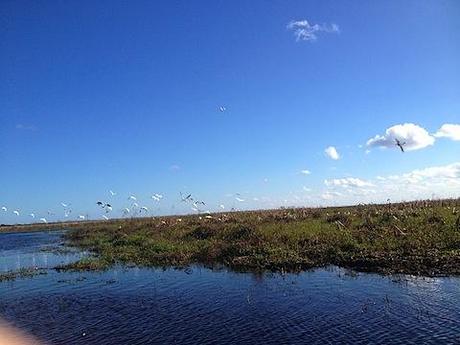 … and cows! We were all really surprised to see herds of cattle just chilling in the marsh like it ain't no thang.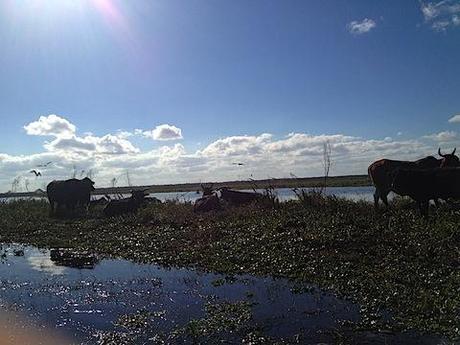 Our real goal, though, was to see alligators.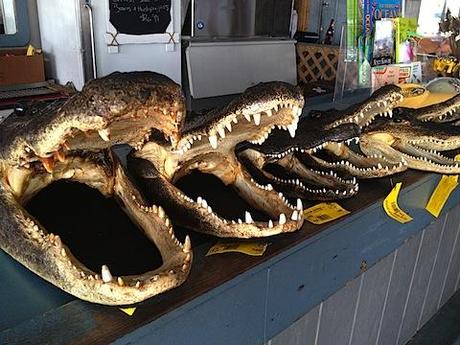 And we were lucky enough to see six!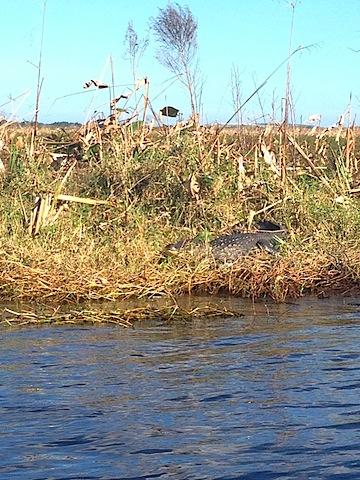 Look closely, towards the middle of the photo. Do you see the classic "floating" snout + eyes?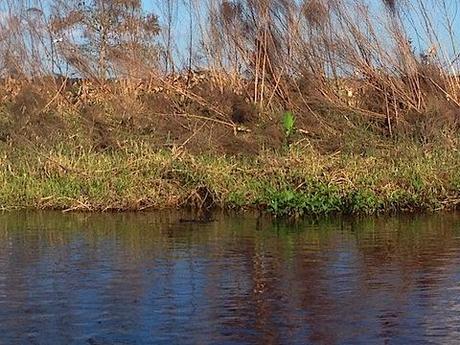 After the ride, we even got to taste alligator! B's from the South, so this wasn't news to him. I'd never had the opportunity to try fried alligator before, though, and it was a bit like what I remember a chicken nugget to taste like.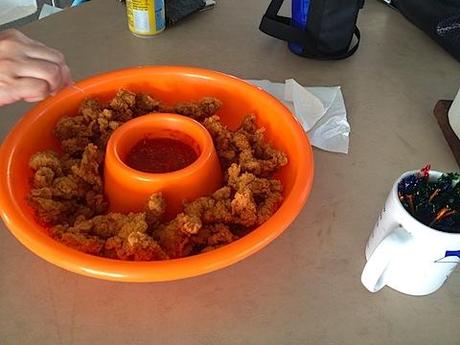 The next two days were spent in the Bahamas, in Nassau and Freeport.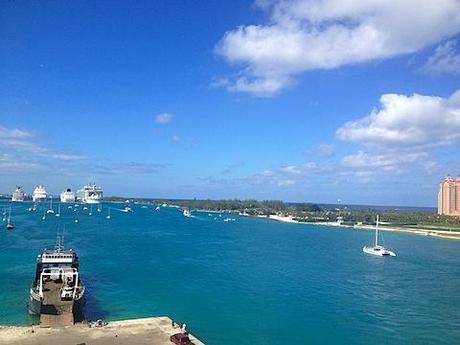 We were both a little disappointed to see that these cities cater entirely to cruise ships, and all of the "local flavor" seemed to have been lost long ago.
I'm not a big fan of sweet drinks, but I was excited to enjoy a fresh strawberry daiquiri on the beach. Sadly, I watched as the bartender took out a huge jug of store-bought mix, and served me a completely undrinkable cherry-red beverage that tasted slightly worse than cough syrup.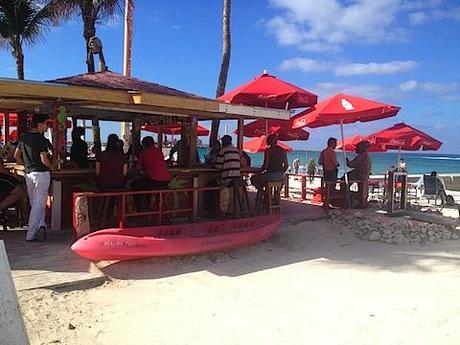 Still, the water was beautiful (if a bit cold).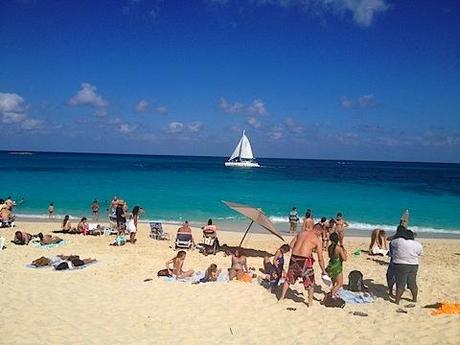 We found a nice little Greek cafe in Nassau for a light lunch and a glass of Sands, a beer brewed in the Bahamas.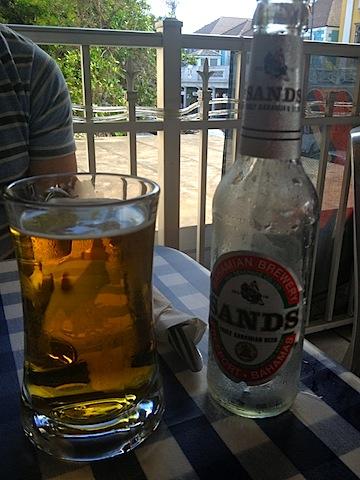 Back on the boat, we spent our remaining vacation days napping, reading, and going down this ridiculously fun slide.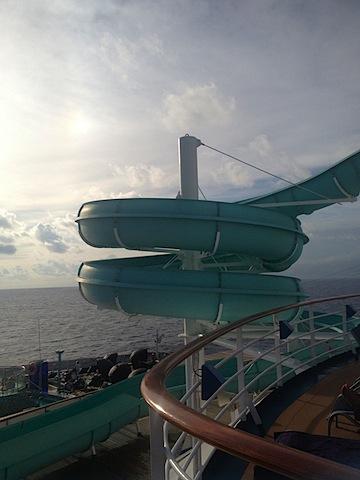 We also had great meals with our assigned dining companions! I wasn't sure how I would feel about being stuck with a bunch of strangers for 8 nights in a row, but it was actually a lot of fun. They definitely put people together by age range, and it worked out really well! We dined with an EMT, a race car driver, a policeman, and a business student. So many different walks of life!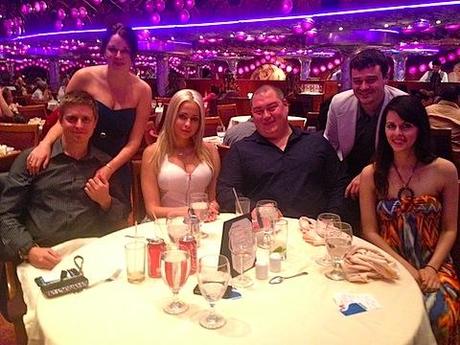 So now we're home again, still swaying slightly, but settling back into real life. I got used to having all my meals prepared for me and my bed made by someone else! As convenient as a cruise was, though, we probably won't take another one. Sometimes it's more fun to pick a place you really want to go, and get to plan your own trip. We'll see what the future holds!