11/07/2011 – by Cynthia Wright
If you happen to be an Aussie or Kiwi bent on watching Tyler tha Creator and his destructive band of misfits, Odd Future during the Big Day OutFestival in either Australia or New Zealand, you will have to wait a little longer to receive your dose of misogynistic and homophobic lyrics live in concert.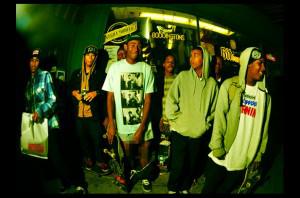 Odd Future
That's right – the hip hop collective has gotten themselves banned from the festival, which I'm sure is not surprising to them. It appears that several people have come out against the group due to their violent tendencies towards women and the LGBT community.
"…lyrics such as those played by Odd Future increase the societal discourse against LGBT [lesbian, gay, bisexual, and transgender] people, a discourse that encourages bullying and violence. If it is acceptable to say something similar to "gays are a cancer on society that deserves to be eliminated", then what group would be next?," Calum Bennachie wrote to Big Day Out promoters.
Bennachie isn't the only one that voiced his concerns over the group's appearance but it didn't take much for those in power to change their tune over Odd Future's inclusion. Similar actions happened in 2010 when controversial reggae artist Beenie Man was yanked from BDO lineups for his hate-infused homophobic lyrics.