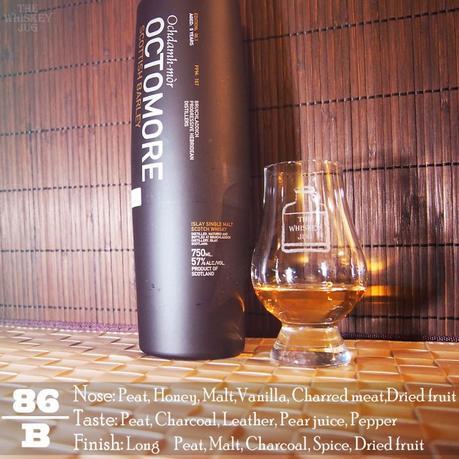 Octomore 6.1 is the 6th edition of the Bruichladdich's mega peated whisky. In fact it's the most heavily peated whisky in the world and the folks at Bruichladdich continue to push the push the boundaries of peat that barley can absorb.
In Bruichladdich's Words: Octomore 6.1
"Titanic amounts of peat but with a light, delicate complexity and a beguiling finesse. Young, yet eminently mature, it defies us. It remains an enigma. We embrace that. Here, we pay tribute to its pedigree, to the land from which it came and the raw materials that gave it life: Octomore Scottish Barley. We believe challenging convention matters.

Magnificently muscular. Most heavily peated malts are so dry and phenolic there is little else to spark the senses, not so this young warrior who arouses pride and passion, transporting you to that most famous rock in the Atlantic ocean – Islay – the beating heart of the Hebrides."
I've always enjoyed the Octomore line, but more as a novelty than anything else. They've always been good, but I've never had one that blew me away – though maybe one day that will change. I'm always game for anything heavily peated so it's a good journey to be on. In the mean time, let's check out this "magnificently muscular" malt in the Octomore 6.1 review below!
Octomore 6.1 Info
Region: Islay, Scotland
Distiller: Bruichladdich
Mashbill: 100% Malted barley
Cask: ex-Bourbon
Age: NAS
ABV: 57%
PPM: 167
Cask Strength | Non-Chill Filtered | Natural Color
Batch: 6.1
Price: $110
Octomore 6.1 Review
EYE
Honey
NOSE
Big heavy burning ball of peat followed by notes of honey, malt, vanilla, charred meat, dried orchard fruit and spice. Water quickly kills the complexity and it becomes a 1 noted "sweet smoke" so go light with the H2O.
PALATE
A charging bull of peat, charcoal, leather, pear juice, pepper, dried orchard fruit, bitter alkaline, iodine and saline with a light bit of spice that kicks up on its way to the finish. Water has the same effect on the palate as the nose.
FINISH
I always feel like I'm still tasting Octomore the next morning. Peat, malt, charcoal, spice and dried orchard fruit
BALANCE, BODY & FEEL
Neither fully balanced nor full un-balanced it sits in a delicate spot; a round body and a thick heavy feel.
OVERALL
The huge wave of peat in the Octomore 6.1 is definitely why I like this. The subtle complexities underneath the blanket of peat give it some balance, but it's not exactly a "sipping whisky". Octomore has always been, to me, something that's more of an experiential whisky. A whisky that's less about the overall drinkability of it and more about taking note of what it does to your senses; the Octomore 6.1 is no different.
Still, whisky like the Octomore 6.1 is always a fun experience and one I enjoy repeating as often as possible. There's something wonderful about flooding your senses with peat, it's like wrapping yourself in a smoky cocoon for a few blissful moments and in those moments I always think about Wolverine.
In the comics Wolverine smokes cigars to deaden his heightened sense of smell and pounds cases of beer to feel little tipsy and I can't help but think he should just skip straight to something like the Octomore 6.1 and achieve two goals with one bottle. If I ever meet one of the Wolverine writers, you now know exactly what our conversation will be about.
SCORE: 86/100 (B)