The Octomore 12.3 closes us out on this year's Octomore releases, and what a way to end it. Made from a mix of ex-Bourbon (75%) and ex-PX (25%) casks, this whisky is something of an anomaly in the Bruichladdich world because of its use of sherry.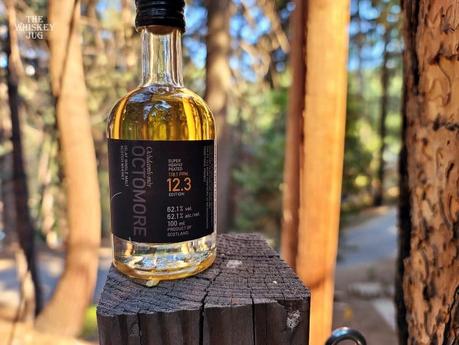 They don't avoid it because they don't like it, but because they're picky about casks. Most sherry casks these days are just "sherry treated" casks and not true sherry casks, and Bruichladdich won't use "sherry treated". This is why sherried, OB, Bruichladdich is so rare.
This all changed when they partnered with the Fernando De Castilla bodega and began gaining access to true sherry casks. Casks FDC only lets go of once they're done being used in their solera which does mean there isn't exactly a plethora of them on the market but does mean the quality is pretty high. This all sounds nice, but the question is, does pickiness pay off? Let's get to drinkin' and find out.
Octomore 12.3 – Details and Tasting Notes
Whiskey Details
Region: Islay, Scotland
Distiller: Bruichladdich
Mash Bill: 100% Malted Barley
Cask: ex-Bourbon
Age: NAS (5 years)
ABV: 62.1%
PPM: 118.1
Cask Strength | Non-Chill Filtered | Natural Color
Price: $190*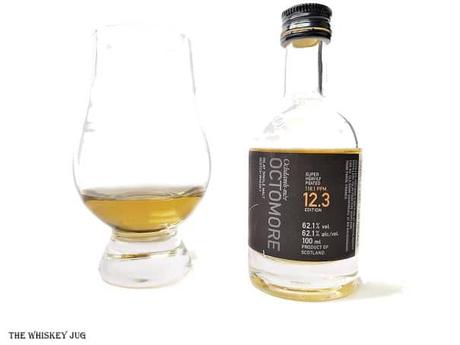 "The PX casks bring a luxurious dried fruit style, sweet and rich. This layers beautifully with the rich phenols and light marine notes." – Bruichladdich
Tasting Notes
EYE
Gold
NOSE
Smoke, grilled pears, salty minerality, dried orchard fruit, vanilla candy, honey nut cheerios and some dessert spices and malt.
Octomore 12.3 has a wonderful coastal quality that really sets it apart from the 12.1 and 12.2 on the aroma.
PALATE
Smoke, grilled pears, sweet BBQ, herbal spice, toasted malt, buttery toffee, honey nut cheerios, vanilla candy and hay-like malt.
There is so much weight in this palate it's ridiculous. It's like an earthy-peaty-sweet-and-spiced syrup.
FINISH
Long -> Smoke, toffee, fruit and honey fade out a bit oaky.
BALANCE, BODY and FEEL
Well balanced, full-round body and a heavy oily feel.
---
Octomore 12.3 – Overall Thoughts and Score
Hints of butterscotch peek through on the aroma as it opens and it seems to get a bit lighter. The palate on the other hand just keeps getting heavier, like it's creating its own gravity. This is a dynamic and dense whisky. The weight of it is astounding.
I'm used to Octomore being a bit "fresher", a bit lighter, a bit more spirit-forward, but this Octomore 12.3 is kind of the opposite of that. Water does lighten it up a bit by bringing the fruit a bit more forward, but the layers of dark sweetness and earthiness never relent, and I love it.
SCORE: 4.5/5
*Disclosure: The sample for this Scotch review was graciously sent to me by the company without obligation. The views, opinions, and tasting notes are 100% my own.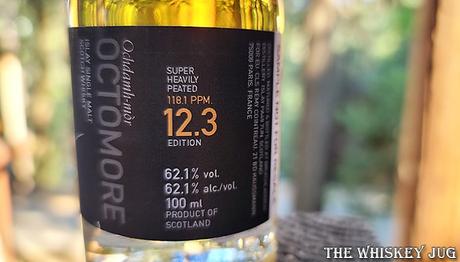 Octomore 12.3 Review
$190
Summary
The more time this gets to open the better it gets. This is a warm, bold and dynamic whisky that expertly walks the line of complex vs overwhelming.
Overall
4.5
Nose

(4.5)

Palate

(4.5)

Finish

(4.5)

BBF

(4.5)
Sending
User Review
0

(

0

votes)
Comments Rating
0

(

0

reviews)