Next up is the Octomore 12.2, which starts with 50% of the spirit being aged in 1st-fill ex-Bourbon casks and 50% in 2nd-fill ex-Bourbon casks. After about 3 years of maturation in these casks, the spirit was blended together and left to marry, mature and finish for about 2 years in 1st-fill ex-Sauternes casks.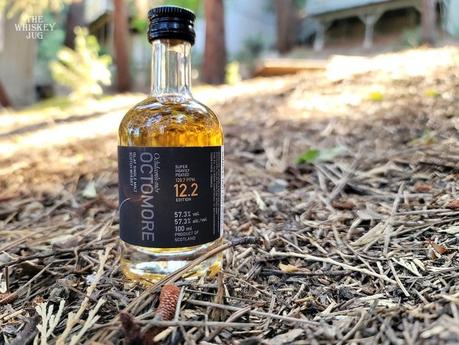 This is a throwback to the 4.2, the Comus, and unlike most years, will be available in the mass market and not just travel retail. This is a big shift for Bruichladdich and a boon to fans who typically have to snag a plane ticket or beg a traveling friend to look for it.
Octomore 12.2 – Details and Tasting Notes
Whiskey Details
Region: Islay, Scotland
Distiller: Bruichladdich
Mash Bill: 100% Malted Barley
Cask: ex-Bourbon (1st and 2nd fill), ex-Sauternes
Age: NAS (5 years)
ABV: 57.3%
PPM: 129.7
Cask Strength | Non-Chill Filtered | Natural Color
Price: $160*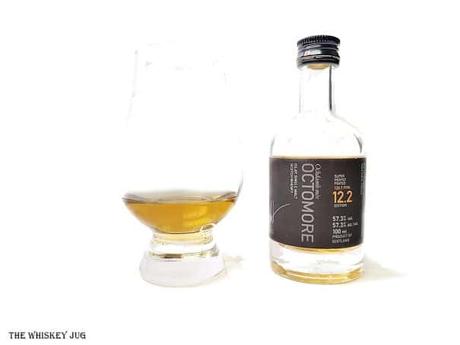 "The Sauternes casks brings another dimension to the vitality of Octomore. The honey-soaked fruit and dry smoke work beautifully together; that classic combination of smoke and sweet fruit delivers beautifully again." – Bruichladdich
Tasting Notes
EYE
Amberish gold
NOSE
Smoke, vanilla frosting , fruit cake, dried orchard fruit, honey, white raisins, earthy hay-like malt, herbal spice and a touch of minerality.
There is a juicy quality to it that's very enjoyable and pairs well with the earthier notes.
PALATE
Smoke, sweet BBQ, toffee, white raisins, dried fruit, earthy hay-like malt, baking spices and a touch of sweet tobacco and herbal.
The darker notes continue to surface as it opens and after a while the Octomore 12.2 comes across like a dark and fruity, balanced, combo of peat-n-sweet.
FINISH
Long -> Peat, toffee, dried fruit, herbal spice and a touch of toffee.
BALANCE, BODY and FEEL
Well balanced, full body and a warm oily feel.
---
Octomore 12.2 – Overall Thoughts and Score
With a bit of air and time some dark, sweet, baked qualities – like caramel frosted scones – surface on the aroma and the same, but fruitier, happens on the palate. It moves and morphs into something that's a little harder to pin down, but never loses its delicious complexity.
This Octomore 12.2 is, in a way, a follow-up to the Comus, which I was able to re-taste at a recent Malt Nuts and I have to say… it's a worthy "follow-up". I know a repeat, or even tribute, isn't exactly what they were going for with the ex-Sauternes usage, but it's a fair, direct, and complimentary comparison. If you enjoyed 4.2 (Comus), you'll enjoy this.
SCORE: 4/5
*Disclosure: The sample for this Scotch review was graciously sent to me by the company without obligation. The views, opinions, and tasting notes are 100% my own.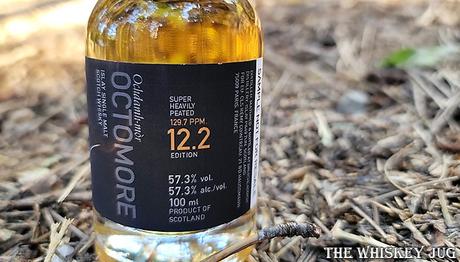 Octomore 12.2 Review
$160
Summary
This is a wonderfully balanced earthy and fruity sweet dram with a peaty wrapper. It's a fun one to let run through the senses.
Overall
4.1
Nose

(4)

Palate

(4.5)

Finish

(4)

BBF

(4)
Sending
User Review
0

(

0

votes)
Comments Rating
0

(

0

reviews)

''