Once again it's favourites time and I'm struggling to think of where this past month has gone! October seemed to fly by so quickly and I can't believe how much closer we are to Christmas now that we're into November. The town Christmas lights are up, the Christmas cards are out in the shop where I work, and the Christmas shoppers are out in full force. I have to say I'm getting pretty excited already and am looking forward to doing it all again! This month I've been trying out quite a few new products and some of them have even made their way into my favourites, along with some old favourites which I've fallen back in love with.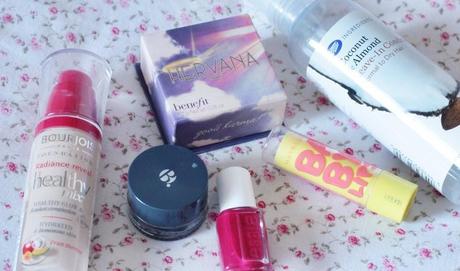 Bourjois Healthy Mix Radiance Reveal Foundation - It's no secret that I'm already a huge fan of the Bourjois Healthy Mix range and have been loving both the original and serum formulas over the last year or so. Enter Radiance Reveal which is meant to be somewhere in-between the 2 in terms of coverage. I've been loving this foundation because it gives you medium coverage with a lovely glow, and the color of the lightest shade is a great match for my skin hurrah.
B. Precise Gel Eyeliner (in Black) - I've always been a liquid and pencil liner kinda gal but recently I've been dabbling in the world of gel liner and loving it. I decided to go for the B. Gel Liner after reading so many great reviews and it just so happened to be on offer at the time so it was just meant to be. I've been loving this gel liner because it lasts so well and gives a really defined look to the eye with a few quick swipes of the brush.
Benefit Hervana Boxed Blush - This is a blusher which has featured in my favourites before, but one that had to included again as I've been absolutely loving this shade over the past month. Hervana is a gorgeous swirled mix of pink, peach and berry shades and gives a natural looking flush to the cheeks. There is the slightest hint of shimmer which really brightens up the cheeks and this is perfect for autumn/winter makeup looks!
Essie Size Matters - Dark and deep nail polishes are something I don't really reach for, mainly because I don't have many in my stash. I've always been more of a pastel and brights person but this autumn has seen me go out of my comfort zone a bit more. Size Matters is a gorgeous deep red shade that is so perfect for this time of year and the creamy finish means that it looks stunning on the nails.
Maybelline Baby Lips (in Intense Care) - This is another product that has already been featured in a favourites post but it had to come back as it has been working wonders on my dry lips this month. The colder weather really takes its toll on my dry lips but this balm has been a godsend for keeping my lips hydrated when I'm out and about. It really is a handbag staple now!
Boots Ingredients Coconut & Almond Leave-In Conditioner - This past month has seen me ditching my straighteners and curling tongs, and instead embracing my natural hair which can be quite dry and lifeless after washing. This leave-in conditioner is an absolute bargain at just £1.39 and does an amazing job of hydrating the ends of my hair after washing. It's also great to use as a detangler or even to smooth down any flyaways or frizz.
What have you been loving this month?