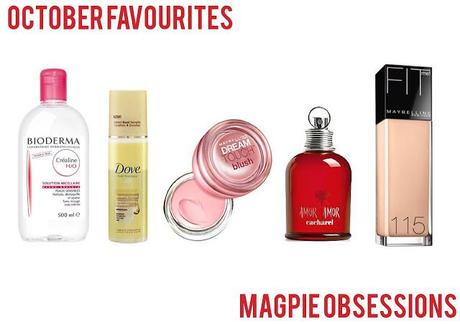 Months seem to be going so so fast at the moment - it is actually Christmas next month aaa. October left me trying lots of new products here are the ones I used pretty much everyday and just couldn't get enough of.
Skincare - Bioderma Crealine H20 (review)
I only posted about this a few days ago but I had to feature it in my October favourites too it's literally working so well for my skin and removing every single trace of make-up I adore this product and I have a feeling it'll be popping up in many more favourite collections in the future.
Haircare - Dove Nourishing Oil Care Mask (review)
I've been using a lot of hair care products recently but this is easily my favorite. I pack it every time I go away and it is just so versatile. I can put it on my hair when it's wet or dry and really nourishes my hair as well as smoothing down any fly away ends. It's the perfect all rounder for me that I am using up very quickly.
Make-Up - Maybelline Dream Soft Blush, Apricot (review)
Trying to embrace a paler look for winter this blusher has become a firm favorite. It's ever so subtle and adds a really nice glow to my cheeks. It sits really well on my make-up and is perfect for work as it isn't too in your face but just highlights my cheeks nicely.
Perfume - Cacharel Amor Amor (review)
So glad I bought this perfume back in my life - it's been a favorite since I was about 14 years old and it still is now I love spritzing it all day long. A massive bottle of this is definitely on my Christmas list.
Make-Up - Maybelline Fit Me Foundation (review)
I've been using this foundation for the whole of October nearly and it's become a perfect work foundation. It lasts all day and doesn't clog my skin or dry out under the lights or cold lighting. It seems to be taking me quite effortlessly into colder winter climates too which I love and have everything crossed it will hold out.