This weekend proved to be very busy in Chicago with the NATO summit in full swing. I'm not into politics at all, I actually had no idea what the NATO summit was all about. Thanks to Google and Wikipedia I now know. The summit is being held at the McCormick Place Convention Center which is about a 5 minute ride from my home, so it made traveling north of my residence very difficult.  There are thousands, and I do mean THOUSANDS, of protesters here. I made it my duty to stay as far away from the action as I can. Unfortunately, I have to work Monday, and I get the privilege of heading right into the action of downtown Chicago. Friday, armed guards surrounded my building so I'm not sure what lies ahead tomorrow.
Friday evening, I hosted a meet & greet dinner for the guest of the Family & Friends cruise to Aruba and 3 other islands that I'm hosting in August. I love planning events, I really do take the time to make sure people enjoy my presence and any event that I sponsor.  For my outfit, I decided to wear to some recent bargains that I came across. My sister also dressed cute and casual for the event. We had a blast as always but the waitstaff at Leona's on 91st and Stony Island was HORRIBLE. I'll leave it at that!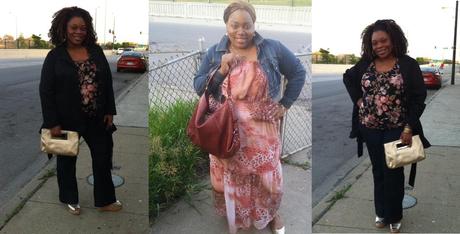 Here's what I wore:
Jacket by Cynthia Rowley – TJ Maxx clearance for $19.99
Floral Pheasant Blouse- Target clearance for $8.00
Denim Trousers – Lane Bryant clearance $6.99
Shoes – DSW clearance Steve Madden Metallic Gold Wedges $10.00 (Discounted from a coupon I had in conjunction with a few loose threads on the back of the shoe. Don't be afraid to ask for discounts if you feel something is slightly damaged)
Purse- Michael Kors Berkeley Clutch in Pale Gold purchased from the Michael Kors outlet in Concord, NC $99.00
Bracelets- Amrita Singh $30.00 from Ruelala
I have no idea where my sister Le'Nae got that adorable dress from. I know the purse is Kenneth Cole, the shoes are Nine West, and the diamond necklace is from Ice.
On Saturday, I opted for cute and casual once again. We decided to do some light shopping and go to a carnival. Unfortunately, we got there and the carnival was gone, but nonetheless, the show must go on. I wore a navy blue maxi dress from Ashley Stewart that I purchased last year for less than $20.00, a crop jacket I purchased from Lane Bryant on clearance for $6.99 and Coach Folly Sneakers I purchased from Nordstrom for about $60.00 on sale, Lounge Lizard Necklace by Betsey Johnson. I carried my BCBG quilted leather tote that I purchased for $79.99 from Ruelala that retails for $348.00. It's on Sale at 6pm for $139.00 now.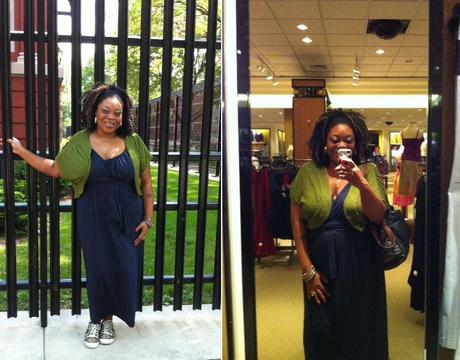 So while protesters were out occupying downtown Chicago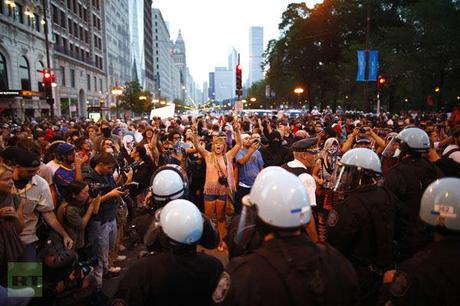 Photo Courtesy of Chicago Tribune
I was out occupying TJ Maxx & Lane Bryant – Check out that cute Michael Kors Purse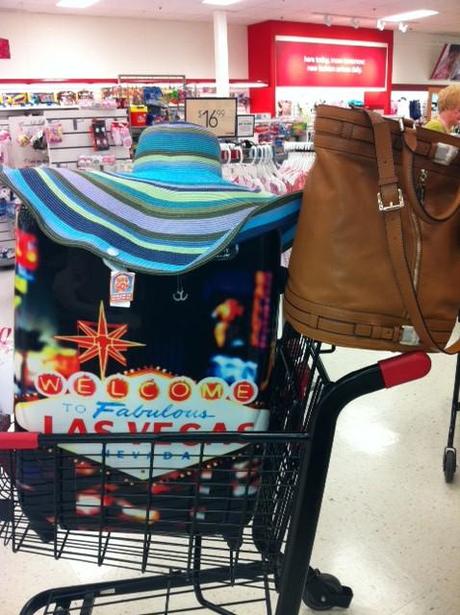 Around 10:00 pm we decided to make a run to Target which prompted us to go north. We were meet with resistance as traffic was backed up for miles…..Why did my ass decide to go North knowing we possibly wouldn't be able to…….inquiring minds want to know!