Good day, I'm here to post My Film Views' 4th Obstruction, the fourth phase of The 5 Obstruction Blogathon. Here's the instruction to do the 4th one :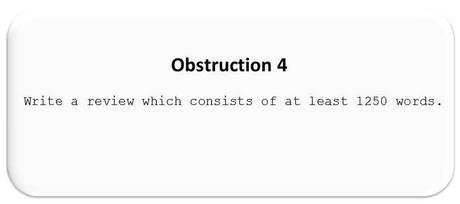 The longest review I've ever written was 900-1000 words, and that's because I've got too much to say on a movie. I think it's wise to do this for a movie I've already watched, so I have more than one movie watching experience. I pick Cameron Crowe's Elizabethtown (2005). Happy reading!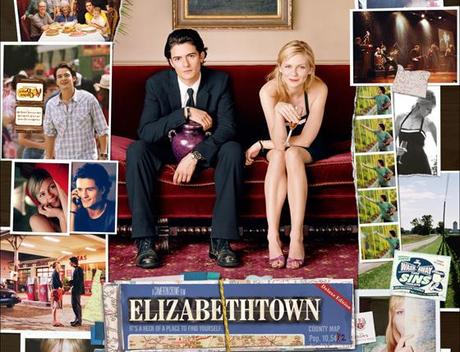 "You wanna be really great? Then have the courage to fail big and stick around. Make them wonder why you're still smiling."
Let me tell you why I decided to watch Elizabethtown (2005) again. First time I saw the movie was back when it was just released in 2005. People were expecting much after Almost Famous (2000) when Vanilla Sky arrived. But like me, the movie wasn't a favorite to many people. And then, Elizabethtown (2005) was released, starring at that time two popular young actors; Orlando Bloom (who were famous for being Legolas in Lord of The Rings trilogy) and Kirsten Dunst (was currently on top because of Sam Raimi's Spider-Man trilogy). So, there were definite expectation.
But not just about expectation, Cameron Crowe to me is a true artist for not doing movies because of getting bucks of money or fame. He write and direct by heart. Perhaps about half of his films are my favorite, namely Jerry Maguire (1996) and Say Anything (1989). In my first viewing, I did not like Elizabethtown but back then I didn't really quite figure it out why. When I did a special post for Cameron Crowe on his birthday last year, I quoted his words about this movie:
"Well, people who love it, love it. And people who don't love it, they don't love it a lot. And that's fine. It always goes back to, "Why did you make that movie?" It was a pure thing for me – it's for my dad. The memories he left behind." [on Elizabethtown (2005)]
There, from his personal experience. Which made me feel 'Ok, maybe I should give Elizabethtown another try.'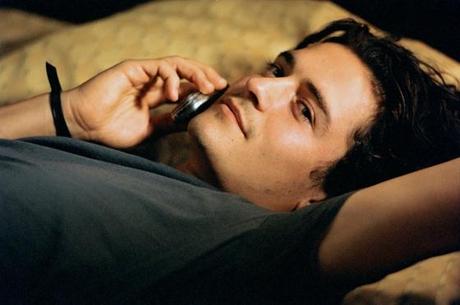 Elizabethtown is mainly about Drew (Orlando Bloom), a shoe designer who worked for his boss, Phil (Alec Baldwin) for 8 years. Apparently, his recent shoe design is a disaster, a big failure, enough for him to want to kill himself. But unfortunately, his suicide attempt is disturbed by a sad call of his sister Heather (Judy Greer), telling him that his father just passed away. Since Drew is the eldest, he must get his father's body to be buried in Oregon, where his mother, Hollie (Susan Sarandon) and sister lives. His father's body is currently in Elizabethtown, his father's hometown. Drew's mother warned him that people in Elizabethtown aren't so pleased with her before and that their small family decision is to cremated his father's body. Drew promise to get back to his suicide plan after taking care of the funeral.
On a flight to the nearest airport to Elizabethtown, Drew met Claire (Kirsten Dunst), a cheerful local air hostess. Being the only passenger in the plane, Claire feels fortunate to have him and up for a chat, which is not Drew scene that moment. The girl kindly share path Drew's city destination, who is complicated to find. Claire also write the instructions and her cellphone number. Claire find out when she kindly put away the blue suit Drew carry that his father just passed away. Claire's kindness looks like a mixture of kindness, sympathy and attracted to Drew.
Feeling sad tragedy after tragedy makes Drew desperate to find the road sign lead to the city, but when he finally found it he realized that his father is well-known and very loved to the people in Elizabethtown. He met his cousin and several uncles and relatives there. He himself somehow is known as a successful shoe designer, but what they don't know that he failed his recent project. It's the horror that makes Drew afraid about their expectation to him. Adding his tragedy, his girlfriend Ellen (Jessica Biel) who works in the same shoe company wants to end their relationship. But on the same night, Drew actually find the comfort to talk a lot to Claire for hours. The talk until morning where they agree to meet to see the sunrise.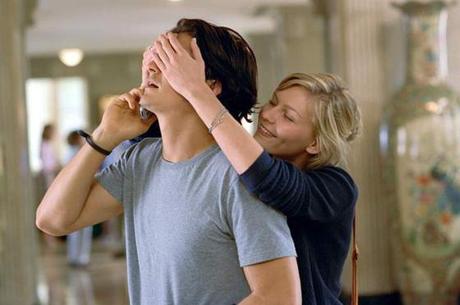 Drew then learn more about his father's family background and how the people there greet him with hospitality, another side to perfect his mother's vision about them. He also spend more time with Claire, growing their almost-romantic relationship. Claire admits that she is in a relationship with Ben, who lives in a different city with her. Still they both enjoy each other's company. Meanwhile, Drew must debate a little bit to have his father cremated and bring him to Oregon. But is it the right decision? And, is his relationship with Claire continue or only appear as a substitute?
Like Kid in the Front Row once said in his e-book, there's no recipe for making great movies. They just are. It seems that Elizabethtown has all the ingredients to be one great movie, but somehow it did not blend very well. I see the whole concept about Drew, the man who only see himself as a successful shoe designer, have a gorgeous girlfriend in the same company, too dedicated to work to even show up to his family's Christmas holiday. And while he's still processing his humiliation and failure, he lost his father who is very well loved. Even with Claire, who seem easy going and have no weight on her shoulders, try to keep happy with the things she faced. Their spontaneous and impulsive relationship that appear and unexpectedly exist, one might wonder if they just keep each under company temporarily before the real ones exist.
But what appear on screen seem to have lost something, Drew's shock, sadness and hidden desperation of his failure. His connectivity to what was going and even his connection with Claire. Dunst seem all over Bloom, but the guy gave no reason for a girl like Claire to be attractive to him. Yes, I mean you, Orlando Bloom. While he's successfully being cool and charming Legolas, it seems he need more exploration to be Drew. When he tried to kill himself on a fitness equipment, he doesn't seem desperate but only suffer a light sadness. Apparently his overall performance throughout the movie didn't exactly charm the screen, instead Susan Sarandon's speech in the memoriam of her husband only took one scene to moved the viewers to tears. That's one beautiful scene, ended with a very touching song, Moon River.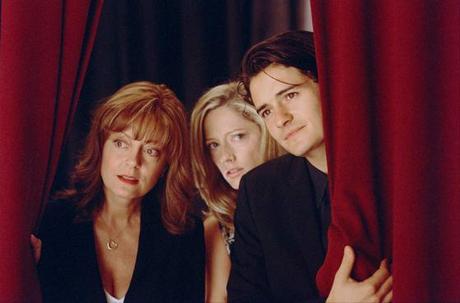 Of course, like many Crowe films, the music was excellent. My favorites were Sugar Blue and This Time Around, have featured it before and still on my music playlist. Other songs was soothing as peaceful as the small city's atmosphere. This is still a good collaboration between Crowe and his wife at that time, Nancy Wilson.
I couldn't help but think if Tom Cruise played Drew, or some other talented actor.  But sadly, I think the major mistake was choosing Bloom as the lead. Or, perhaps he was distracted? Bloom was having a schedule conflict because of his part in Kingdom of Heaven (2005). Crowe had Bloom in mind while writing the script.
It has been said that the original cut of the movie was 18 minutes long and it had an epilogue about the shoe that told to be a failure actually is a big success in the real world. Kirsten Dunst wanted the part so much she left her role in The Village, while James Franco, Sean Patrick William, and Chris Evans auditioned for the role. I can see Sean William Scott as Drew, after seeing him in Goon (2011).
Nonetheless, I still love the deep and meaningful dialogues between Drew and Claire, the hospitality of Elizabethtown, Kirsten Dunst performance, Claire's road trip book to Drew and the road trip, the memorable advice Claire gave to Drew, the whole concept of the story and the sentimental element. It seems that back then I had it right not to like it. It wasn't the best, but it got potential. Let's hope it's the last movie of Crowe I rated below 4 stars.
Movie Score :

Check out my previous entries for The Five Obstruction Blogathon