The former Master of the Queen's Music was 81.
by
Paul J. Pelkonen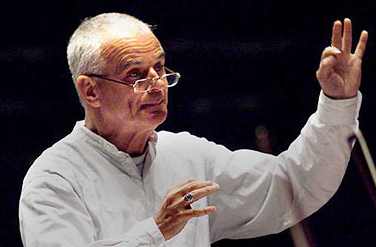 Composer Peter Maxwell Davies. Photo © Stephen Lock.
Sir Peter Maxwell-Davies, the groundbreaking British composer known for bold symphonies and iconoclastic operas died yesterday at his home on the island of Sanday in the Orkney Isles. The composer was 81. He had been suffering from leukemia in recent years.
Sir Peter was part of a wave of British composers in the late 20th century that worked and wrote in brave new directions in the years following the death of Benjamin Britten. "Max" to his colleagues and "Sir Peter" in the Queen's birthday honors list of 1986, he was a beloved figure in contemporary music. He was appointed Master of the Queen's Music (the music equivalent of Poet Laureate) and served the United Kingdom in that capacity until 2014.
Self-taught, his compositional career started at 12. Independent study led to a mastery of major works by Beethoven including the symphonies and the
Violin Concerto
, convincing his examiners to award him an A-level in music for his efforts. Early, jagged works such as the
String Quartet
were met with outright hostility by audiences. Another work,
Eight Songs for a Mad King
combined bits of Handel's Messiah with the ravings of George III, often spoken or screamed.
Mr. Maxwell Davies moved to the Orkney Isles in 1971 and his style mellowed, with film scores, a violin concerto and the first of long series of symphonies and operas appearing with regularity. He also concentrated his efforts on educating children in music, writing many works to be performed by young would-be musicians.
This change in direction led to lambasting in the music press. His old works were characterized as being too noisy, but the new music he wrote was labeled too "safe." His response in an interview with the BBC was: "I have been criticised a lot for writing in different styles and different kinds of music," he said. "I've been called a prostitute. Fine. In that case, so was Mozart."
Sir Peter outlived that Austrian composer, creating operas that achieved notoriety while staying firmly outside the mainstream repertory. In 2011, the Juilliard School staged his eighth opera
Kommilitonen!
which bridged a story set in Communist China with the White Rose, an anti-Nazi resistance movement and the racial tension surrounding the enrollment of James Meredith at the University of Mississippi in 2011. A full review of the opera appears 
here
on
Superconductor.
The premiere took place in the wake of the Occupy Wall Street movement, a cross-country appeal for social justice. In fact, following the premiere, Sir Peter went and spoke with protesters on W. 65th St. who were picketing Lincoln Center that evening following their eviction from the campsite in Zuccotti Park the night before. He had supporting and encouraging words for the Occupiers. Right to the end, Sir Peter Maxwell-Davies was a man of the people.