Slayer guitarist, songwriter died of liver failure.
by Paul J. Pelkonen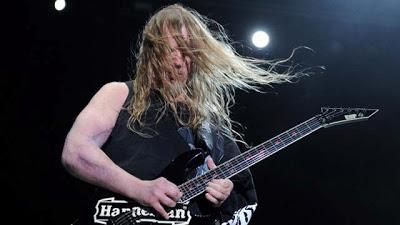 Guitarist Jeff Hanneman of Slayer, onstage with the band in 2011.
The damage from flesh-eating bacteria is visible on his right arm. Photo: Getty Images.
Guitarist Jeff Hanneman, founding member of the Los Angeles heavy metal band Slayer, died yesterday of liver failure. He was 49.
His death was reported on Slayer's official Facebook page: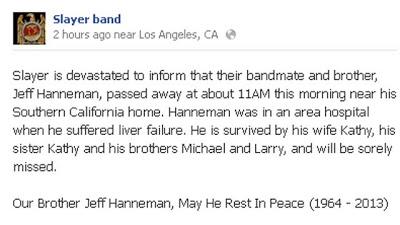 Mr. Hanneman was one of the pioneering thrash band's principal songwriters, penning some of the band's signature songs. He was also a ferocious live performer, with a wild, skittering guitar style that reflected the nightmarish content of Slayer's lyrics.
The California native was one of the creators of the speed-metal style that made Slayer one of the most extreme bands of the '80s and beyond. Slayer's secret was to take the stylings of heavy metal and add the aggression of punk and hardcore, creating an uncompromising style of music that ignored radio and MTV. Their "take no prisoners" attitude extended to live shows, which resulted in the band being banned from concert venues like Madison Square Garden in 1991. (On a personal note, I was at that show.)
In 1985, Slayer released the album
Reign in Blood.
Clocking in at just 28 minutes, its ten songs led off with "Angel of Death", a Hanneman composition describing the tortures and horrors perpetrated by Dr. Josef Mengele, the notorious Nazi scientist. Accusations of anti-Semitism have been aimed at Slayer for the rest of their career, a charge that the band categorically denies.
In an interview, Hanneman said: "Nothing I put in the lyrics that says necessarily he (Josef Mengele) was a bad man, because to me, well, isn't that obvious? I shouldn't have to tell you that." Other Hanneman compositions included "Dead Skin Mask" (dealing with serial killer Ed Gein), "Reigning Blood" and "Psychopathy Red", the lead-off single from the band's 2009 release
World Painted Blood.
Although Slayer continues to tour, Mr. Hanneman's activity with the band had been curtailed in recent years. While on vacation in Mexico, he was bitten by a spider. Left untreated, the spider-bite became infected with flesh-eating bacteria. Mr. Hanneman nearly lost his right arm.
Since his illness, his guitar chair in Slayer has been held by Gary Holt, of fellow California thrashers Exodus. Mr. Hanneman had recovered and begun a program of physical therapy to enable him to return to the rigors of regular touring. He had also begun to write songs contributing to the next Slayer record.
And in case you're wondering why a classical music blog devotes space to the guitarist from Slayer, listen to this: