The Tangerine Dream founder was 70.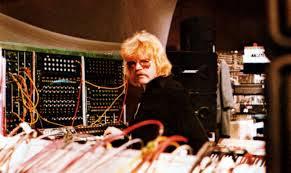 Plugged in: Edgar Froese at work in the studio.
Edgar Froese, the electronic music pioneer who founded the pioneering German group Tangerine Dream, died earlier this month at the age of 70. The keyboardist suffered an unexpected pulmonary embolism on January 20 while in Vienna, Austria.
"This is a message to you we are very sorry for… On January 20th, Tuesday afternoon, Edgar Froese suddenly and unexpectedly passed away from the effects of a pulmonary embolism in Vienna," the band posted on its Facebook page.
Born in East Prussia on the same day that the Allies landed in Normandy, Mr. Froese formed Tangerine Dream in 1968 and was its only continually serving member. With fellow electronic pioneer Klaus Schulze, he created a new kind of music rooted in experimentation with amplified instruments, keyboards, manipulated tape and that new instrument: the synthesizer. A quartet of early albums:
Electronic Meditation
,
Atem
,
Zeit
and
Alpha Centauri
broke new ground in what could be done in the studio.
The group wrote psychedelic music that was highlig experimental with titles like "Journey Through a Burning Brain." Their influence can be heard on English groups like Pink Floyd and Roxy Music. The latter group's  keyboardist Brian Eno would later give birth to the idea of ambient music. Alongside groups like Neu!, Can and Kraftwerk, they pioneered the German subgenre, known (for better or worse) as "kraut-rock."
Tangerine Dream entered a second and more successful phase in the 1970s with the release of
Phaedra
, an album that has an early and pioneering use of sequencers to create music. They signed to Virgin Records and released a string of successful records and film soundtracks.
Mr. Froese's unique music adorns movies like Risky Business, Legend and Sorceror. He also released solo outings like Aqua, a classic album of experimental music, among the hundred-plus records released over a four-decade career.
More recently, Tangerine Dream added Mr. Froese's son Jerome o its lineup, releasing albums that remixed classic tracks for use by DJs and writing music for video games like Grand Theft Auto. They continued to tour and perform to rapt and entranced audiences in Europe and elsewhere. The band had no statement as to whether it intends to continue without its longtime leader.