Obama Image Copyright Case Is Settled - NYTimes.com
: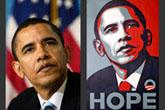 The Associated Press and the artist
Shepard Fairey
have settled their copyright battle over the unlicensed use by Mr. Fairey of an A.P. photograph of Barack Obama in the memorable 2008 "
Hope
" poster. The A.P. announced the settlement on Wednesday.
Neither side conceded on the issue to decide if using the A. P. Newswire photograph was a violation of copyright laws.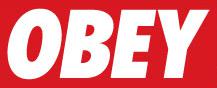 Related articles
SOPA Author's Own Website Violated Copyright (newser.com)
Park Avenue Prices For Street Art (auctionnewsnetwork.com)


13 pieces by Banksy sold for impressive prices including $149,000 for "Monkey Detonator." Contemporary Shepard Fairey's "Chinese Soldier" went for $38,000. Fairey may be best known in the U.S. for his Barack Obama poster, "Hope.

Aaron Huey, Shepard Fairey, and Ernesto Yerena Billboard Campaign for Pine Ridge (indiancountrytodaymedianetwork.com)
Shepard Fairey Releases TIME Cover 'Protestor' Print [Headlines] (psfk.com)


How fast do you think it sold out?