I wanted to make Vegetable Cutlets today but the very image of a vegetable cutlet is the one loaded with oil so we might enjoy having it but later feel guilty because the extra calories we would consume with it.Hence Instead of frying it I baked it in the oven.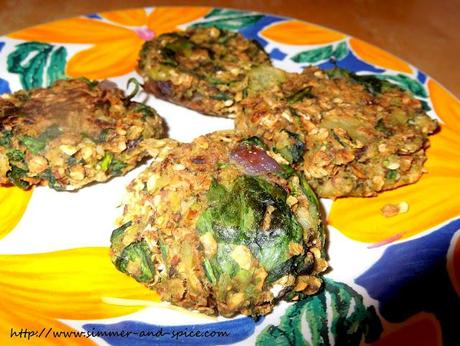 Ingredients :-
1 cup oats

1 potato boiled

1/4 th cup water

1/2 onion finely chopped

1 green chili chopped

2 cloves of garlic

1/2 cup peas

2 cups chopped Spinach

salt

1/2 tsp of chat masala

1/2 tsp of red chili powder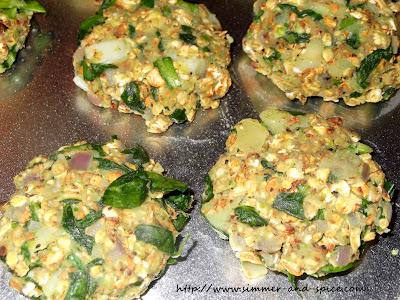 Oats Ball before Baking
Method :-
Boil the potato, wait till its cooled then, mash it and keep it aside.

In a pan take 1 cup of oats , dry roast it and keep it aisde.Keep on stirring it else it would get burnt.

In a Grinder take green chili, garlic cloves and 1/2 cup peas.Make it into a paste and keep it aside.

In a pan add 1 tbsp of oil , add chopped onion to this once translucent add the green peas, chili and garlic clove mixture to it.Mix it well.

Add mashed potatoes to this along with roughly chopped spinach , Mix it well.

Add 1/4th cup of water along with salt, chili powder, chat masala and stir it well.

Finally  add roasted oats to this , mix well.

let it cook for about 2 minutes.

Now once the mixture has cooled down make small balls of it. Grease a oven dish and place all these cutlets on it.

Preheat the oven and then bake these for 20 minutes at 200 degrees.Flip it after 10 minutes so that both sides are baked.

Serve it hot with Chutney or Ketchup.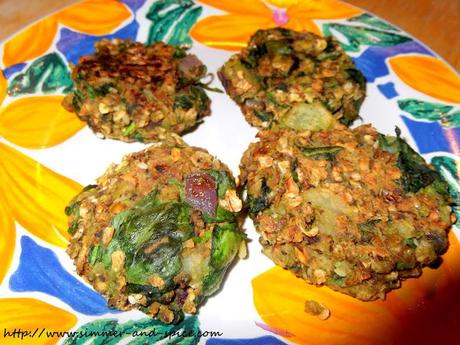 Let me know if you liked this recipe and also if you make it any different way.
Linking this recipe to U.K rasoi
New Year .. New Dish