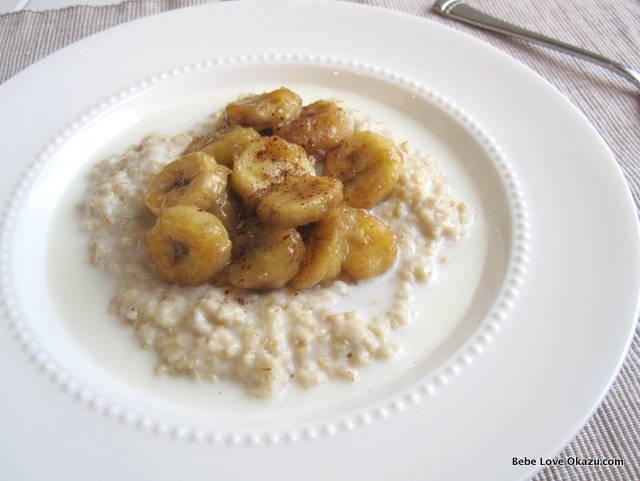 I'm so glad that the sun has finally come out this afternoon. All this rain since Friday has really left me feeling down and blue especially after Friday's tragedy in Connecticut. It was as if the Gods were crying with us all.
It was raining again this morning and it was cold. I had to keep Bebe E from school today since she's still fighting a cold, but I wanted to savor this lazy morning where we weren't rushing to get ready, to make her something warm and special.
I made a quick batch of oatmeal but was inspired to caramelize some bananas since it looked like a few of them were getting a little splotchy with brown freckles. Originally, I thought of using the great professional butane cooking torch I recently found in our kitchen. (It's been sitting in an unopened box for one year now.) I thought the bananas would be a great way to break-in the new torch, but alas, I chickened out. Just filling the torch with butane sounded like an accident waiting to happen (for me, anyway). I'll have to wait until I can get someone else (ahem – - – my husband) to fill it up for me.
So instead of torching banana slices this morning, I chose to cook them in a rich mixture of butter and brown sugar. It was the practical thing to do. After all, most of us regular folk don't keep a butane torch in the kitchen, nor use it to char bananas first thing in the morning. I'm so happy that I cooked these bananas over the stove. The buttery caramelized banana slices were nothing short of spectacular. It was a nice, warm way to start our day indoors in an otherwise still gloomy and dark morning.
Print
Oatmeal with Caramelized Bananas Author: 
Judy | Bebe Love Okazu
Recipe type: 
Breakfast, Brunch
Cuisine: 
American
Prep time:  5 mins Cook time:  10 mins Total time:  15 mins Serves: 
2
  Ingredients
2 cups cooked oatmeal (quick cooking or steel cut oats)
2 bananas, peeled and sliced
2 teaspoons brown sugar (or more, to taste)
1 tablespoon unsalted butter
Cinnamon, optional
Warm milk to serve with oatmeal
Instructions
Cook oatmeal according to instructions. For quick oats the ratio is typically 1:2 (oats to milk) For quick-cooking or traditional steel cut oats, expect to cook oats for 10 to 20 minutes.
In a saute pan, melt butter, add banana slices and brown sugar. Cook for 3 – 4 minutes until bananas are warm and brown sugar has melted. Cook longer if you prefer a mashed-banana texture.
Serve cooked oatmeal in a bowl, garnish generously with caramelized bananas, sprinkle a dash of cinnamon. Serve with warm milk to drizzle all over the oatmeal.
3.1.09