These Oatmeal Fig Bars are an incredible way to use your fresh figs! These gluten-free + vegan bars taste like Fig Neutons, but without the guilt or refined sugars. Enjoy them for breakfast or as a snack!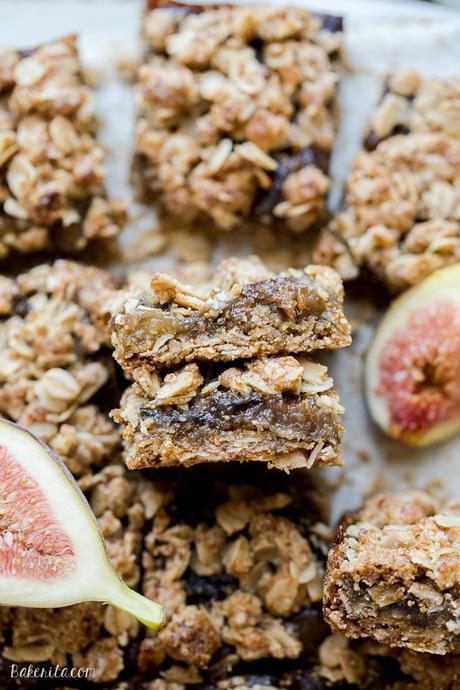 So, are you guys on Snapchat? If so…what do you think about the new Instagram Stories? It's clear that Instagram totally knocked off Snapchat's story feature. I must admit, I've been using Snapchat for
years 
and I prefer Snapchat stories because I love all the location filters and that you can speed up/slow down/make yourself beautiful.
However, I've got to admit, it's awfully convenient having my Instagram followers being able to see everything on one app without having to send people over to Snapchat to "see more" of whatever. I've only been using Instagram stories for a day and a half, and there's no way I can do stories on both, so one's going to have to give. Any preference from you? Will Instagram or Snapchat prevail?!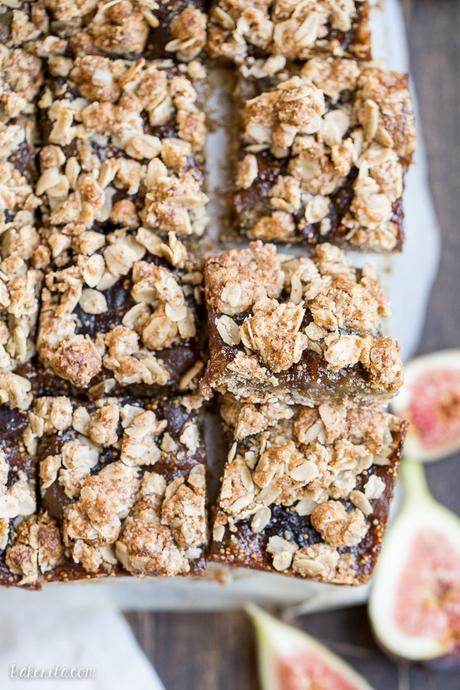 If you did happen to see my first day of Insta stories, you saw these glorious oatmeal fig bars being made from start to finish. I had already photographed these after they were a HIT when I first made them, but the photographs were less than thrilling.
I went on a fig hunt and found a BIG container at Costco, so a new batch and photo shoot was in store for the fig bars. Thankfully, these pictures are way better and the fig bars taste just as good as they did the first time.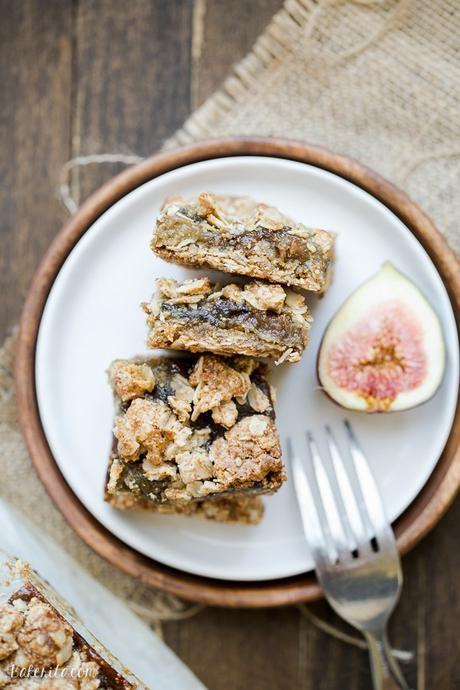 Are you a Fig Neuton fan? Because if you are, you'll definitely love these. They're not Fig Neuton copy cats, and I wasn't going for that at all in developing the recipe, but they definitely have a similar taste to them. I think these have a leg up though, in the form of a crumbly oatmeal crust.
That oatmeal crust also doubles as the crumble topping. It's lightly sweetened with a little bit of coconut sugar and a little bit of maple syrup, and uses a combo of almond flour, tapioca flour, and baking soda to achieve the crispy texture that makes the crust so good.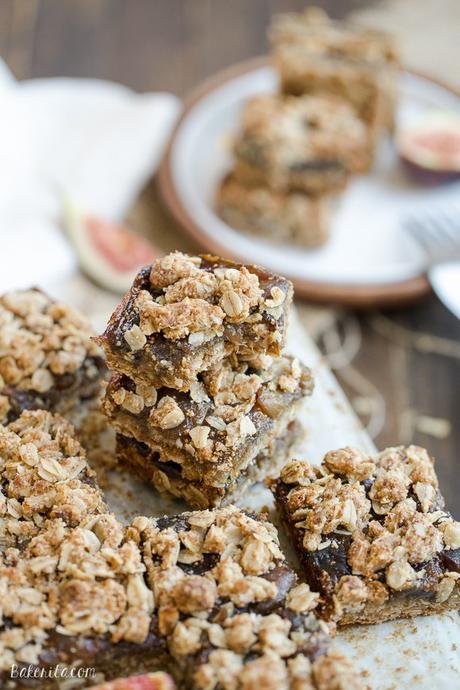 The fresh fig filling is kept simple – the chopped figs are lightly sweetened and cooked down with maple syrup, and at the end of cooking, vanilla extract and lemon zest and juice are stirred in for flavor and brightness.
I prefer these fig bars straight out of the fridge, when the fig filling is cold and thick with a little bit of bite to it. Though they're also fabulous at room temperature, just a whole lot gooier.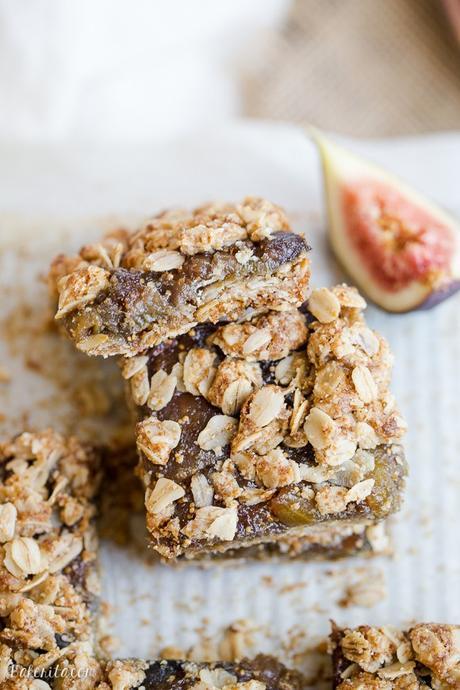 These oatmeal fig bars are gluten-free, refined sugar free, and vegan, so I've got no shame in admitting they were a morning snack ;) these are definitely a worthy way of using your fresh figs. Enjoy!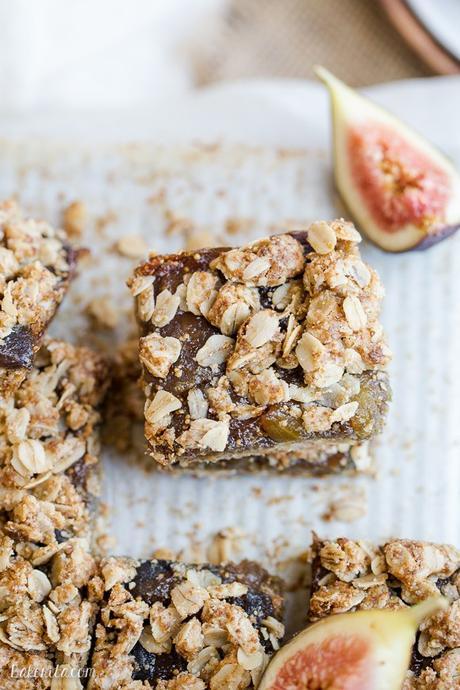 Remember to #bakerita if you try the recipe!
Oatmeal Fig Bars (Gluten Free + Vegan)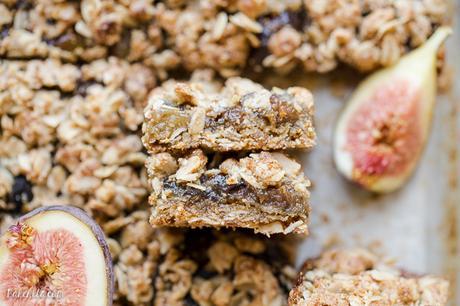 Save
Print
Prep time 30 mins Cook time 25 mins Total time 55 mins   Author:
Rachel Conners
Serves:
16 bars
Ingredients
1 pound ripe figs, washed, stems removed and chopped
2 tablespoons maple syrup
Zest from 1 lemon
2 tablespoons of lemon juice
1 teaspoon vanilla extract
For the crust
1½ cups gluten free rolled oats
⅔ cup almond flour
⅓ cup tapioca flour
¼ cup coconut sugar
½ teaspoon baking soda
¼ teaspoon salt
⅓ cup coconut oil, melted
2 tablespoons maple syrup
Directions
Preheat the oven to 350ºF. Line an 8-inch square baking pan with parchment paper and grease with non-stick spray.
Start by making the fig jam filling. In a medium or large pot, combine figs and maple syrup over medium heat, stirring occasionally until bubbling and thickened (15-20 minutes). Add 1-2 tablespoons of water if the mixture is sticking to the sides or burning at all. Remove from heat and stir in lemon zest, lemon juice, and vanilla extract. Let cool while preparing the oatmeal crust.
In a mixing bowl, whisk together oats, almond flour, tapioca flour, coconut sugar, baking soda and salt.
Add melted coconut oil and maple syrup to oat mixture and stir until combined.
Reserve ½ cup of the oatmeal crumble and press the remaining oat mixture into the prepared baking pan.
Next, carefully spread the crust with the fig mixture. Crumble the remaining oat mixture evenly over the fig mixture and gently pat it down.
Bake for 20 minutes or until lightly browned. Cool completely before cutting into 16 equal squares. Keep leftovers covered in the refrigerator.
3.5.3208

There's more where that came from!
Strawberry Oatmeal Crumble Bars (Gluten Free + Vegan)

Paleo Cranberry Crumb Bars

Blackberry Crisp Tart (GF + Vegan)

Mango Pineapple Crumble (Gluten Free + Vegan)

Samoa Bars (Gluten Free, Paleo + Vegan)

Chocolate Berry Bars (Paleo + Vegan)