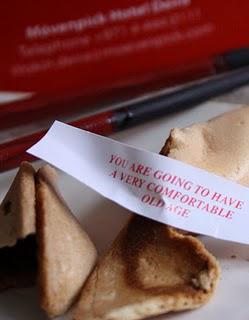 "You are going to have a very comfortable old age"
That, I seriously doubt. With my love of Champagne, Bouche D'affinois, chocolate truffles and many other vessels of alcohol, sugar and saturated fat, combined with my complete lack of willpower, I am probably going to spend my old age unable to move due to weight, explosive hypertension, gnawing gout and exhaustion. I wish it were true, but unless I can get a handle on my love of the finer things, or someone manages paint me a Dorian Grayesque version of Sarah Walton, I think I am doomed. As Oscar Wilde says:
"The only way to get rid of a temptation is to yield to it. Resist it, and your soul grows sick with longing for the things it has forbidden to itself, with desire for what its monstrous laws have made monstrous and unlawful."
Possibly I should hand the fortune cookie back to it's provider: Wok In, the new Asian restaurant at the Movenpick, Deira. Its future is sitting on Libra's scales even more precariously than mine. I can simply stop yielding to temptation, but the Movenpick has to weather multitudes of economic, cultural and fashionable storms and remain standing. The gift of longevity is all a new hotel asks for.
Wok in....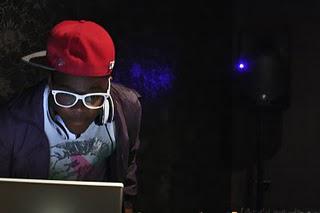 Is it a play on "walk in"? Or "rockin'"? When I arrived (date of the foodiva for one night only), there was an uber-funky DJ in shades spinning the decks with style. Just my kind of house - progressive, but gentle and chatter friendly. He was a spectacle in spectacles, Buddy Holly in negative and casual attire. He ignored me while I attempted to artfully photograph him on low shutter speed in the dim light. I'm far too school for cool.
Waitresses with soft corsets strapped over their conservative attire handed us Asian herb-infused alcohol bombs, which we sipped and discarded in preference for the mainstream but good quality Italian wines on offer.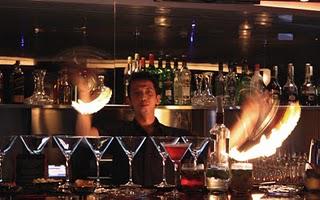 My companion schmoozed. It's an art I have yet to master - I am the queen of uncomfortable silences and Freudian slips, or at least inappropriate jokes or ill-timed guffawing. Within moments, I had met the entire room, but settled on a new friend - Anu - the Indian who can't tolerate chilli, the photographer without a blog, the woman who teaches English to laborers on her days off, but hates learning languages, the food lover who can't put on weight. I love a woman of contrasts.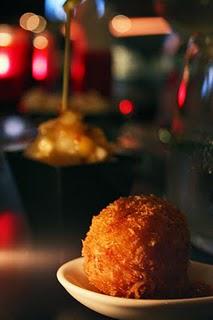 Soon more cocktails arrived - brightly colored, scary as witches brews but tasting like bubblegum. And then a gong was pounded to draw our attention to the bar tender who suddenly morphed into Tom Cruise and flared bottles of vodka. Literally. Not just the flipping and jiggling, but large amounts of hot, real, spewing flame. Talented, and a demonstration of Movenpick's knowledge and promotion of gifts within staff. A sign of good HR in Dubai? Rare, but possible, I suppose.
The waitresses fed us wasabi prawns and crumbed dumplings - the former great, the latter non-astounding. And when we had eaten enough for a main meal, we were told that dinner was served.
The room is perfect - that "Chinatown" feel has been captured, right down to the red and black chairs, the central circular kitchen, the chrome-framed glass doors that show passers by how many are dining inside. Sometimes it's best to stick with a classic - it's old, but not tired, non-pretentious, and I like it.
The ruckus inside was wonderful. Woks clanging, fires surging, noodles violently slapping bench tops. The chefs smiled - they knew they were the leading players, and their audience well entertained.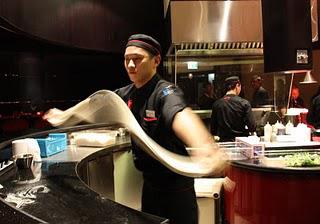 The BBQ beef spare ribs were divinely tender and well seasoned, and at 39 dirhams, a steal. The dumplings were good, but not superb. The Szechwan chicken sauce was very flavoursome, but the meat a little tough. Noodles a little too wet, and the fried rice a little bland. But give them time - this was their first night officially open, and I think they did very well. It was only a quiet opening, and I'm sure they will improve with time. Besides, I am the fussiest of all diners.
Dessert was OK, but again not superb. Foodiva and I decided that the only desserts we ever want to see in a restaurant like this are bowls of sweetened lychees, green tea ice-cream, or the old favorite, banana fritters. Again, the classics should not be ignored - they are classic because people have enjoyed them time and time again.
After our meal, Michael Nugent, the hotel GM, sat next to us and we talked about hotel saturation, construction, regional history and earth hour. He's really a very nice bloke, and in fact, we didn't meet a single member of staff who did not come across as friendly, content, and willing to serve.
And that's why I have confidence that Wok In is worth a return visit. The personality of the venue is one that appears flexible, warm, open minded and ambitious. I hope I'm right. Opening a hotel in a city where there are already about 68 000 hotel rooms is not without risks, especially when the political system of the middle east is combustive. So I extend my cookie - good luck to you friends, I will work on my own old-age personally...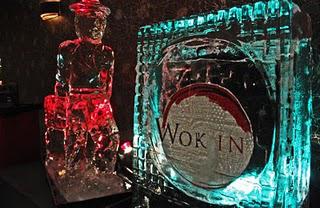 -----------------------------------------


Mövenpick Hotel Deira

Corner Abu Baker Al Siddique and Sallahudin Road - Deira, Phone:+971 4 444 0111
My tips for the Movenpick:
I see great potential for the bar, particularly if the DJ I saw remains, and I really hope there is a plan for lunch-time yum-cha! Leave me a comment and make my day...