Last year, I wasn't allowed to attend Hasbro's Toy Fair events. They don't officially participate in New York Toy Fair, but set up a private showroom and host various events. This year, I was excited to be formally invited to one of these events.  It was hosted on the coldest day NYC had seen for years, literally. After standing outside in the cold for about 10 minutes, they finally let us in and sat us in the theater. There, we were introduced to some of the brand new products in popular lines, such as Transformers, Star Wars and My Little Pony. A good portion of the event attendees were male, which shocked me, but if you look at Hasbro's catalog, many of their tops brands are aimed at the male market (however much it pains me to use gender terms when it comes to toys).
Of course, I got a huge kick out of the My Little Pony presentation, where we were shown a clip from the upcoming season of My Little Pony: Friendship is Magic and heard a few words from the Executive Producer, Meghan McCarthy. (I was a little star struck.) We weren't allowed to film any of this, but honestly, most of the brands they spoke about weren't my cup of tea.
I saw so much at Hasbro that this post could easily become a book! For that reason, I highly recommend you check out the videos I shot during the event and take a peek at the flickr album I set up with pictures. We'll start with My Little Pony. My Little Pony is still flying high at Hasbro. On display were mini figures, G4 ponies, Equestria Girls and mini Equestria Girls. They also had a new interactive plush they demo'd.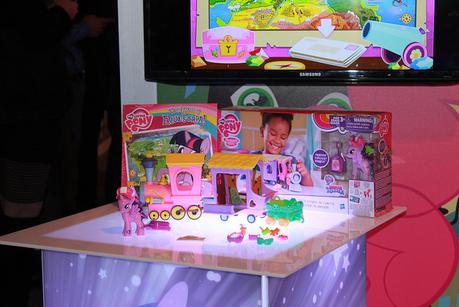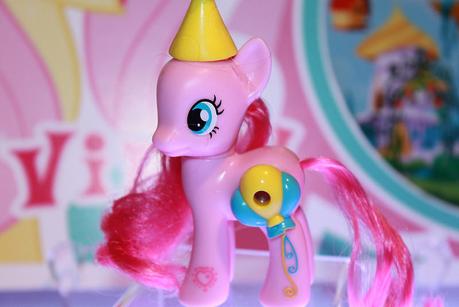 These ponies have a hole in their cutie mark that allows you to see a scene when you look through it, as I understand it! Also on display were articulated ponies.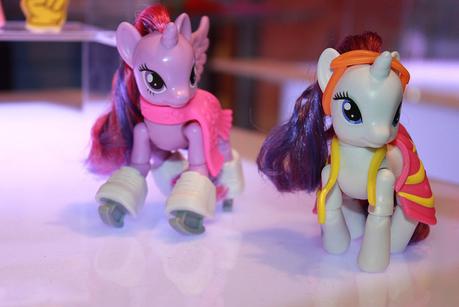 This Guardians of Harmony line of adventure/fantasy themed figures is super cool.They're totally worth displaying and have a unique look to them. I usually don't take notice of G4 releases, but this one definitely caught my eye.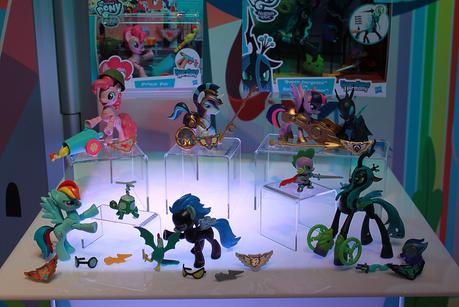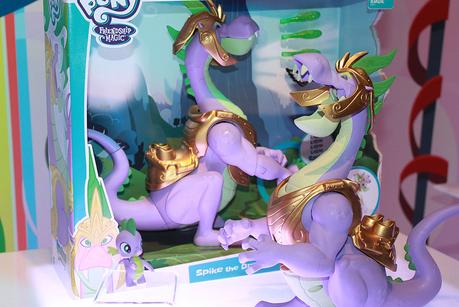 These miniature figures were adorable. They had a whole diorama set up with them! They're going to be releasing big pieces for this series, too, like Twilight's library and Pinkie Pie's dessert shop.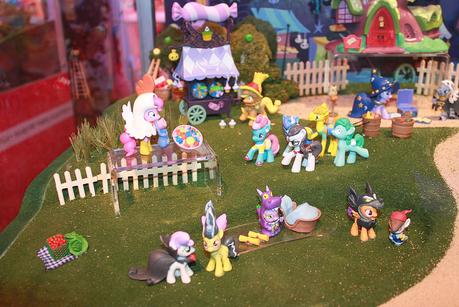 The Equestria Girls were on display, but what caught my eye were the Mini Equestria Girls. They're adorable. They remind me of Pinky ST figures in a weird way.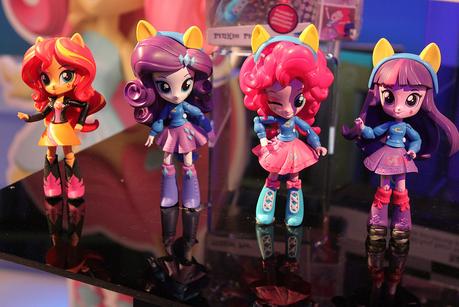 How cute is Fluttershy in this set?!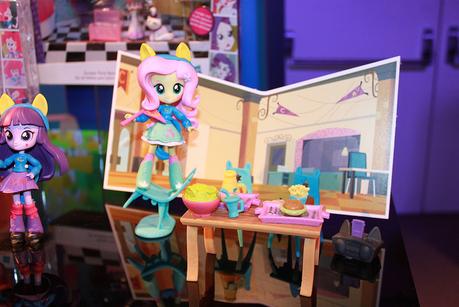 This was the biggest playset on display for them. It's a party themed set that comes with a tripod for your camera, so the party has its very own photobooth. It even includes props for the Equestria Girls to hold!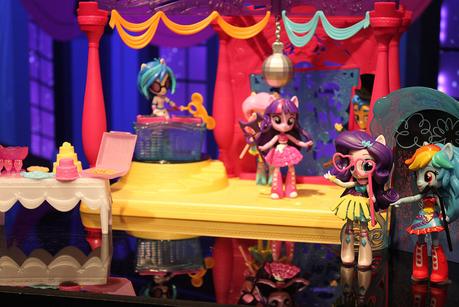 And then there's the normal Equestria Girls. These tie in with a new movie we'll be seeing later this year. I'm still very proud that Hasbro switched out the peg feet for normal legs and shoes. They earned a gold star for that move. This line wouldn't be around if they hadn't rethought the design.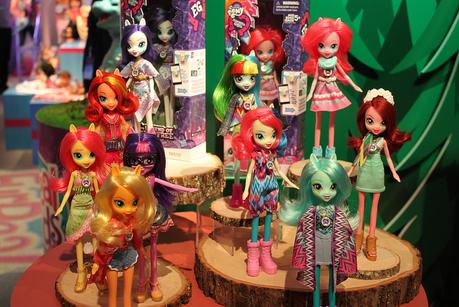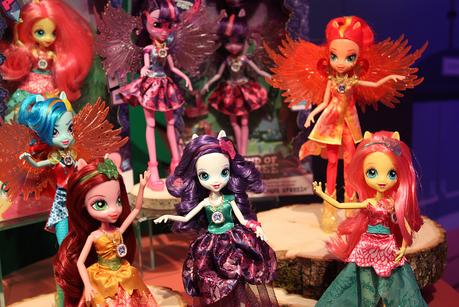 They had a large amount of toys on display that were tie in's for the new Trolls movie. You can see those in the video tours. Moving ahead, one of my favorite pieces in the entire Hasbro Showroom was Torch, the Baby Dragon from FurReal. He's adorable and I want him. You have to see him in action in the demo video. He "breathes fire" and will toast his own marshmallow. Seriously, we all need a pet dragon like him.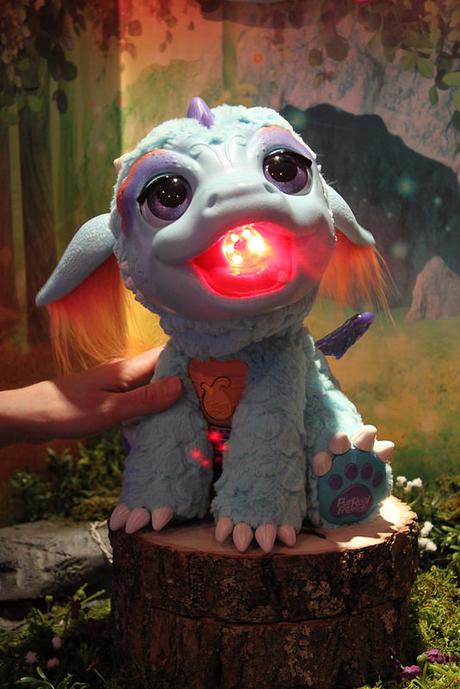 Baby Alive is still going strong, as well. There were a number of them on display. I recorded the demo's for you to watch.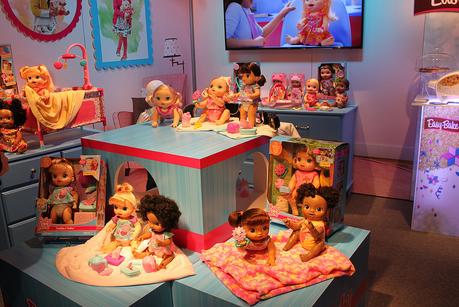 Elena of Avalor is going to be a huge property in 2016 and beyond. It's a spin-off of Sofia the First, an adorable show on Disney Junior. Most of the companies with toys had a strict no photo's policy, but Hasbro had theirs on display.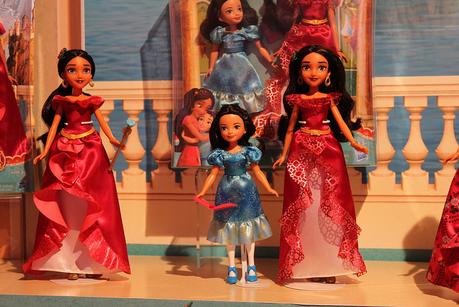 And the Disney Princesses weren't left out of the fun, either!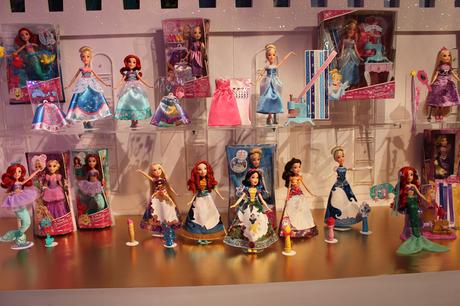 Due to the weird scheduling of the event, I didn't have time to talk to the Disney Princess rep about the line's specific's for 2016, but it looks like they have a ton planned. You'll be seeing more on the Princesses later and of course, you can learn about Disney toys on my About.com page!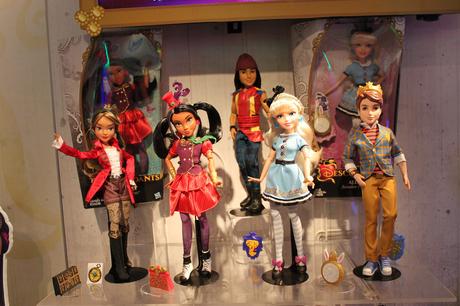 I did run over and chat with the Descendants rep who showed me some super cute editions that we'll be seeing in 2016. They're taking inspiration from the animated shorts, Descendants: Wicked World. There are new villains like Captain Hooks daughter, CJ, and Dr. Facilier's daughter, Freddie. (Dr. Facilier is the shadow man in Princess and the Frog.) They're also introducing Jordan, the daughter of Genie and Ally, the daughter of Alice. (See promo photos on Disney Toys on About)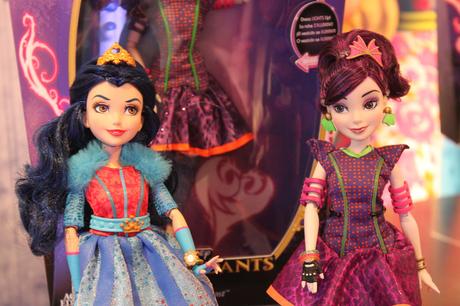 Mal and Evie are getting a cool release. Themed around the Neon Lights dance, these dolls have light up elements sewn into their outfits, which you'll see demo'd in the videos linked at the bottom of this post. I think they're styling is done rather well, too. There are other dolls in this line, but they don't have the light up elements, just very bright, fluorescent outfits. Also on display was a 'Genie Chic' line which features many of the new characters.
So there you have it, some highlights from the Hasbro showroom. You can see more pictures on my flickr. I invite you all to watch the video presentations I recorded while talking to the reps. You'll see other items I didn't cover in this post.
Do you see anything that you'll be picking up in 2016? Share it in the comment area!
February 27, 2016. Tags: hasbro, NYTF2016. Toy Fair 2016, Uncategorized.