Vera Wang Fall Review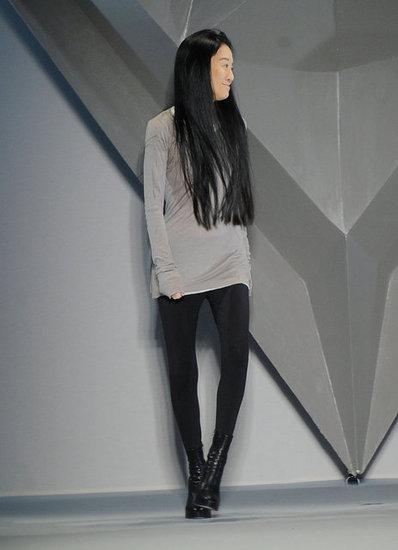 Image via www.fashionologie.com
As you probably know from my previous posts, the Vera Wang Fall 2012 Collection was the one show that I have been eagerly anticipating since last Thursday when New York Fashion Week kicked off. After watching the show, it is safe to say that I was far from disappointed -Vera Wang gave me everything I was hoping for and more.
The architecturally-inspired A/W collection featured shades of nude, black, smokey charcoal, tangerine and dutch blue, with each color blending into one another as the models, in turn took to the catwalk. The designers love of history and architecture showed through in linear and geometric shapes via layers of frills, draping fabrics and cathedral ceilings printed onto sheer chiffon fabrics, which featured as the main look throughout the collection. Vera Wang described this look as "the body protectively enveloped in the soft armor of a fitted sheath, the sharp discipline of fencing-inspired jackets, the structured carapace of a coat". 

Long, buttery soft Nude Melton wool coats protected a body of sheer chiffon and silks, and contributed to the feeling of architectural buildings being a place of warmth and protection.
With the collection being primarily gray (a color that Vera Wang described as; "at once industrial and poetic: hard as steel, dove-soft"), the introduction of popping tangerine through boyish shorts and sheer dresses lent a feeling of warmth for the coming season.
The evening wear finale featured silk chiffon and organza gowns in Dutch Blue with Swarovski embellishments and high neck lines. The looks were not quite red carpet ready as other designers collections this week, however if I were a celebrity stylist, I would have Charlize Theron in this particular dress at an awards ceremony, as I feel that her personal look has enough elegance and edge to pull off a look like this at an event that is so vastly covered in the media;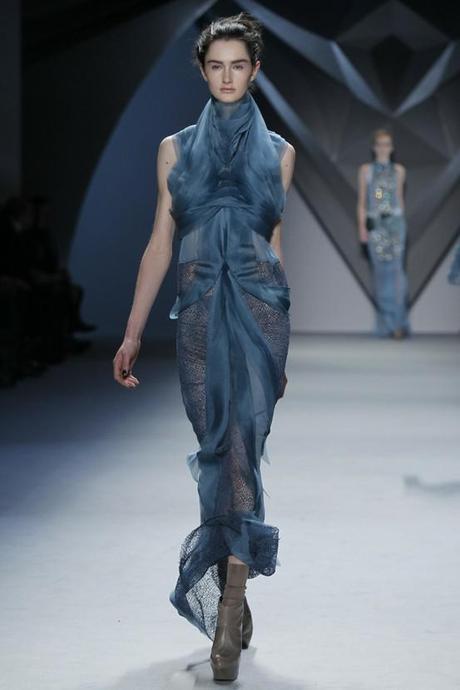 Image via www.WWD.com
The whole collection appealed to me personally, as my own style is edgy and a little less mainstream which is exactly how Vera Wang's collection compares to other designers at NYFW this year. I have always loved the designers work, and her Fall 2012 collection is no exception to that.
On a finale note, I will leave you with a few of my top looks from the collection.
Don't forget to comment below with your own thoughts - I'd love to hear from you!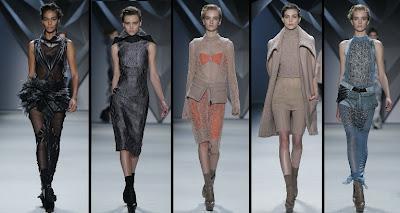 Images via www.WWD.com
Click here for a full look at the collection!