Tadashi Shoji Review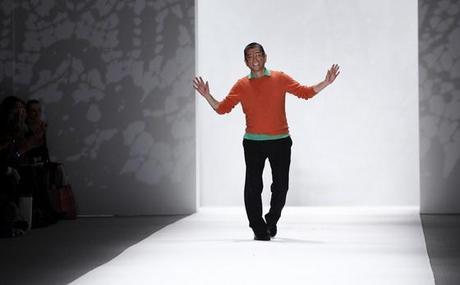 "I dress for the image. Not for myself, not for the public, not for fashion, not for men,"
said Marlene Dietrich, 

t

he inspiration behind Tadashi Shoji's Fall 2012  show in New York yesterday. Tadashi took inspiration from her role in the 1932 film, "Shanghai Express." and treated onlookers to a ride on his very own "Shanghai Express" with luxurious fabrics such as velvet, chiffon and silk to capture the beauty that was the golden age of Shanghai.
The collection featured elegant floor length gowns in beautiful fabrics such as silk, chiffon and light weight velvet with lots of pleating, lace overlays and beaded embroidery. Tadashi Shoji wanted to create a feel of Shanghai, and did this through his use of jewel-tone colours such as red, green, blue and gold which made his collection mesmerising to watch as the gowns flowed effortlessly down the runway. 
The catwalk itself was a welcome change from the previous shows at the Lincoln Centre in NYC yesterday, as the entrance/exit wall on the runway displayed a projection of a gorgeous pattern that can only be described as '

damask lace meets Shanghai

'

. The projected print was then shown through the lace overlays and embroidery that featured in Tadashi Shoji's dropped waist gowns and was absolutely stunning in my opinion.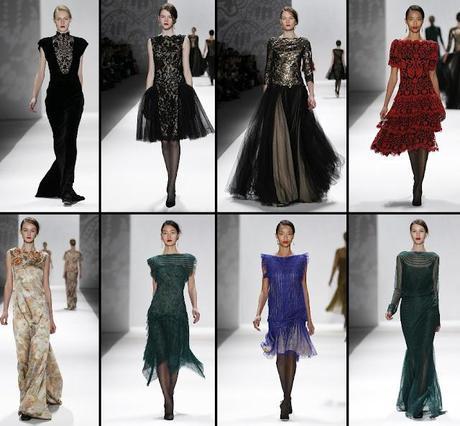 Images via www.wwd.com & Edited into selection by myself.
Although the entire collection stood out in it's own way, the one garment that stole the show for me was this red velvet, long sleeved gown with black embroidered back. When the model stepped onto the catwalk wearing it, I let out a gasp and my jaw literally dropped - it was absolutely captivating. Teamed with the models up-do hairstyle and statement red lips made the entire look just stand out from all the others.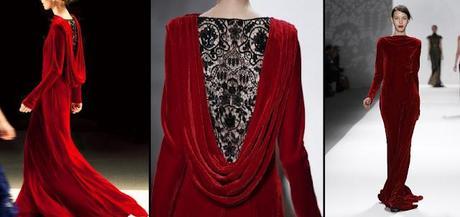 Images via; www.wwd.com & photographer @_FromMeToYou - Jamie Beck
For a look at the entire collection, click here. Don't forget to leave your comments below, letting me know what you thought!