Monique Lhuillier Review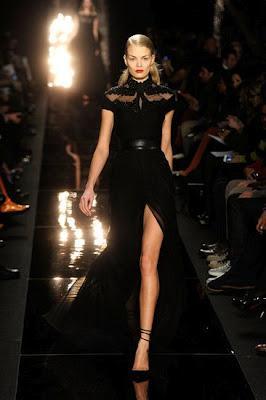 Image via fabsugar.com
Monique Lhuillier is known for her beautiful collections of red carpet gowns and her Fall 2012 collection at NYFW last night was no exception.
For the coming season, Lhuillier designed a series of black, sunset orange and 'dragon red' knee - floor length gowns, but gave them a fierce edge with leather and embroidered lace which featured quite heavily throughout the collection - from harness-like leather belts (seen in the gown to the left), to full dresses made up entirely of leather.
Sexy thigh-high slits featured in some of the gowns, but in a classy sort of way - Kind of like,
"I'm going to look, but I know that if I touch, then I'm going to regret it".
High glamour hair and make up were chosen to compliment the collection, with a classic wave and statement red lip, alongside thick brows which worked perfectly with the dominating theme.
The show itself was dazzling - quite literally - from the mirror reflecting catwalk, to the sequins and Swarovski detailing reflecting off of the garments. It was jaw-dropping and hypnotising to watch, and literally made you want one of everything that was shown.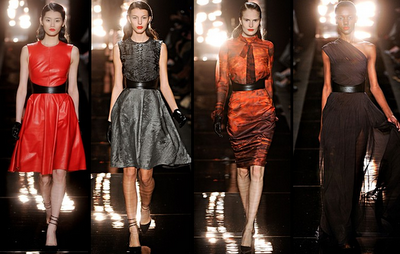 Images via Vogue.co.uk - Edited into picks by myself.
What has became apparent in the shows seen already at NYFW, is that women in the fall this year will be a force to be reckoned with - what with the amount of leather, power dresses silhouettes and sheer intimidation that radiates in collections from Christian Siriano, Prabal Gurung, Helmut Lang and of course, Monique Lhuillier.
For a complete look at Monique Lhuillier's Fall 2012 Collection, click here.