After leaving the craziness of Newark's Downtown and the familiarities from the Ironbound District, it was time for me to take the PATH back to the city. I had missed the completion date of the new One World Trade Center, sure I needed to pay attention! To walk down memory lane along the iconic Battery Park one more time! Pho from Chinatown needed to happen B!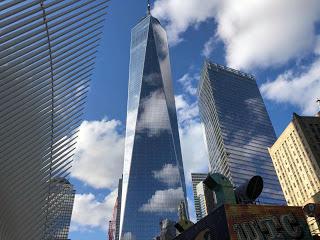 Flashback to that morning I stepped from my WTC bound E Train from Court Sq, the ivory white walls of One World Trade Center, I had always known it that transportation and shopping hub as a concrete shell. In that moment things stood completed, that 2019 morning had me remember all the times I had crossed the Hudson River on the PATH from Newark, New Jersey. The ark like roof shone with a neon blue light, I had unlocked the future, from that 2019 stance I couldn't believe how much things had changed. Going down to the PATH platforms allowed me to see things look so much more inviting and passenger friendly compared with those 2012 days. The PATH operative allowed me to pass through the barrier because the method to add the additional fare had me confused, explaining I was going back to Jersey after eights away that guy had made my holiday much better! I respected that random act of kindness! 
Fast forward to the lunch time hour, arriving back into WTC had me surrounded by hoards of tourists as I reached the shopping concourse. Finally, I accessed street level to find the towering One World Trade Center building looking down in my view. I had passed that special skyscraper many times during 2012 during its lengthy phase of construction. Another sense of completion could be felt in the air, I was feeling all kinds of nostalgia but in the next breathe I was being served something totally new! I wasn't down for any tours, dodging those individuals I took my time to appreciate the all new One World Trade Center with the 9/11 Memorial pools that came into my view, a sobering reminder during that moment that was filled with optimism. The whole morning had been mad, I felt very thankful in that moment and even now I'm looking back with fondness and appreciation. The WTC chapter could finally be closed with conviction, I had returned for the reasons mentioned above.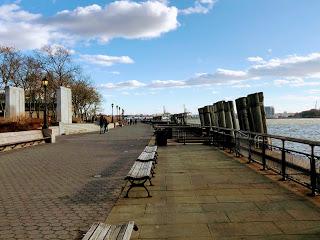 Rewinding once again, I knew the way to Battery Park from WTC. No mistakes made, desperately seeking something like the time before I wasn't going to be feeling blue. Inspired by the 1985 film Desperately Seeking Susan that featured one of NYC's famous riverside parks, I had the title for my website and blog back during that initial 2012 visit. The first time around the boardwalk along Battery Park's riverfront was heaving with people, thankfully during that freezing yet sunny Sunday afternoon it was quite calm. I took my time and wasn't going to be rushed nor was I going to have my photos littered with tourists in the background. Things looked amazing, with the views of the Statue of Liberty in the distant with New Jersey in my sights, the whole experience around felt effortless and very correct indeed! No, I didn't see Susan during that Battery Park flashback experience, I was living nonetheless.
My visit to New York City's Battery Park was short but it was very sweet, it took me back to that first encounter when I was at the starting point of my placement year. To recapture those moments that inspired my first day out feature and the headline title of my blog had me feeling all kinds of feeling eight years on from that moment. The journey after working at Newark Airport had been on filled with my degree, employment uncertainties then my life in China, to return to that spot felt very correct in that moment because I had accomplished a lot because of my placement year after standing in that very park with visions of Madonna seeking those personals as Susan. Coming back down to reality, my phone was losing battery and I was still new to my hostel area, not wanting to get myself lost I returned to my hostel to recharge before recommencing the days exploration. From WTC to those Downtown flashbacks alongside the river at Battery Park, gave me everything and more! Yes!

Resurfacing from the hostel, I had my phone at full charge but my Ferry Street Barbecue no longer satisfied my hunger. Getting back onto the NYC Subway to Canal Street had to be done. After living in China for four years before returning to NYC's Chinatown had me feeling more feelings. I was on the hunt for some Vietnamese food because outside of China's Mainland or territories I don't eat Chinese food from restaurants unless its homemade fare. 'Pho 88' had closed down, choosing the next best thing had to be 'Nha Trang One'. Ordering my usual dishes I enjoyed every single bit, a part of me was quite disheartened that the original place wasn't present but I had what I wanted to eat. Stepping back out into the streets of Chinatown had me reading all kinds of signs, the first time around I couldn't read any Simplified Chinese characters. Four years living and working in China had changed all of that! Sure, it felt so crazy!
Passing through Chinatown on the previous night after arriving into Newark Liberty International Airport, my airport transfer took me along Canal Street to see that things looked very different compared to 2012. My Chinese American driver informed me that their had been quite a lot of drama between the local authority and the souvenir shops that operated along Canal Street. A lot of the street sellers had been removed from the street as it was believed the local authority from the city wanted to clean the area up, with the hope of attracting more tourists. Whatever the drama I saw some shops trading just fine the next day after passing from the airport. Back to those Chinese reading skills, I knew the Simplified characters to make up the brand 'McDonalds' in Chinese but in NYC's Chinatown those golden arches adorned three characters that I couldn't read! Yes, those three characters were Traditional style commonly used in Guangdong (Mainland), Hong Kong, Macau and Taiwan.
Memory Lane! 
Joseph Harrison