09/12/2011 – by Cynthia Wright
Esteemed Atlanta writer Darian Aaron will be visiting New York City on September 21st to promote his coffee table book When Love Takes Over: A Celebration of SGL Couples of Color. The event, brought to you by Brooklyn Men (K)onnectwill take place at Nectar Wine Bar from 7pm-9pm. It will feature a reading from Aaron, along with the always unique hosting style of DJ Baker (from the DJ Dirty show).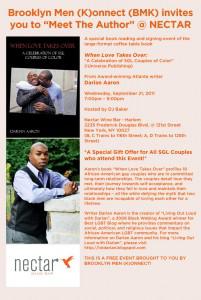 Poster
Aaron's book profiles 18 African-American gay couples in long-term committed relationships. The book discusses how each couple met, their courtship and how they work to keep their love alive. It's a book chock full of self-acceptance, love and loyalty – which, with all the negativity the black gay population receives – is a welcome change.
Aaron is also the creator of "Living Out Loud with Darian", a 2008 Black Weblog Award winner for Best LGBT Blog where he provides commentary on issues that impact the African-American LGBT community.
The event is free, with a special gift offer for all SGL couples of color.
Detailed information is included below:
Nectar Wine Bar – Harlem
2235 Frederick Douglas Blvd. @ 121st Street
New York, NY 10027
(B, C Trains to 116th Street; A, D Trains to 125th Street)