09/20/2011 – by Cynthia Wright
While the Starlite Lounge in Crown Heights has been closed for nearly a year, filmmakers  Kate Kunath and Sasha Wortzelhave put together a feature-length documentary celebrating the "oldest black-owned, non-discriminating bar/club in the heart of Brooklyn,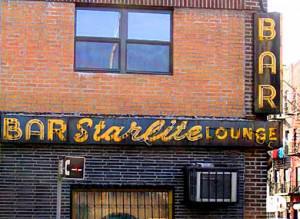 Starlite Lounge
New York." The documentary titled, "We Came to Sweat" discusses the history surrounding the Starlite provided by patrons, workers and those who interacted with the cultural landmark during its 50-year run.
The bar's closing happened after a much publicized dispute with the landord. At the time of its closing, it had been open for over 50 years. The bar opened in 1959, the same year that Brown vs. The Board of Education occured, eventually it was bought by Mackie Harris, one of the first New York black gay business owners.
Starlite was first seen as a safe haven for black LGBT community but by the end of its 50 years, it was seen as safe spot for anyone that walked through its doors.
Currently, Kunath and Wortzel are trying to find the funds needed to finish their post-production work on the documentary.
Trailer for STARLITE from sasha wortzel on Vimeo.