I have been absolutely desperate to try these little biscuits for ages but I can't find them anywhere, and then, just this week the little angel known as Amy sent me a lovely little package of peanutty goodness. I was thrilled to realize that they are also completely vegan! 
For those of you that don't know Nutter Butters are an American biscuit which are described as real peanut butter cookies which have that classic sweet, crunchy, rich peanut butter taste that has delighted taste buds for decades. If you love peanut butter, these peanut butter sandwich cookies will be perfect for you!
The biscuit has a deliciously sweet flavor which is almost butterscotchy with its richness, this perfectly balanced out the creamy yet salty flavor of the peanut butter. I was impressed that they actually used real peanut butter rather than a peanut flavoured cream! 
They are so incredibly moreish and tasty, I can imagine that these would be delicious with a cup of coffee!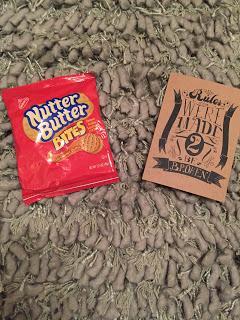 Rating - 9/10
Calories - 240 per pack
Vegan - Yes
Buy Again - Yes!