First Impressions
Can we just talk about this packaging please guys? It is giving me such 60's vibes with the almost Moddish Union Jack emblazened across the front, with the font perfectly complimenting this design. I really enjoy this attention to detail, the care and consideration put into the packing and design of the brand as a whole. The name, is a little bit of a mouth full, and not quite the most exciting, but it gets the job done.
It felt quite luxurious with its cardboard packaging, strong and stable, one may even say...
The inner foil is, as with everything else, pretty darn snazzy. Once again it helps to create a feel of luxury to the whole experience, especially with their Montezuma logo tiled across it. Realistically, if this was going off the presentation of this bar alone, it would be getting a good 20/10! But we all know, that you have to have some darn good substance to go with this impeccable style!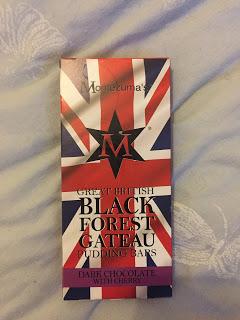 Onto The Review
Upon opening the beautiful wrapper, I couldn't help but be enticed by the rich cocoa aroma, tinged with an almost sweet tang. This could only be the cherries. I could not delay it any longer, the munching began. The dark chocolate itself is of a nice qaulity, only to be expected from such a good brand as Montezuma. The bitterness of the chocolatre was balanced to perfection with the sweetness of the cherry pieces, the size of these impressed me, but what impressed me most of all, was of course the flavour! It really did embody the flavor of a black forest gateau, an impressive feat I must say. The moreish quality of the bar was thankfully stunted by how incredibly rich the overall flavor was (thank goodness or I would have munched the entire bar in one go...)
The melt on the bar is fantastic, I really loved the contrasting textures, with the smoothe and velvety chocolate working against the chewey cherry pieces.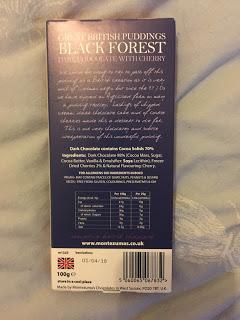 Final Thoughts
Overall, I would definitely recommend this bar. Whether you love dark chocolate, or simply have a ild appreciatio for it, this bar is worth a try. I'm going to be honest, whilst writing about this bar, I am kind of craving it terribly (a sneaky trip to Sainsbury's may be needed to grab another few).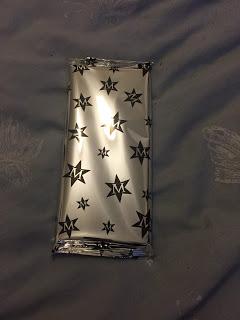 Rating - 8.5/10
Calories - 572 per 100g
Buy Again? - I think we all know the answer to this... (YES!)