Okay folks, I have for you a crunchy granola base that is low in refined sugars and definitely a good way to use a healthy ingredient you may already have in your fridge – Greek plain nonfat Yogurt.
The yogurt brands I enjoy (both for texture and taste, include  Siggi's Icelandic-style and Fage Strained. These are both thick, dense and definitely work well alone (great as a substitute for sour cream), in combos, and with some of my fav new recipes, including this one.
And BTW: If you are local to me (in the Los Angeles area), I have Siggi's yogurt coupons — so you can try this great yogurt. : )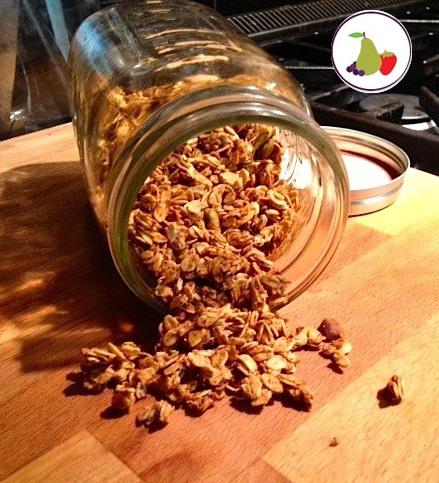 Nutri-Savvy Crunchy Granola Base w/ Yogurt
Makes 8 (1/3 cup) servings
Ingredients:
3 Tbsp Smart Balance Light
1/4 cup Greek yogurt, plain, non fat (I prefer thickened or strained varieties)
1 Tbsp Honey
2 Tbsp Brown Sugar (you can you use a packet of Stevia if you prefer)
1 pinch sea salt (salt actually enhances the sweetness in a dish)
1/2 tsp Vanilla – pure extract
1/2 tsp (or to taste) Cinnamon
2 cups of Oats, raw
Directions:
Preheat oven to 350º F. Line a large brownie sheet with a Silpat or baking liner (even foil will work). Mix slightly melted Smart Balance with yogurt, honey, brown sugar(or stevia), sea salt, vanilla and cinnamon. Then add in oats and coat evenly. Spread out into prepared pan and bake for 10 minutes. Turn granola mixture to heat each side evenly and bake another 5- 10 minutes until golden. Turn off oven and leave to continue to baking to desired crispness.
Optional Add-in's:
Some great add-in's for this Granola Base include nuts (pistachios, walnuts, almonds… to name a few) and dried chopped fruits (try: dried apples – crumbled or Freeze-dried fruits, such as raspberries or if you prefer, use a couple Tablespoons of raisins, currants or dried cranberries).
Enjoy with "milk", alone as a crunchy snack or on top of your favorite dishes, such as this Spiced Apple Overnight Oatmeal – recipe compliments of Siggis. Or even for crunchy topping to your yogurt Parfaits.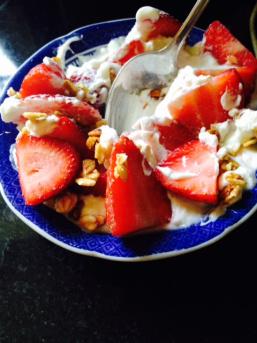 Q1: What are some of your favorite Granola flavors? (i.e.: Apple Cinnamon, Pistachio Cranberry, Coconut Almond…) Q2:What nuts/seeds and/or dried fruits would you use to add some Pizzazz to your Granola base??
Filed under: diet, healthy lifestyles, Nutri-Savvy, Nutri-Savvy's picks, nutrition, Recipes, Simple Meals