Nutraluxe Lash MD helps to make eyelashes longer and fuller naturally. This is safe and original formula which will help to improve your eyelashes and eyebrows in all the terms of length, fullness, thickness and darkness in just 4 to 8 weeks. This formula is clinically tested by an independent Lab and Ophthalmologist safety tested by an independent laboratory and it is to be considered effective and safe for use.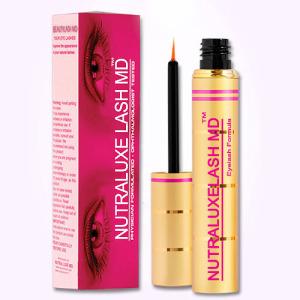 Features:
It's a natural, chemical free formulated eyelash product.
Makes your lashes to reach the potential length and darkness.
Contains natural antioxidant which protects the hair from damage.
Promotes hydration to help lashes.
It helps to make eyelashes more flexible and longer.
Gives shine to your eyelashes.
Product description:
Nutraluxe lash md is a breakthrough technology which was the first eyelash conditioner on the market in 2007, to use a NEW and SAFE cosmetic derivative ingredient. It also helps to prevent and repair adverse effects or damage which are caused to your eyelashes by harsh cosmetics and environmental influences.
It contains some essential peptides, vitamins and botanicals which helps to condition and improve flexibility, while strengthening and replenishing your eyelashes and brows, to prevent breakage and improve shine. An ingredient in Nutraluxe lash md may make blonde and red eyelashes darker, but the product does not contain any dyes or harmful product.
Ingredients:
Water, Glycerin, Hydrolyzed Glycosaminoglycans Sodium Hyaluronate,Panthenol (Vitamin B5), Vitis Vinifera (Grape) Seed Extract, Sodium Lactate, Panax Ginseng Root Extract, Proline, Yeast Extract, Phenoxyethanol, Chamomile Recutita (Matricaria) Flower Extract , Hexipeptide-11, Niacinamide (Vitamin B3), Palmitoyl Pentapeptide-4, Arcyostaphylos Uva Ursi (Bearberry) Leaf Extract, Magnesium Ascorbyl Phosphate (Vitamin C), Isopropyl Cloprostenate, Retinyl Palmitate ( Vitamin A) Tocopheryl Acetate (Vitamin E) Polysorbate 20, Hydroxyethylcellulose, Sorbitol, Triethanolamine, Methylisothiazolinone
How to use:
First try to remove makeup with a mild soap or cleanser.
Then apply it in night just before bed time, as normal liquid eyeliner, with a single stroke at the base of the up and lower lash line. Do not re-dip. Do not apply too close to the edge of the eyelid and try to avoid getting excess fluid into the eye. If it get into the eye, rinse immediately with sufficient water. Always apply it with care and if irritation occurs stop using it.
Good:
Parabens and fragrance free.
It contains natural anti-oxidants.
Restores and repair eyelash hair.
Supports the lashes to be longer.
Bad:
It is not clinically tested.
Reviews are not available.
Few ingredients might not suit the customer.
Conclusion:
Since it is a good option for consumers wanting to have longer lashes. Although there are limited studies and trials found on this product, then also many of the customers are satisfied with the results. Keeping aside its good reviews this products contains few ingredients which are not found to be suitable for some customers. So don't go with price and try to use the best product as an option to this eyelash product.