I made a boo-boo with this one.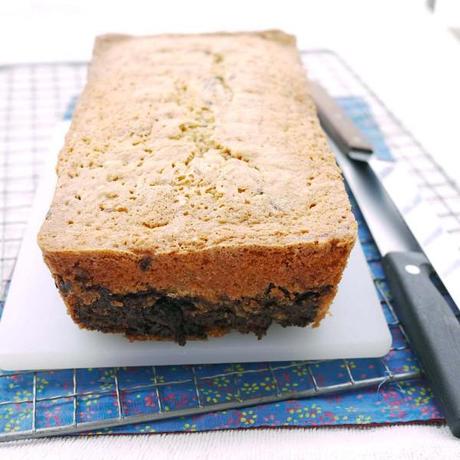 Instead of having a Nutella Swirl Cake, I ended up with a Nutella BOTTOMED cake.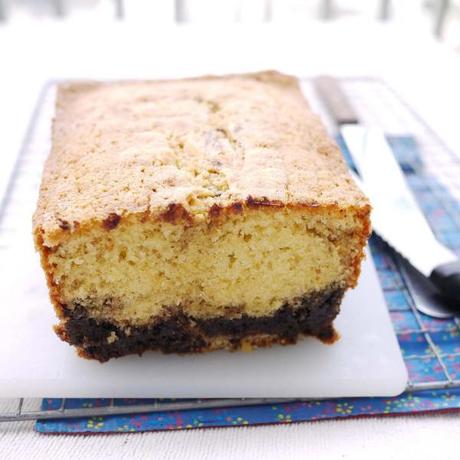 Seemed like all the Nutella sank while baking.
I could only think of one reason for this. Homemade Nutella (Yes!I made Nutella from scratch!)
My homemade Nutella was probably denser  than the commercial ones as i have decided to altogether skip a "drizzle hot milk to thin" instruction on the recipe.
I guess the cake batter wasn't able to put up with all that weight and gave way as the homemade Nutella made its royal descent to the bottom of the pan.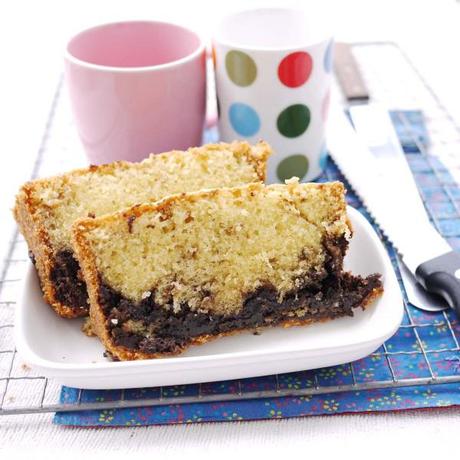 But waitt!! Please don't give up on it yet!
Although this cake is not picture perfect, i didn't say it wasn't delicious. Because it damn well is!
The Nutella formed a very thick, fudgy texture when baked.
It's like eating a butter cake, with fudge topping.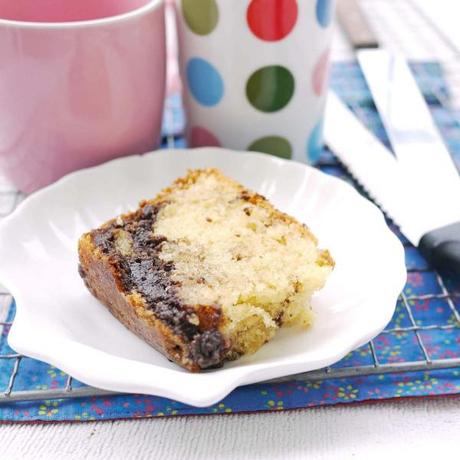 Just that the fudge TOPPING, happened to be fudge BOTTOMS.
Really, It's just a matter of the order of the two layers.
No biggie!
Contributed by Lauren Chattman
Ingredients
1 1/2 cups all-purpose flour, plus more for dusting
4 large eggs, at room temperature
2 teaspoons pure vanilla extract
3/4 teaspoon baking powder
1/4 teaspoon salt
2 sticks unsalted butter, softened
1 1/4 cups sugar
One 13-ounce jar Nutella
Preheat the oven to 325°. Lightly grease and flour a 9-by-5-inch loaf pan, tapping out any excess flour. In a glass measuring cup, lightly beat the eggs with the vanilla. In a medium bowl, whisk the 1 1/2 cups of flour with the baking powder and salt.
In a large bowl, using a handheld mixer, beat the butter with the sugar at medium-high speed until fluffy, about 3 minutes. With the mixer at medium-low speed, gradually beat in the egg mixture until fully incorporated. Add the flour mixture in 3 batches, beating at low speed between additions until just incorporated. Continue to beat for 30 seconds longer.
Spread one-third of the batter in the prepared pan, then spread half of the Nutella on top. Repeat with another third of the batter and the remaining Nutella. Top with the remaining batter. Lightly swirl the Nutella into the batter with a butter knife. Do not overmix.
Bake the cake for about 1 hour and 15 minutes, until a toothpick inserted in the center comes out clean. Let the cake cool in the pan for 15 minutes. Invert the cake onto a wire rack, turn it right side up and let cool completely, about 2 hours. Cut the cake into slices and serve.