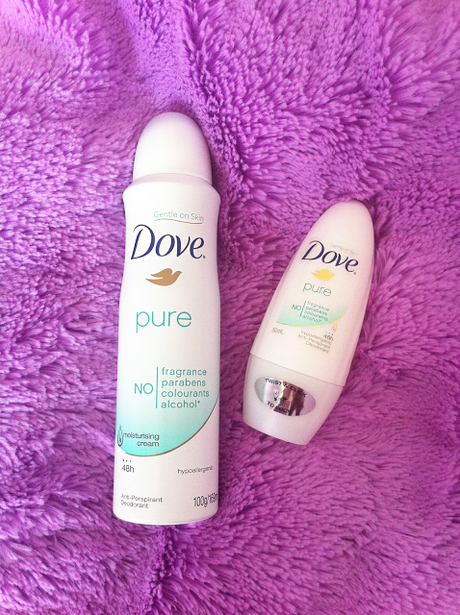 Underarms have always been an awkward body part to me, and with it came the trial and error of deodorants.

Dove Pure released an anti-perspirant deodorant that contains 1/4 moisturising cream (to keep your skin looking healthy!), keeps you dry for 48 hours, and is hypoallergenic.

It contains what you really need; with

• NO Parabens • NO Colourants • NO Fragrance

• NO alcohol (r

efers to Ethyl Alcohol)

No fragrance is an aspect that greatly appeals to me.  To me, it's just so unnecessary for your armpits to smell like flowers (or whatever other fragrance that companies are coming up with these days) because, let's be honest, no one is going to take a whiff of your underarms.  Also, strong scented deodorants can empower your perfume, so keep that in mind!

Overall, it's great to see no alcohol, parabens, or colourants are added, as they're usually the ingredients that cause irritation.  

They are fast drying once applied, and come in both the easy-to-use roll-on and spray applicators.  

If you are proned to skin allergies, and looking for something that provides 48 hour protection with moisture, then the Dove Pure range just might be for you :)

Further information about this range and other products from Dove can be found here.
----------
Note: These products were provided as part of Nuffnang Product Talk. All thoughts and opinions are honest and true to personal experience.