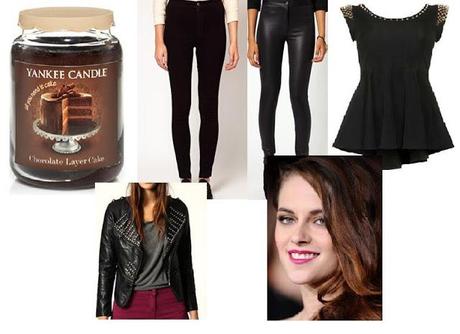 This month ive been pretty into clothes rather than make-up which is quite a shock! And seen as its colder i like the darker colours which is pretty much all i wear all year round but hey, cant help what you like!.

Yankee Candle Chocolate Layer Cake (here) my friends fiancée works in a Yankee Candle shop and i was luckily able to smell some of the new collection of candles and this by far is my absolute favorite. I imagine it would make the room you use it in smell exactly like it would if you where actually baking the cake! and just smelling it smells exactly like it!. want Want WANT!

American Apparel Easy Jean (here)
I had never got into the fad on the whole 
american apparel things i pretty much think it is really over priced when you can find the exact same at another shop but cheaper but none the less i love the easy jeans and have yet to find another place to buy these. if you know of anywhere please don't be shy to let me know!.
Tasha Button Front High Waist Disco Pants
(
here
) 
These as i said before are like a dupe for the American Apparel disco pants and a fraction of the price! just as i have been doing this post i decided to order them the temptation was to much to handle so a post should be up later on when they arrive and i style them up!.
Black Stud Peplum Top(here) 
i have never really been into the peplum trend and some of the top i find quite unflattering as i have a long body and short legs i just look odd in them but i love this as it is studded!. Im pretty much in anything studded and anything black its pretty much my style and i fell in love with this peplum i may have to go into town when i can to pick it up, as i was going to today but no my size *sigh*.
Erin Studded PU Jacket
(
here)
I have pretty much summed up my love for anything like this, do i even need to expand anymore on my love?
And how can i not have a wish list without Kristen Stewart?! idol/role model/girl crush seriously whatever you would like to call it. i pretty much love her and the work she does, shes stunning. Can she be my best friend please?