According to RealtyTrac, national November foreclosure default notices, scheduled auctions and bank repossessions were at the lowest level since December 2006. This is more evidence that we are past the worst of the foreclosure crisis. Many of the foreclosures now hitting the market were properties that started the process 1-2 years ago, or even longer. 
The states with the highest foreclosure rates don't include Minnesota, which is in the middle with one foreclosure for every 918 housing units. It seems like nearly every decent foreclosure here sells in multiple bids... wrote an offer on one yesterday that already had 5 other offers! Although it can be frustrating for buyers, it is good news for traditional sellers.
Florida ranks as the state with the highest foreclosure rate for the third straight month with one foreclosure for every 304 housing units... more than double the national average.
Our neighbor to the west and my home state of North Dakota is at the bottom of the list with only 3 foreclosures in the whole state! That is one foreclosure for every 105,833 property units!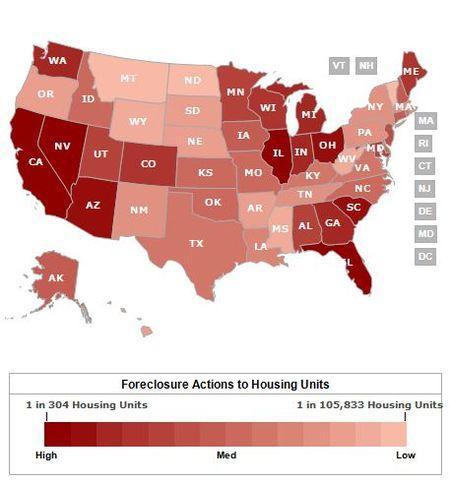 RealtyTrac reported these ten states with the highest foreclosure rates in November...
Florida: 1 in every 304 homes received a foreclosure filing in November
Nevada: 1 in every 390 homes
Illinois: 1 in every 392 homes
California: 1 in every 430 homes
South Carolina: 1 in every 455 homes
Ohio: 1 in every 458 homes
Arizona: 1 in every 468 homes
Georgia: 1 in every 494 homes
Michigan: 1 in every 621 homes
Indiana: 1 in every 684 homes
Sharlene Hensrud, RE/MAX Results - Email - Minneapolis - St. Paul Real Estate Market