February 11, 2016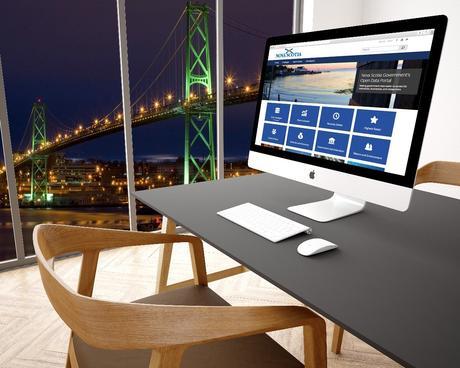 Nova Scotia Open Data Portal
Recently Nova Scotia joined the growing number of Canadian Provinces and Municipalities that offer open data, when it officially launched the Nova Scotia open data portal providing public access to more than 135 different data sets.
Open data has become common practice over the past few years, providing the geospatial community reliable information to help other local citizens and businesses make better decisions.
The new Nova Scotia Open Data Portal was built and managed by Socrata, a third party provider headquartered in Seattle. Socrata is a cloud based software company that hosts and manages over a hundred different data catalogs for various governments and non profits all over the world.
"Open Data is about drawing on the collective knowledge and innovation of Nova Scotians to help grow our economy and improve the lives of those around us," said Premier Stephen McNeil

"Open data is one part of our vision for an open and accountable government. By making our data widely available, individuals have easier access to the information they can use to understand their government, support their businesses, gain new insights and make new discoveries."
To help celebrate the new portal and encourage the creative use of provincial opendata, the Province is planning on holding an Open Data App Contest (No date issued yet).
The data sets offered come from a variety of different Government Departments and range from historical weather data to civic addresses. Many of the data sets were actually already publicly available but you had to know where to find them, so now this information will be collected and stored all in one central location. Data is provided in a variety of different easy to use accessible formats without compromising or identifying any personal information.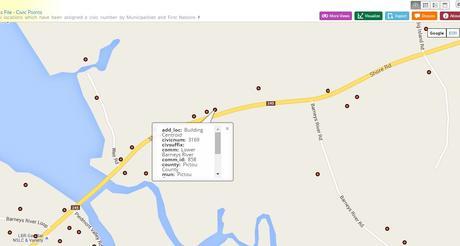 Types of data sets you can find on the Nova Scotia Open Data Portal include:
Nova Scotia Abandoned Mines Openings
Unclaimed Estate Funds
Birth and Death Registrations
Crown Lands spatial data
Fish stocking records
Nova Scotia Mineral Rights Database
Climate data for regions of Nova Scotia dating back to 1961
Nova Scotia Civic Address File – Civic Points
Weather data
and many more data sets
You can download the data sets directly from the data catalouge and use with your own GIS software or browse the data in the online web mapping application that they provide (which you can also download data from). User guides and help videos are provided for those that need a little assistance and a developers section with tools and help people to start making their own apps for the Nova Scotia geospatial community.
Take a look yourself and download some of the data sets and start creating maps of Nova Scotia that the geospatial community can make use of.
By canadiangis
Filed in: Data & Software, Free Data & Software, Open Data
Tags: data sets, geospatial community, GIS, Halifax, Nova Scotia, Nova Scotia Open Data, Open Data, opendata
Also Check Out ...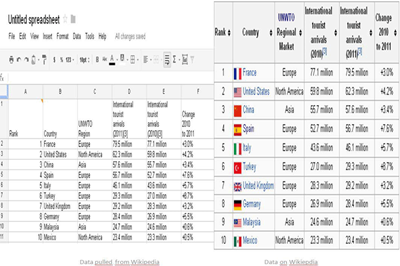 Making Maps with Google Fusion Tables
Working with Google Fusion Tables is a great way for data integration from various input data sources, visualization and collaborative management. Fusion Tables allow you to import various data from files with formats such as CSV, KML and / or spreadsheets formats (XLS or ODS). The tabular information in the Fusion Tables are then produced into a map through a process known as Geocoding.
This little informative GIS tutorial takes a look at Google Fusions Tables, shows you how to import geographic data from a web page, and then shows you how to create a map from the data. Basically this method will store your data and create spatial maps for you without having to buy or install any GIS software.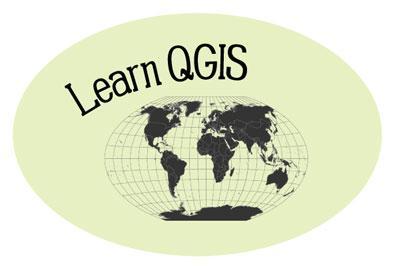 Open Data Should be for Everyone
In Canada, data drives policy decisions, business decisions and community decisions. From national conversations about social issues to local campaigns for more park benches, our decisions are guided by geographic data – and when more people have access to authoritative data, the more informed these important conversations can be.
We live in the age of free and open source GIS, such as the popular QGIS platform. With a short primer on some geographic fundamentals, even non-technical users can successfully create their very own custom map.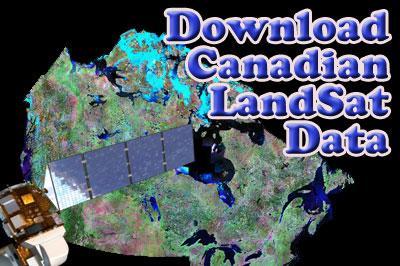 Download Canadian LandSat Images
Landsat satellites provide us with images created from reflected and emitted energy in a variety of different wavelengths from the electromagnetic spectrum. Unlike earlier versions, Landsats 7 and 8 provide images from the visible spectrum as well as near-infrared, mid-infrared, and thermal-infrared bands
Landsat data for Canadian regions are available for free download. Below you will find links to many Canadian LandSat images.
Open Data - Questions and Answers
Turning Precision Agriculture Potential into Profit