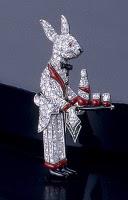 I remember watching the Sex and the City movie several years ago and marveling at the ginormous walk-in closet that Carrie Bradshaw had to house her collection of couture and vintage finds. But in reality, I have always wondered to myself what to do the closets, or really the clothes hanging in the closets, of New York's privileged look like. Of course I can pick up the current issue of Vogue to see who is wearing whom today but I would rather look at the wardrobes of Babe Paley, Tina Chow, Lena Horne, or Lady Slim Keith. These women had real style and sophistication. Therefore it is no surprise that the Museum of the City of New York dedicated an entire exhibition to the "Notorious and Notable: 20th Century Women of Style."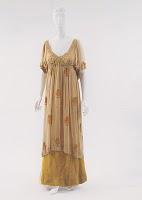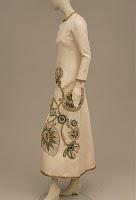 The exhibition was as graceful and elegant as the women whose clothes were on view. Present were such stunners as a dinner dress of off-white twill weave silk embroidered with silver and gold sequins and multi-colored beads worn by the Duchess of Windsor and designed by YSL for Christian Dior in 1968, a Paul Poiret tunic-style evening gown (ca. 1912) owned by Isadora Duncan, made of cream chiffon with chenille-like design of gold roses on fabric, or a deep-navy blue silk evening gown designed by Giorgio Sant Angelo and donned by Lena Horne. The exhibition featured eighty women whose "larger-than-life stories embody the distinctive glamour and drama that are a unique part of New York City." Each woman is represented by an iconic outfit from her collection. Most, but not all, of the women featured are either socialites or in the entertainment industry. Some exceptions are Bella Abzug, Cathie Black, and Geraldine Stutz(President of Henri Bendel in its hey-day). It helps to have an outrageous personality to go along with an outrageous wardrobe. The most over the top piece in the show belongs, not surprisingly, to Bette Milder. The Divine Miss M wore a mermaid costume, with red sequence and hologram paillettes, in her 1993 show "Experience the Divine." Other designers featured in the show are Balenciaga, Valentina, Scassi, Fortuny, Worth, and Lagerfeld.
I must be honest and, although I LOVE fashion, admit that the jewelry on view stole the show. This exhibition was a collaborative effort with the National Jewelry Institute.  This non-for-profit organization, under the leadership of jewelry historian Judith Price, preserves, researches, and exhibits fine jewelry all over the world. On view here were some FABULOUS things. My favorite was the Trophée de Vaillance (ca. 1941)brooch by Jean Schlumberger which belong to Diana Vreeland. Ms. Vreeland's opinion on style was such that she thought that "without it, you're nobody", had another marvelous Schlumberger piece in the show: a a gold, sapphire, and ruby fish lighter (ca.1940's). But back to the Trophée de Vaillance, which according to Ms. Price, was especially commissioned by Vreeland, who at the time was an editor at Harper's Bazaar. This piece is so large that it can stand on its own and is made of 14K white gold, enamel, diamonds, with (a huge) amethyst and rubies. Other large pieces from larger-than-life women is an 18K gold handbag (1970)retailed by Vartanian & Sons which belonged to Jackie Kennedy Onassis and a stunning, almost life-size, Calla Lily brooch, owned by Fannie Hurts, which is made of enamel, topaz, and diamonds.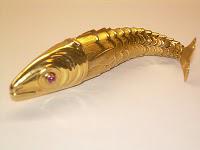 Just as an FYI, both the NJI and the MCNY have very interesting exhibitions planned for later this year. The NJI is going to be organizing an exhibit called "War and Peace: Masterpieces of Patriotic Jewelry and Decoration" (date and venue to be announced later). This exhibition will also coincide with Ms. Price's third jewelry book and will deal with patriotic jewelry. The MCNY's next big show, will open in June, and will be called "The American Style: Colonial Revival in the Modern Metropolis."
There is no catalogue for the show but a new publication, which I am currently devouring, would be so apt. The book, Café Society: Socialites, Patrons, and Artists 1920-1960 by Thierry Coudert is like a crash course on aristocracy's who's who. The book is easy to read and beautifully illustrated. Some of the people featured include Daisy Fellows, Duchess of Windsor, Etienne Beaumont, and Barbara Hutton.
Image credits: Marjorie Merriweather Post Hutton, Rabbit Waiter Brooch, Raymond Yard, 1929, Enamel, diamonds, rubies, Vartanian & Sons, Inc.; Evening gown worn by Isadora Duncan, ca. 1912
Cream chiffon tunic-style gown with chenille-like design of gold roses on fabric, Label: "Paul Poiret. Paris"
Museum of the City of New York, Bequest of Mary Fanton Robert, 62.119.3; Dinner dress worn by the Duchess of Windsor, 1968, Off-white twill weave silk; embroidered bands of silver sequins, gold beads, woven wire braid; embroidery in gold, green, white, black with silk, beads, sequins, plastic strips, Label: Christian Dior, Paris, Made in France, automne-hiver 1968/144638, Museum of the City of New York, 79.71.  Diana Vreeland, Cigarette Lighter, Jean Schlumberger, 1940's, Yellow gold, sapphire, ruby, National Jewelry Institute.