Hello Girls,
I had a bit of fun the other night and decided to try some nail art, after a discussion at work we decided that marbling looked fun. It's actually much easier to do than I expected and so I thought I'd show them to you, along with how I did them.
What you need:
-A plastic cup filled with water.
- A cocktail stick.
- Sellotape.
- Your choice in nail varnishes.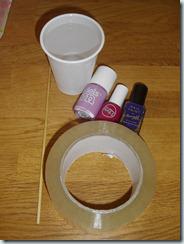 Everything I used.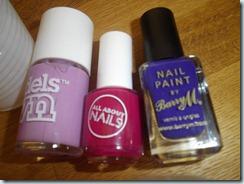 My nail varnishes.
The nail varnishes I used were Models Own Lilac Dream, All About Nails Raspberry, and Barry M NP312.
The first thing you need to do is apply a base coat, this is a messy task and so you need to apply sellotape around your fingers leaving your nails free.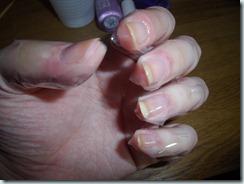 It'll look a little like this and i'll admit it is quite difficult to do anything once they're sellotaped up so I would loosen the tops on your nail varnish first so that you can just pick them up.
You then need your cup of water, all you need do is drip some nail varnish onto the surface on the water, once the first drip starts spreading out add another color into the middle and so on until you're happy with the amount of nail varnish you have.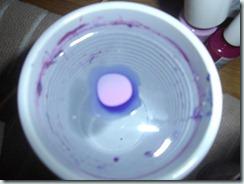 Two drops of nail varnish.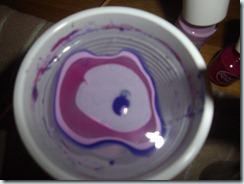 Now is the time for your cocktail stick and you need to draw a design into it, I just opt for drawing a couple of lines across. One thing you need to remember is don't do it too slowly otherwise the nail varnish will set and you'll be unable to draw a design into it.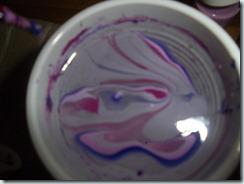 The pattern I created.
I worked by putting a pattern on two nails at a time, and then doing my thumb separately. What you need to do is try to rest your nails on the top of the water and then push them under, you will then need your cocktail stick again to pull away the excess nail varnish. I'd also advise having a spare cotton pad with nail varnish remover on so you can clean your cocktail stick between doing each set of nails.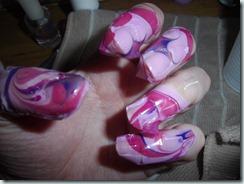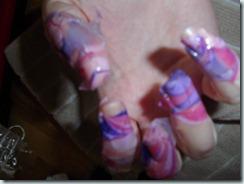 As you can see it is a messy job and the sellotape means that your fingers don't end up covered up in nail varnish as you can just peel of the sellotape and you'll only have a small clean up job to do. I unfortunately forgot to get a photo of my nails once I'd taken the sellotape off and I then just applied my usual top coat.
There are plenty of tutorials on YouTube if you search for nail marble are or nail tie dye, I hope you've liked the nail art and my long winded description/instructions. 
Tink x