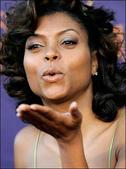 09/22/2011 – by Cynthia Wright
While the whitewashed mentality of Hollywood isn't often loudly discussed, except where Taraji Henson is concerned.  Henson is who sent to star in a new show on CBS called "Person of Interest" took to her Twitter when she realized her image was not included with the rest of the cast for the TV Guide cover.
Her Tweets:
"WOW!!!! TV Guide is NOT including me on the cover with my cast memebers……..I am the female lead of a 3 member cast and I'm not included on the cover!!!!!! Do you see the shit I have to deal with in this business…..I cram to understand!!!!

WOW @ TVGuide!!!!! Being a member of 2 academys I honestly have no words!!!!!"
TV Guide is not the only entertainment entity that seemed to push the star back into the sidelines. Gossip blogger Necole Bitchie decided to do a little explorign on the CBS website herself and found that Henson's presence was not that prevalent when it came to advertising of her co-stars. So, even though Henson has made a name for herself in Hollywood (outside of TV shows), she is still not allowed to share in the show's publicity?
This is not a good look for the show and it hasn't even officially started yet. TV Guide and CBS have yet to comment.