Somewhere along the line, the world got the impression that I wanted to see its ass…ets. I'm not sure how it happened, perhaps it was how I stared, for just a bit too long, like a curious cocker spaniel, or by my somehow inadvertently conjuring all the corporeal spirits to this world, but there have been more than a few hands full of naked bits wagging in my face lately.
And not the kind I want to see.
I get that we either are, or have rapidly become, a visual society, being enticed by this food picture or that, killer boots, and island getaways. When we see something we like, I'm sure the ol' circuit board between our ears lights up, trying to finagle ways to make ourselves part of the picture.
But here's the thing. Ladies – actresses, moguls, recording artists, quasi-activists – I hate to disappoint you, but if you have a pair of something, lovely as it may be, I don't want to see it. And the thing that keeps me up at night is how you arrived at the conclusion that I did want to see it, and how it doesn't bother you at all to show the entire planet your goodies.
A few months ago, there was hullabaloo about Sofia Vergara turning slowly on a revolving platform, giving the world a slow-mo look at what she's packing. And I don't forsake her that, uh, opportunity, but I was more tuned into her jewelry than the pull of her dress. All in good fun, they said.
#454193982 / gettyimages.com
And then our flexible friend Nicki Minaj, in what I can only imagine is an attempt to distract us from both her name and her music, released her single 
Anaconda
, and there we were, once again, gazing blankly into the abyss.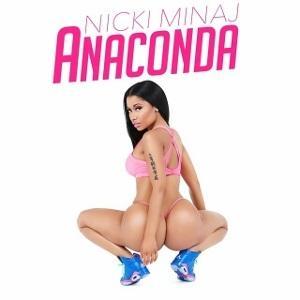 Photo Credit: Wikipedia
Does the music come out of there, I'm wondering? Because I'm not quite sure why I need to see it.
Just a week or so ago, Ms. Keira Nightly, whom I happen to find both beautiful and talented, decided to show the world as part of an interview with Interview magazine, what she really has under her shirt, as a reaction to all the ways her body has been adulterated by photo editing software. While I applaud both her message and initiative, I still didn't need to see it.
And this week, in the mother of all visual assaults, Paper magazine released its winter cover photos, featuring none other than our best girlfriend and confidante, Kim Kardashian, letting it all hang out, or stick out, or just kind of hover.
That's a lot of ass for one person to handle.
Now, you can tell me I have a choice, you can tell me I need not look, need not 'feed the beast', but avoiding this stuff is like ignoring a total eclipse of the sun, or two babies crawling after a fluffy bunny, or an adorable tiger-striped kitten, attacking his own tail. It's damn near impossible.
And here's the part, as most of you already know, where I'd stick in some body-positive banter, where I'd question how in the mothertruckin' world a woman arrives at the conclusion that revealing each and every curve of her hindquarters is a sensible choice. Or explain that I can't seem to figure out how I might explain this phenomenon to my three-year-old daughter, were she to ask, today or in the future, "Why that lady gots no clothes on?" Or how we became okay with singing the praises of booties in the first place. (Personally, I blame Sir Mix-a-Lot, but that's a different story for a different day.)
Right now (lucky us!), we've got a few anthems praising the proud Rubenesque, for example, All About That Bass, which I want to like, but still, still puts emphasis on the outside. We're all beautiful. I get it. But I remain unsure about how to explain all this to my daughter. 
Being focused on and praising being bigger, correct me if I'm wrong, is pretty much the same as being focused on and praising being smaller, isn't it? What if she turns out naturally skinny? What do I tell her then? "Oh, honey, I'm afraid that you – you're just not all about that bass. You're definitely more treble. I'm sorry, dear."
For now, though, I sit, as I often do, defeated, because, just like a car wreck in the opposing lane on the highway, we're going to look. And as long as we look, they'll continue to give us something to look at (and sing about).
Bottom line is, you may have a plumper-than-average backside, and if that's the thing that catapults you to stardom, fine. As a thirty-six year old mother of three, though, I'm going to have to go ahead and say that I'm not your target demographic.
Now, throw a few man parts in there, and I'd be willing to talk. The biggest kicks I've gotten lately have been from watching fruit dangle free during episodes of DaVinci's Demons, and that wasn't even this season. But, let me ask you something: Where are the waist-down, 360-degree naked pictures of Adam Levine and Usher? Where are they? And why can't I see them? And why aren't we seeing them all over the place? Moreso, how do we make that happen?
If I have to see butt cheeks all around me, please, let them be the butt cheeks of my choosing.
Better yet, somebody write a few songs about men's booties. That should help get the ball rolling in the other direction.