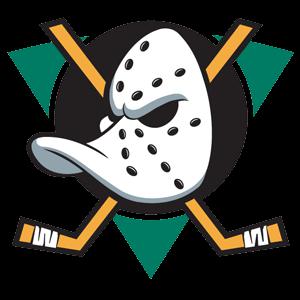 Badassery of a mascot. It's Daffy Duck x Jason x Casey Jones from TMNT
We begin with a flash back. The then young Gordon Bombay – a hockey player playing for the Hawks – was on the verge of winning a district championship with a single penalty stroke. What ought to be his decisive and ultimately winning puck for the team, was instead a missed opportunity, leaving him defeated and disgraced not only to himself but to the entire team. Naturally that single event ended his hockey career.
Now a grown up Gordon who is a successful, hotshot lawyer is ironically thrown back into this hockey world. Caught intoxicated while driving, he's sentenced to do community service and coach the local District 5 youth hockey team.
Gordon reluctantly agrees despite opening old wounds of his dark, unfinished past. Rusty and somewhat of a washed-out player, Gordon Bombay accepts his new role as coach and takes another shot at hockey.
With a colorful ensemble at his disposal, Gordon recruits those not from your average run of the mill kids. They have attitude, swagger and edge…often playing too much to that stereotypical Hollywood card. There's the figure skater, the anti-social "bully", the kid from the hood, the chubby kid, the ginger kid and other colorful casts all of which are basically misfits. As the team slowly develops, they grow to trust each other and click just like a jigsaw puzzle. This movie is all about character development, teamwork and understanding that cooperation is essential victory. The cliché "no I in team" is no more evident than in this movie.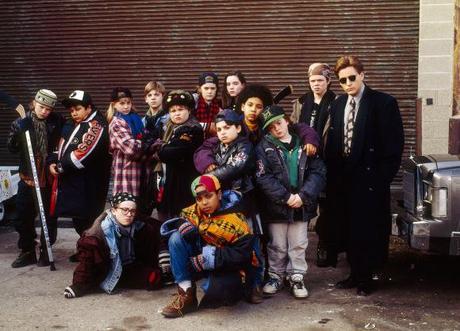 These kids ooze with "swaggerness"
What began as a disoriented and unorganized team eventually becomes a functioning, united team working cohesively in harmony. Over time, Gordon learns to trust his instincts and his team. He begins to feel self-assured of his own coaching techniques…with some methods outside the norm. For instance, practice passing and shooting using eggs.
This movie shines on so many levels, giving hope to those who are typically labeled outcasts or common folks. The belief that with determination, you too can break away from the spell of being an ordinary shmo and eventually "make it" with the skills and proper know-hows is a prevalent underlying theme in the movie. It's never about having the best gears, or knowing the right people; It's about pure determination and heart. And on a side note, it's interesting to mention that a year after its release, Cool Runnings debuted in theaters, showing similar plot of a has-been coach and recruiting "outcasts" for the Jamaican Olympic Bobsled competition.
With little to no professional experience in the big league, the Ducks revamp their strategy. They overcome the impossible by making the right plays and tactics. Game after game the Ducks progress–each win inching ever so closer to winning the championship league. Like a phoenix rising from the ashes, the Ducks persistently battle through thick and thin.
As they reach the finals, the Ducks face off against the chosen favorites, the Hawks…who, coincidentally, was also Gordon's former team as a child, with the same mentor – now rival – coaching. The chips are obviously stacked against them, but with crucial players on board, like Adam Banks, this proves to be a decisive move. The underdog Ducks proved that with perseverance, anything is possible. A bunch of ragtag kids proved that charisma and confidence can indeed overcome the most trying times.
The Ducks proved they are capable of winning each game. Although defeated by the Hawks early in in the season due to their inexperience, this time they were ready to face them again with a vengeance. The suspense and momentum builds between the rival teams. The Ducks have a secret tactic up their sleeve, dubbed as the Flying V. As the name suggests, the Ducks form the letter V like a flock of birds. The Flying V formation was used and it successfully evened the score. With only seconds to go, the Ducks earn a penalty shootout – a chance to win the championship. The finale is one reminiscent of Gordon's penalty shootout. Charlie was chosen to represent the team. He does what Gordon failed to do, and manages to score for the team. The triumphant Ducks did the impossible and became the district champs.
It's definitely one of those feel good movies. If you were a kid in the 90s, you were almost obliged to rollerblade around your neighborhood. This was one movie that made you want to rollerblade all day, every day. I remember buying numerous different brands of rollerblades, but in particular I loved Roces. Down to changing little metallic wheels which changes your speed (they're called bearings). Years before you knew him in Dawson's Creek, Joshua Jackson starred in this as Charlie Conway. Emilio Estevez's role as coach was an undeniable fit, and naturally superb. Suffice to say, it's a heartfelt movie about determination and persistence, overcoming your dark past, fears and insecurities. The moral of the story is if your determination and passion is in it, you'll make it.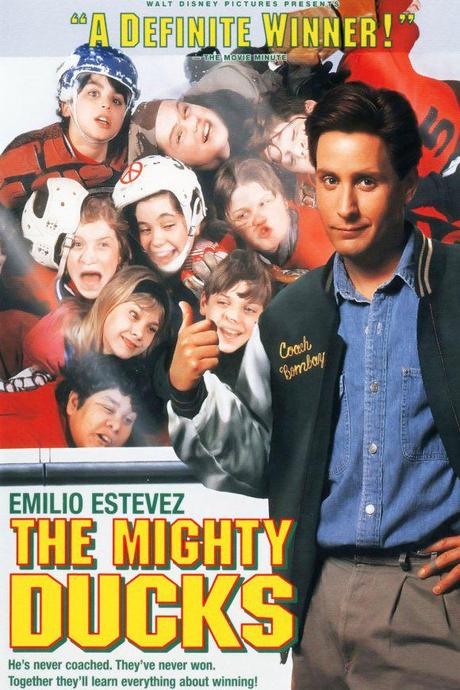 Heart and determination will get you a long way
One of Disney's live-action production films, The Mighty Ducks was something of a gamble centered primarily about hockey. Hockey doesn't usually cut it in the movie industry, and is also never considered a mainstream sport in the States. But this one's an exception. A coming of age film that was released in 1992, this movie has all the ingredients to satisfy the thirst of movie lovers of all ages. It has edge, attitude, drama, comedy, sportsmanship, and most importantly…heart.
Fun fact: The movie gave birth to the Mighty Ducks of Anaheim based in California, and even won the Stanely Cup in 2007.