A mini adventure that was partly successful, a mite intriguing, but utlimately deserving of greater effort.
First things first, Clover and I couldn't actually get to the Roman Fort at North Tawton. If I'd been on my own, I'd have probably climbed over the barbed wire fence that wasn't supposed to be there, but seeing as Clover was with me, I decided agaist it. The unanticipated fence was found as an extension of the tree-lined bank that lies along the same north south direction as the eastern ditch of the fort as seen on the OS map. You can see that tree line on Google Maps here.
Despite not getting into the relevent field, there are some interesting observations. Firstly there is a distinct series of old trees that marks the line of the Roman Road as it approaches the fort and the river crossong below it. You can see an impression of that line in the following photo ...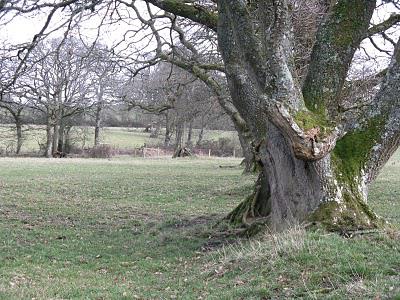 The afore-mentioned tree-lined north-south boundary lies perpendicular to the road and - the intriguing part - incorproates a distinct ditch suggesting a possible outer defensive work facing east. Here's the ditch ...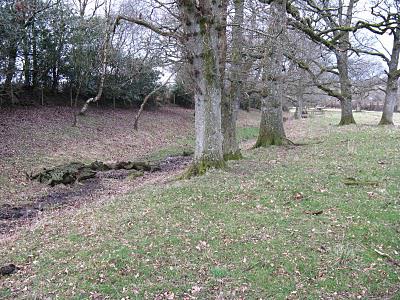 As you can see - if you look carefully - the bank that marks the field boundary is distinctly higher than the ground to the east of the ditch (we're looking north here). If this is in fact an outer defensive work, then the general line of it dates back two thousand years or so, just as the line of the fort proper follows the same line. If you now go back to the OS map view, and follow the course of the road eastwards, you'll see a different set of field boundaries following a different line (some cross the railway line, some don't), until you get to where the road is labelled - Roman Road (course of) - at which point the boundaries again become perpendicular and match up with what is now a track that emanates from the 'yellow' road labelled Itton Moor. Notice also that the 'yellow' road follows the same direction as the Roman Road for a short stretch.
All of which suggests a very old set of field boundaries that merits the attention of a man with a dog.
A few more mouse drags eastward and the course of the Roman Road disappears. However, if you imagine that line continuing, you'll see it (perhaps) re-appearing as the odd field boundary running east-west and then, along roughly the same line, you end up at Keymelford where there's a crossing of the River Yeo. Once across the Yeo, it's feasible that the Roman Road coincides with the modern road as it passes Brandise Cross and Gunstone Cross, both road junctions.
More to do then ...