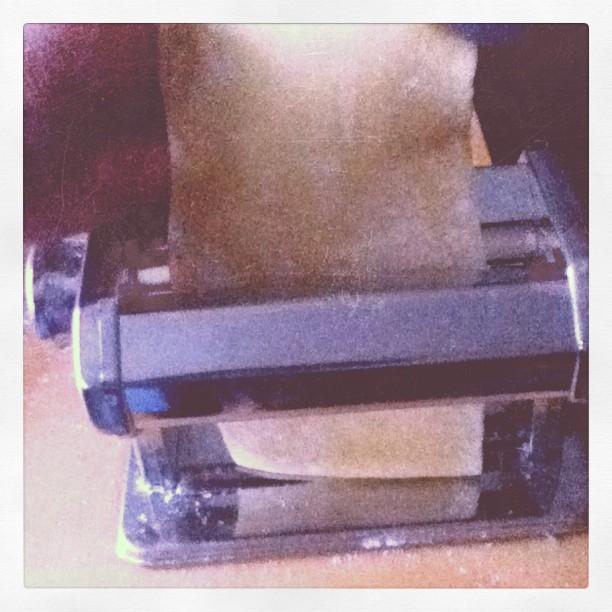 My first pasta machine I had to give it away because I could not hook it up to anything after we bought a new dining room table...I made some pretty great pasta/noodles with this baby.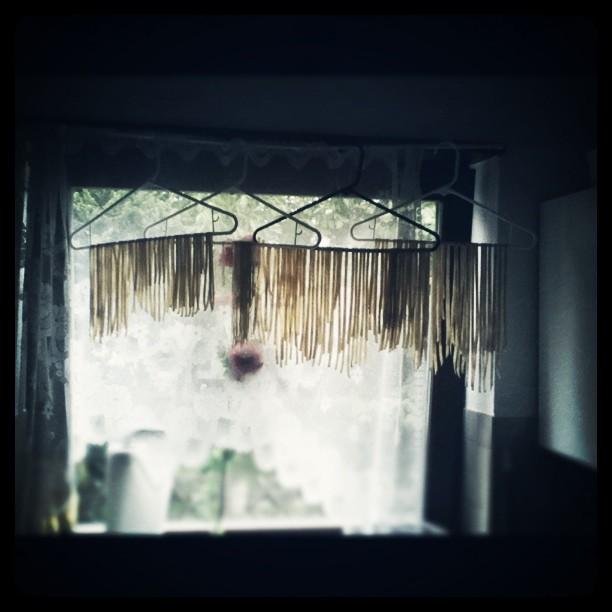 How I've had to dry pasta noodles lol
I love love love love looooooove to make handmade pasta. I remember the first time I saw a homemade pasta recipe in my Taste of Home magazine and just took off and tried the recipe immediately. I watched a few videos about how to make pasta and went to work. No machine. no fancy attachment just my hands. I used the recipe for a simple pesto recipe and it tasted ok. It had a doughy flavor that I didn't care much for but I was certainly proud of the effort.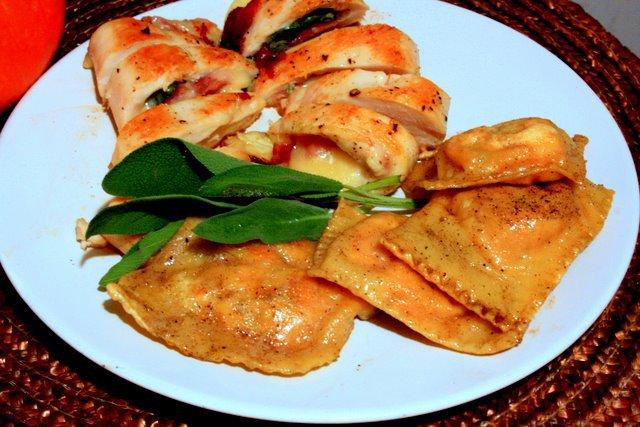 Later on the next couple tries I've made pasta, it still tasted a bit doughy, but less and and less. I never gave up on it I was obsessed with making my pasta  taste perfect. From all my attempts, I learned something and each time it got better. I made homemade ravioli and it made sure I rolled the dough almost paper thin. Whilst the  dough definitely didn't taste doughy, some raviolis nearly disintegrated once it hit the boiling pot.
Brown Butter Hokkaido Squash Ravioli

 I finally figured it out- don't make the dough too thin or too thick. I also was on a quest to find double zero flour, though  all-purpose flour is fine, double zero is what the nonnas used and I am a grandma in a young woman's body :-) . I also found a few staple recipes from Thomas Keller,  Emeril Lagasse, and Michael Ruhlman and even recipes I've concoted from experience. In fact I think I made a pretty darn amazing Whole Wheat Noodles recipe tonight which I am excited to share hopefully in the near future. I used the noodles for the BEST chicken soup recipe ever, Lemon-Ginger Chicken Soup (I added noodles as the original recipe in the magazine has noodles in the recipe)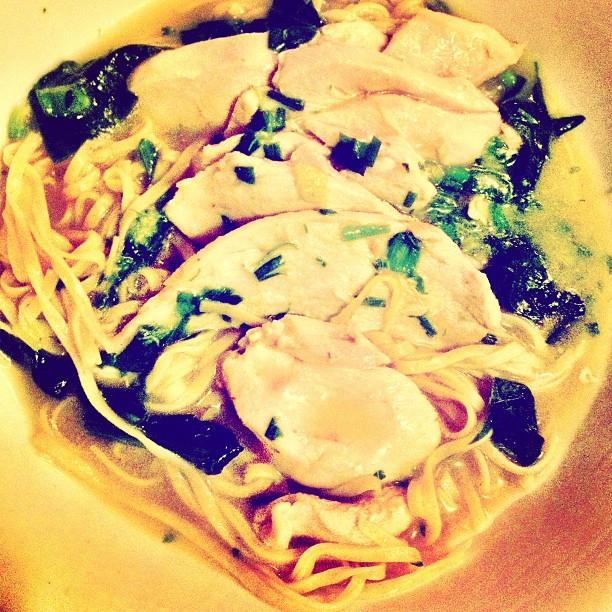 Recipe here: http://www.finecooking.com/recipes/asian-style-ginger-chicken-soup.aspx
Making Pasta/Noodles is such a fun relaxing activity for me. My kids love to join in my daughter loves working with dough and my son loves to eat raw dough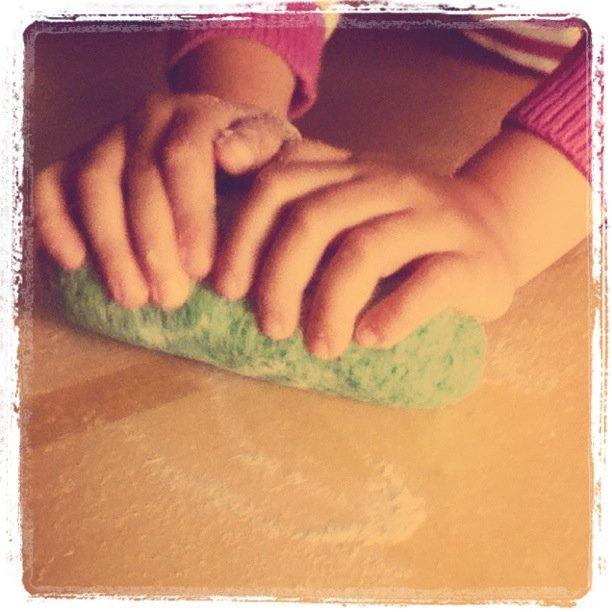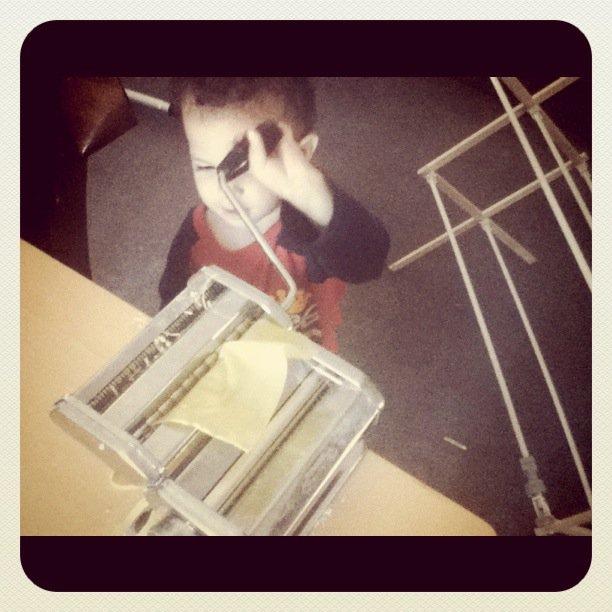 Baby boy cranking out pasta sheets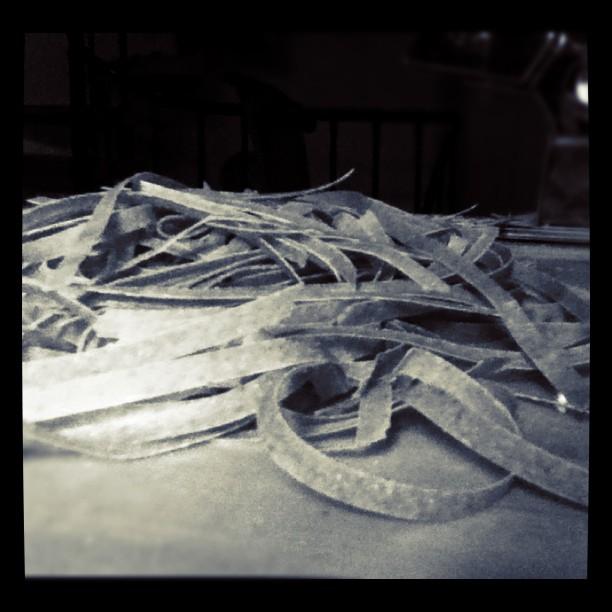 Mt Tagliatelle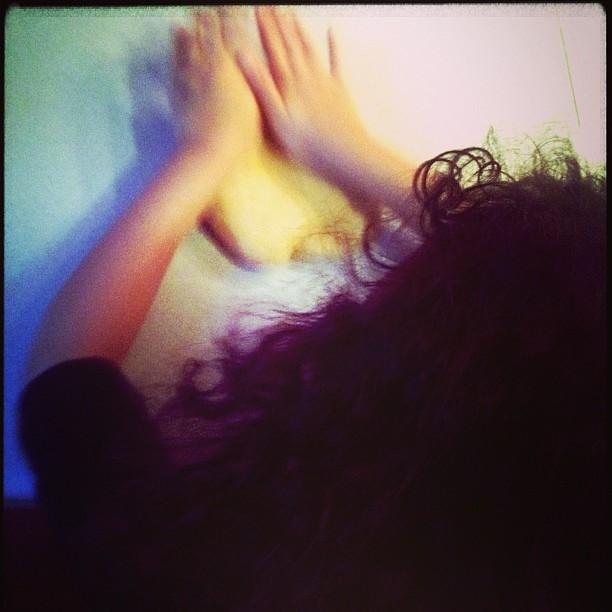 For Christmas, my husband bought me a pasta attachment for my mixer and it really brought a great light into me. I hadn't made handmade pasta in over a year. I kind of stopped eating noodles as much then, because homemade is always the best, but not necessary. If you don't want to go through the trouble don't. But if you're like me and is obsessed with perfecting your "craft" then go on. Tell me about it in the comments below if you'd like. If we ever get a sunny day in Germany I will definitely share some recipes. I've tried because I've been cooking like crazy, but I don't have any fancy lighting equipment so my food looks really good. But shoot if I have to, I will use my camera for the photography for my blog, no blog critics care about my blog and I don't care if they do. So let me know if you'd like to see a recipe in the future. I'd love to give a shout out to Linda Nicholson of Salty Seattle (www.saltyseattle.com)  for helping light my pasta/noodle fire. I bought Thomas Keller's book because of her. She buys the best ingredients, cooks everything from scratch, beautifully, artistically, and scrumptiously. So cool to have her and many other bloggers in the food blogging world to inspire me!