Oh my goodness guys, do I have a tasty recipe to share.
Can you believe I cooked?! I'm still trying to wrap my mind around it. I guess I'm so healthily inspired I can't contain myself.
But first…
Fitness!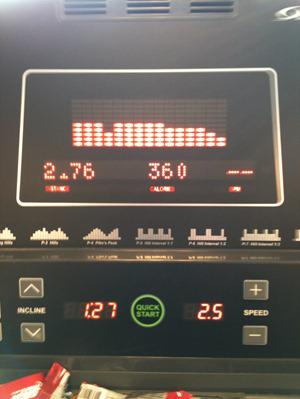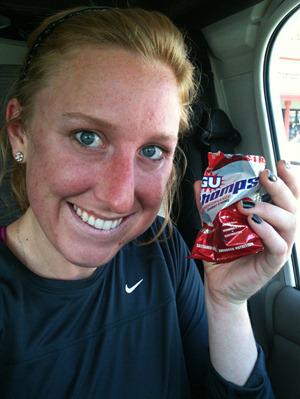 I skipped my light run yesterday since I was feeling a little tired, but today I wasn't about to miss it. I felt a lot more energetic today so I popped a few strawberry Gu Chomps on the way to the gym, loaded up the Katy Perry station on my iPhone's Pandora and hit the asphalt… well belt.

My body is still getting used to functioning without blood sugar spikes so after about 20 minutes I was beat! I walked a little then kicked it in the last 15 minutes.
Good thing I had those Gu Chomps, huh?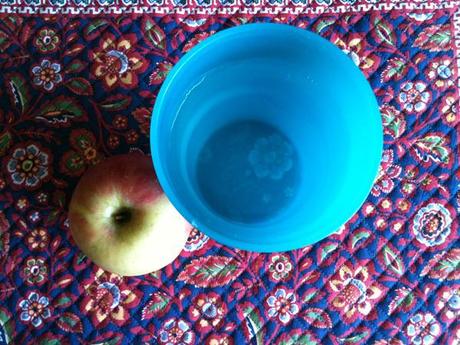 After the gym I enjoyed the a glass of water in the biggest glass I own and a fuji apple.
Noodle-less Chicken Noodle Stir Fry
This recipe was inspired by Brittany's recipe for Light Teriyaki Tofu. I had to change her already delicious looking recipe because:
I wanted chicken… no tofu for me tonight!
I'm not eating sugar right now so honey is out!
I realized in the middle of cooking that I didn't have any soy sauce so I had to substitute liquid aminos… so surprise, it's gluten free!!!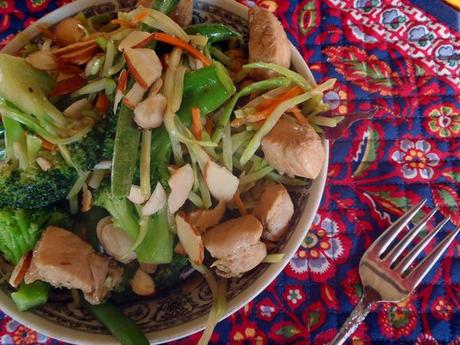 I think this recipe will serve 1-2 people
It takes about 45 minutes from start to eating.

Ingredients
for the marinade…
3 small chicken tenderloins (I buy the frozen ones from Costco)
3 TBSP liquid aminos
2 TBSP brown rice vinegar
1 medium-large clove of crushed garlic
1 TBSP stevia (or 5-6 packets if your like me and buy the box of packets)
1 tsp cornstarch
1/2 tsp salt
5 shakes of pepper
2 TBSP extra virgin olive oil
broccoli florets
Mann's Packing Broccoli Slaw (fake noodles)
green beans
sliced almonds
Directions
Defrost the chicken tenderloins in the microwave. While the chicken is defrosting make the marinade. In a small bowl combine liquid aminos, brown rice vinegar, crushed garlic, stevia, cornstarch, salt and pepper.
Once the chicken is defrosted cut it into small pieces and add it to the bowl of marinade. Cover the bowl with saran wrap and let it sit in the fridge for at least 15 minutes.
After the chicken has marinated remove it from the fridge and heat extra virgin olive oil in a sauce pan.  Steam broccoli florets and green beans on another burner.
Stir fry the marinated chicken for about 10 minutes or until it is fully cooked. Add as much as you'd like of the steamed broccoli, green beans and broccoli slaw to the pan with the marinated chicken. Stir fry it all together until thoroughly mixed.
Plate your yummy noodle free stir fry and top with sliced almonds and a few dashes of liquid aminos.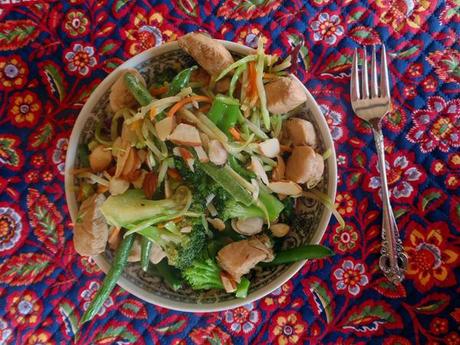 I added a handful green beans, about a cup of broccoli and 2 handfuls of broccoli slaw. I was hungry for some veggies!
Look at all those nutrients!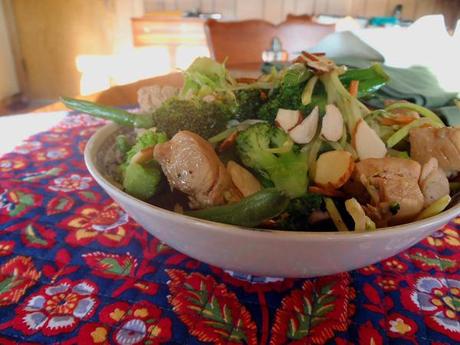 I had to show you how my bowl was heaping! It's like Mt. Kilimanjaro of veggie-tastic stir fry.
I hope you all have a great night!!!