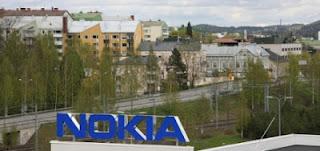 Nokia has just announced its first quarter of 2012. 

The results are less encouraging for Nokia, but Nokia CEO Stephen Elop remains optimistic that things will get better. The decline occurred because of declining sales Nokia Symbian smartphone platform while Lumia sales began to increase. Total sales of Nokia fell 29% over the same period last year. 

Nokia is only able to earn implanted at 7.354 billion euros and an operating loss of 1.34 billion euros. 

Sales of smartphones are contributing most to the deterioration since dropped to 51%. While mobile phone sales fell 32%. Nokia handset sales in Europe, China and the United States has decreased. While sales in the Middle East, Africa, and Asia Pacific remains strong.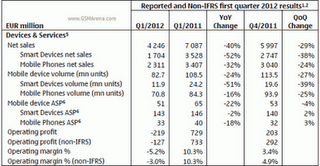 CEO Stephen Elop remains convinced of the strategy pursued by Nokia. 

It is said that Nokia will dominate the mobile share of the base class to upper class. Nokia will launch Lumia Lumia 900 and 610 that had just slid in Asia. Nokia also will strengthen their S40 product line in coming quarters. Nokia is also working to save overall costs. source regards, hpmurah2u latest info of mobile price and get your own mobile right now