Nokia Lumia 920 is Nokia's new flagship phone with Windows Phone 8, the brand new mobile operating system from Microsoft. The device has quite a few impressive features. We say impressive, because the Lumia 920 can do things we actually cannot see almost anywhere else. Thus, Lumia 920 features super bright IPS LCD 4.5-inch screen, support for wireless charging, and special Pure View technology embedded in the camera.
Key features of the Nokia Lumia 920:
4.5 inch IPS LCD touchscreen
8 megapixel camera with Pure View technology
32GB of internal storage for photos, videos and apps
Runs on Windows Phone 8
Can be recharged wirelessly!
The new Lumia smartphones will be releases with a wide range of innovative and interesting Nokia accessories for wireless charging. Nokia is one of the first manufacturers on the market with a smartphone that can be charged wirelessly. You can choose from wide range of compatible Qi chargers (Qi is the new universal standard for wireless induction charging). All you need to do is place the phone on the wireless charging plate and everything will be ready in an instant without effort! It really all that simple! The beauty of the wireless charger from Nokia is that other devices with the same charging system can use this charger. In the future, all smartphones should be equipped with this great charging system!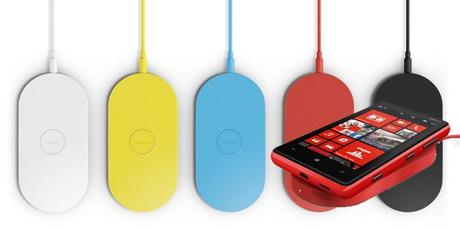 Nokia Lumia 920 and Wireless Charging Plate
If you are planning to buy Nokia Lumia 920 in January, then you should definitely do it now! Nokia Lumia 920 is available in the United States via AT&T; it is offered for only $100/€75 with a new two-year agreement. AT&T and Nokia offer a Wireless Charging Plate for free to all customers who buy Lumia 920. This special offer was supposed to end on January 31, but it looks like Nokia and AT&T decided to prolong the offer until February 21!