Following its commitment to present a strong year with new Lumia with Windows Phone 8 (Nokia Lumia 820 and Nokia Lumia 920), the Finnish manufacturer, Nokia is increasing the basic range of touch phones catalog. Asha's family is growing and already offers a good selection of user-focused devices that do not want to complicate a very advanced smartphone and just a single terminal and economic well.
The new models are the Nokia Asha 308 and Nokia Asha 309, despite being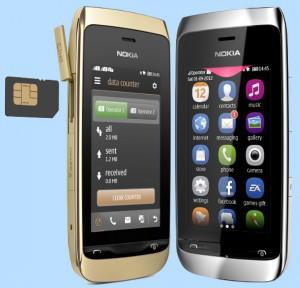 considered entry-phones have interesting features such as touch screen, camera, can access the Internet in a timely manner thanks to GPRS and are compact and elegant soft lines.
Both models will go on sale during the fourth quarter of 2012 and its free-form price is around $96 competitive. The Nokia Asha 308 and Nokia Asha 309 are very similar in terms of their technical background, but there are several key points that make a difference, we analyze in a comparative.
Design and Display
We are faced with two low-end phones but it does not mean that the design is to be unwise. Nokia has opted for a sleek and simple for these two models, which are also very compact and lightweight for carrying with more comfort. The front is almost entirely occupied by the screen and at the bottom space has been reserved for the call and hang up keys. The Nokia Asha 308 will be available in gold or black, while the Nokia Asha 309 will be available in black and white.
Both equipped with exactly the same screen. The screen is a LCD type Panel with a three-inch diagonal and a modest resolution of 240 x 400 pixels. At this point it should be noted that they are very simple phones that will not amount to even $100, in this sense may be asked very advanced screen. It is emphasized that the screen is multitouch and works with the capacitive system, this means that recognize gestures soft yolks with one or more fingers.
Connectivity
In this section we begin to glimpse the first difference. The Nokia Asha 309 stands out because it integrates a Wi-Fi wireless port that enables users to access Internet at speeds much higher than his brother, presentation, and this system will act as a GPS antenna suite able to use the Nokia Maps navigation.
How could it be otherwise, the Nokia Asha 308 also has its strong point, the novelty here is the introduction of a slot capable of supporting two SIM cards in order to carry two phone lines in the same device. Also with the Easy Swap allows the user to switch between lines without having to turn off the phone, so you will not miss any calls or messages. However the Nokia Asha 308 has no Wi-Fi, so you can only connect through standard GPRS / EDGE, what we know as 2G connection and only reaches a download speed of 236 Kbit per second. This type of connection can not be used to navigate smoothly but rather is designed to access the Internet in a timely manner for such check email or update your status on social networks.
Closing paragraph of wireless connections is noteworthy that both have Bluetooth 3.0 to share files with other mobile or wireless accessory use as mini headset or speakers.
About Yogesh

My name is Yogesh Vashist and I am founder and chief editor of this blog where I write articles related to upcoming technology, gadgets, Internet etc.. You can follow me on Twitter, Facebook &
Google +
View all posts by Yogesh
→

Hope you liked this article and we would be more than happy if you share this post with your friends. We will send useful technology related updates in your inbox if you subscribe to us.
Enter your email address :   
Tagged with 
nokia asha nokia asha 308 nokia asha 309