When I look at gardening magazines, I get quite excited at the front page headings such as "Plants for the small garden" and "Garden designs for a small space".   Sadly, their idea of  what is small  is very far removed from my little patch.  You could probably fit my garden several times over into their vision of a 'small garden'.   It's not a few acres, but more like a few metres.
When I started to write this post  I looked up other words for 'small', and found 'compact':  taking up little space; condensed; packed and arranged neatly in a small space.   Well to be honest that is almost a perfect description apart from the last one.  Neatly arranged in a small space is something my garden is not.  I usually buy and plant where I think it will be happy and not go by any design.  I like the idea of a tightly packed Country Garden filled with colourful flowers and shrubs, but there is a difference between 'tightly packed' and 'over crowded'.
This is a prime example of  what I feel is overcrowding in the garden.  The Astilbe has run rampant,  Alchemilla Mollis has taken grip and the Johnson Blue hardy Geranium has become a bit of a thug .  All are clogging up the Hydrangea.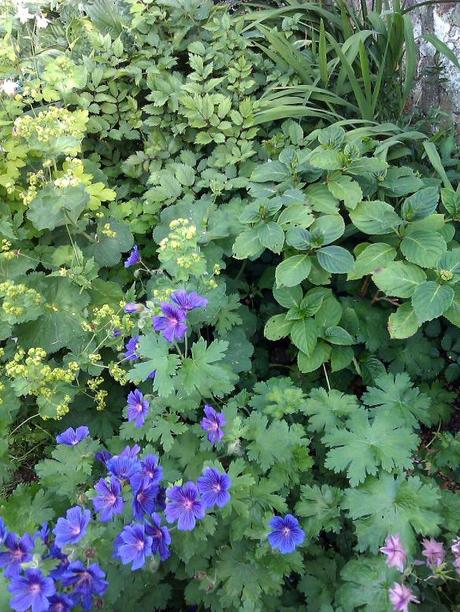 I love wandering around gardens, garden centres and reading other garden blogs.  They are packed full of plants and planting ideas; a treasure trove of inspiration.  All sorts of ideas run through my head, "Oh, I'll have one of those" and "That would look great just in that corner".  In being carried away, I forget there is only so much you can shoe-horn into a small space without everything being choked.  You can see from this photo below, the Acanthus is vying for space with the poppy, the sedum, the rock rose and the geraniums.  Something (the Acanthus, I suspect) is going to have to go.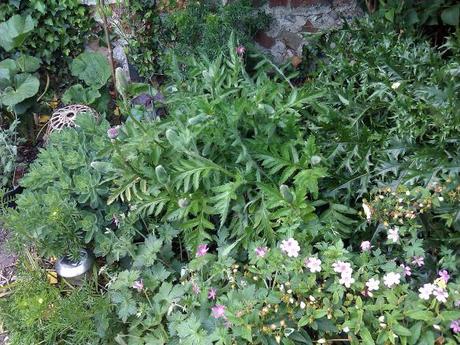 I have just read the latest post by  Janet/Plantaliscious  in which she mentions Knautia macedonica.  This is a plant that I would dearly like.  It grows in abundance in a friend's garden, he just pulls up pieces and replants it and has given up providing me with it, as within months it gives up the ghost and disappears, never to be seen again.  Sadly Janet has lost hers, due to mildew caused, she believes, through being planted too close together.   Well,  that it made me go out and take stock of my garden.
Despite the fact that in the South East we have had little or no rain for what seems like months, I am  amazed that everything continues to grow and look so lush and green.   The damp corner is thriving.  The plants this year are looking a jumble and tumbling into each other.   The ferns are getting mixed up with the pink Japanese Anemone and you can see that there is another hardy geranmium having its piece of the show also.  This overcrowding seems to have occured this year and now is not really the right time to move things about.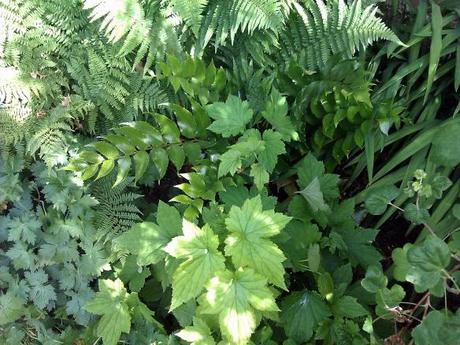 As heartbreaking as it may be, I am going to have to take the bull by the horns and do some drastic thinning out.   The Alchemilla will be split and potted up to take to the next fete at Mother's care home in the middle of June.  I have recently pulled up one very large Acanthus, but as anyone who has one of these brutish plants knows, the roots go everywhere and it is almost impossible to irradicate completely.  As for the geraniums, hopefully, they will forgive me for the cruel eviction from their home, and settle into some lovely pots.
Maybe, then, I will have found room to buy new perennials to make my bijou garden look colourful and floral rather than green and dense.